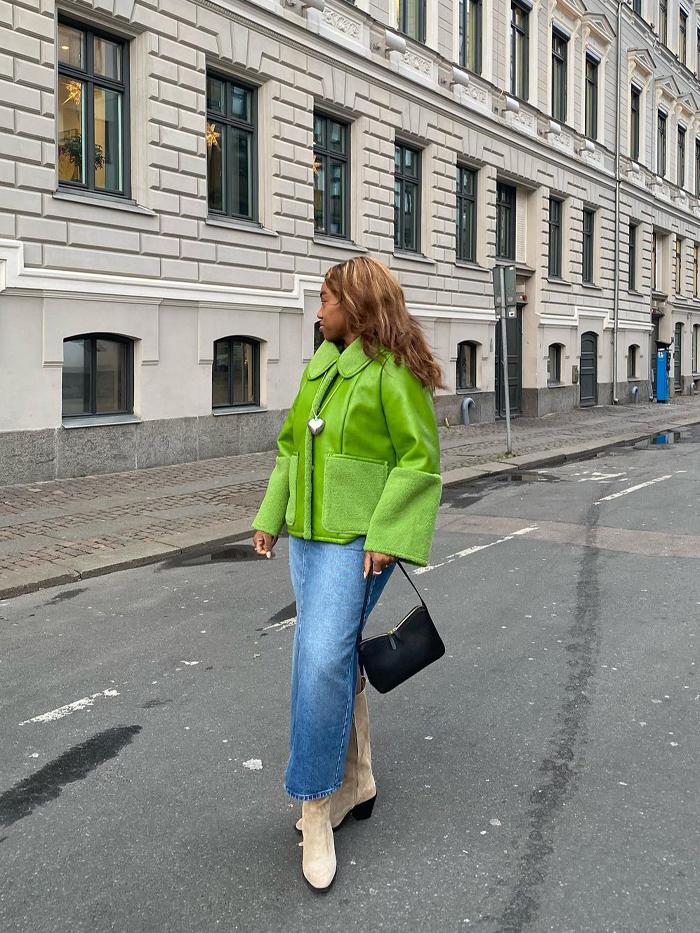 We're at that funny time of year again, aren't we? Though we dropped straight into winter after a long, lingering summer, the days are varying between full winter chill and warmer blue skied moments. As a summer girl at heart, adapting to the new season (especially so quickly) I've been searching to find ways to carry my favourite summer items into the colder season. It's the best way to ease yourself in, IMO.
Let us not forget that, although overcast, every other day is bright and mild. So I'm all about finding outfits that don't look and feel too heavy, but also provide enough coverage should the weather take a turn for the worse. I want these outfits to carry me through to late winter, too. So we need effortlessly cool looks that just work. This is why I've edited my recent saved Instagram posts to show you a selection of looks I'll be re-creating from now—from jumper dresses with chunky boots to knitwear with stand-out skirts, these six cool outfits will never fail you. Scroll on to see them. 
Style Notes: Knits have already made their way back into wardrobes, and Francesca Saffari (pictured) keeps hers luxe by mixing the textured style with a silky slip. The Adidas x Wales Bonner retro trainers (a great find on eBay) give the look that cool-girl twist.
This is Francesca's actual jumper, and it's part of a co-ord, too. Shop the matching Knitted Bouclé Skirt (£57).
A skirt so good, it comes in six other prints and colours. 
One of the best white tank tops. 
No doubt, these will sell out. 
Style Notes: If you're on the fence about pinstripe trousers feeling "cool" rather than corporate, I predict you'll change your mind now you've seen Kim Turkington wearing them. Going full cosy and down-to-earth with a chunky cardigan and trainers, this is total perfection.
Fact: You'll wear this all autumn. 
Because we all know Toteme does the best basics. 
I predict these will be a new influencer favourite. 
These come in so many different colours.
Style Notes: As a huge advocate of the denim skirt, this is a look I would wear any day of the week. For warmer days switch the jacket for a chunky (but equally eye-catching) jumper.
This one has the wow factor—the faux shearling is detachable, so it's basically two jackets in one.
You'll wear a blue denim maxi skirt on repeat all year. 
This will go with any outfit. 
These new M&S boots are bound to be a favourite. 
Style Notes: In my option, absolutely everyone should own a striped shirt. Why? Because it'll be one of the most hard working items you wear across all seasons. Make like Aniyah Morinia (pictured) and wear with cargo trousers, a cap and trainers for an off-duty look. 
Grab it in a size up for an oversized fit. 
Such a classic. 
You'll want to get these while they're half price!
The corduroy adds to the winter feel. 
Styles Notes: Often, the coolest outfits of all are the most simple. To prove my theory, just take a look at Marianne Smyth, who has styled a black bandeau with trusty baggy jeans and heels. If it ain't broke…
A satin version will be an after-dark hero. 
Trust me, these are such a good fit. 
A work of art. 
Stack these with other Daphine jewels. 
I'm the owner of six knitted dresses (last time I counted) and I can't rave about them enough. They're so easy to throw on no matter the weather, and now I want a greige style to add to my collection after seeing how Isabelle has styled hers. 
When I'm not wearing this with chunky boots, I'd style it with knee-highs.
This one is roomy enough for everything you own.
A great belt to cinch in all your dresses.
The cleated sole is such a cool update to classic Chelsea boots.
This story was published at an earlier time and has since been updated.
Next Up: The Hardest-Working Staples to Buy Now and Love Forever