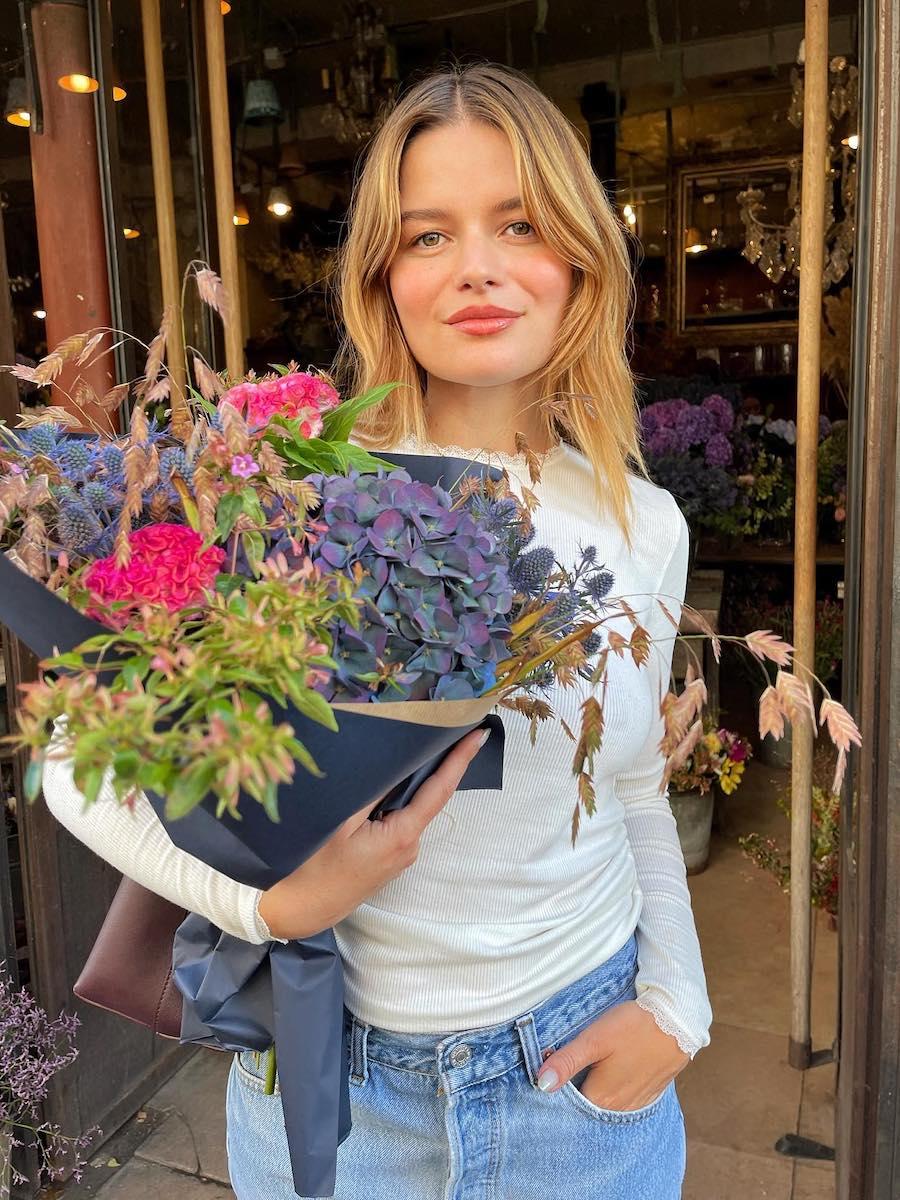 Setting powders are the Marmite of the makeup world—you either love them or you hate them. Yet despite having oily skin since my teenage years (and Rimmel's iconic Stay Matte Pressed Powder being one of the first makeup products that I ever purchased) setting powder has fallen by the wayside for me in recent years, with glowier makeup looks dominating the beauty scene.
However, incorporating a setting powder into your routine doesn't mean compromising on radiance. "Ensure you use a hydrating skincare base beforehand to keep your make up looking fresh, but without that cakey look," advises celebrity makeup artist Brooke Simons. "Then use the powder sparingly and just on the areas that need setting. For example, avoid the cheekbone area as you'll want this to look glowy, but use in the t-zone where you may become oilier throughout the day."
And after recently having the Milk Makeup's new Pore Eclipse Powder applied to my skin at the launch a few weeks back, I was reminded of just how hardworking a decent setting powder is. My shiny skin was instantly transformed into a smooth, even and shine-free complexion with just a light dusting. Did I look dull? Not in the slightest. There was still radiance, but in a controlled way. And when I emerged from a humid tube journey later that afternoon, my makeup was still well and truly in check. Suffice to say, I have used a setting powder on my face every day since—and there are some seriously good ones on the market right now.
Ahead, these are the 11 best setting powders that I've tried and recommend for keeping oiliness at bay but radiance shining through.
I hadn't used a powder regularly in my routine for years until this new launch from Milk Makeup made my acquaintance. Now? It's an everyday staple. At first I was a little put off by the fact that it calls itself a matte powder. Yes, it keeps excessive shine on lockdown, but I'd describe the finish as much more velvety than totally matte. In fact, it's infused with skincare ingredients like bakuchiol and niacinamide which mean it really works to smooth the skin, even tone and diffuse texture. And it never, ever looks cakey. My only complaint? I would love to see even more shades available in this product—there are four stretchable tones, but an even more extensive offering would be wonderful. 
Probably one of the most iconic setting powders of all time, Laura Mercier's lightweight finishing powder is basically undetectable on the skin—which is why you'll spot it in the kits of so many makeup artists. The powder itself is infused with pearl pigments and vitamins to deliver a healthy skin finish while keeping oiliness at bay for up to 16 hours. It's a cult classic for a reason.
Much like most of Charlotte Tilbury's makeup, luminosity is the name of the game with this pressed setting powder and it certainly proves that using powder doesn't have to dull your skin's radiance. It contains light-reflecting particles to subtly infuse glow across your complexion while minimising unwanted shininess in areas that you don't want it. Available in four shades, it's the perfect final step to a long-lasting makeup look.
This setting powder is like a blurring filter in a makeup product and incidentally, is Simons pick for her kit. The loose, talc-free formulation has a unique ability to minimise texture and diffuse fine lines, creases and even minimise the appearance of pores (and I have particularly large ones). It's velvety-soft and leaves skin looking fresh, healthy and even and never looks in the slightest bit cloying—no matter how much you buff on.
This new launch from chic French beauty brand Aime is coined as a foundation, but I've been using it as a setting powder thanks to the versatility of its coverage—you can wear this sheer or build it up. Enriched with hyaluronic acid and prebiotics, it works to strengthen your skin's barrier while you wear it and leaves skin tone even and with a subtly fresh glow. Even better? There are eight shades available.
This skin-brightening face powder comes in eight versatile shades and is particularly great for deeper skin tones. It's so finely-milled that it almost melts into the skin with a silky-soft, photo-ready finish that is invisible to the naked eye. And while it takes shine down a notch, your skin still looks fresh, healthy and vibrant.
If you like your powder with a bit of glow, then this loose formulation will be right up your street. It uses lab-created, finely-milled sapphire particles for a subtly radiant finish without any hint of oiliness. Plus, as someone with a lot of texture on their skin, it does a brilliant job of blurring over uneven areas for a smooth finish. 
A lot of this list is made up of loose powders as I find them to be (in general) less cloying and cakey than a pressed powder. This pressed setting powder from NARS, however, is a delight. It uses photochromic technology to diffuse light so your skin looks bright all day long. Plus, it sets makeup in place and actually enhances its finish. Dry skin? It's infused with glycerin and vitamin E so it won't cling to dry patches, either.
One of the most versatile setting powders on the market, this slow-baked mineralised powder contains a subtle amount of pearlised pigments to create a soft, radiant finish on the skin. It can be used to set makeup, on bare skin to dial down oiliness, or to touch up during the day. The best thing about it though, is that it's available in 15 versatile shades so there's an option for every skin tone.
While this setting powder was created to help "bake" your makeup—if you're not familiar with the practice, it involves letting a thick layer of powder sit over your foundation before dusting it off after a few minutes—I think it does a brilliant job when used the regular way too. It lends skin a really smooth, velvety appearance while preserving makeup and keeping shiny patches locked down. There are nine shades, too—including one that's totally transparent.
This loose setting powder feels lighter than air—both in the texture (its milled five times, rather than the standard three) and the airy finish on the skin. It contains aloe, rosemary and bamboo particles to absorb excess oil naturally, and it leaves skin gently mattified while feeling beautifully soft to the touch. Up Next: The 14 Best Primers for Oily Skin, Ranked by a Beauty Editor.