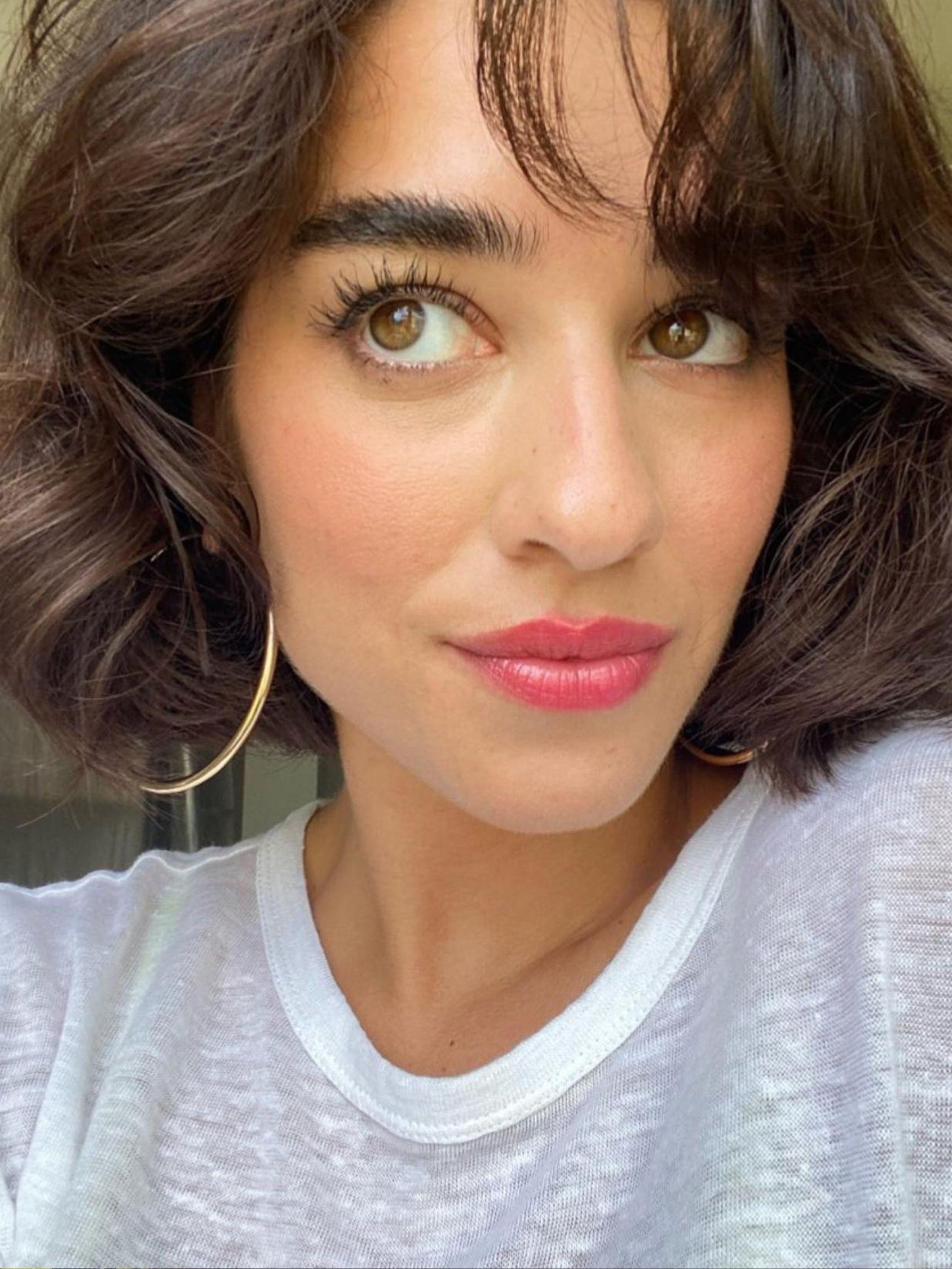 The Italians know how to do many, many things very, very well. Gelato, aperitivo, luxury leather goods—I could go on. And I don't know if its because there was a Milanese aesthetic happening over on TikTok (see #tomatogirl for reference) or because I'm currently plotting my next summer escape to Italy, but there is certainly an Italian feeling in the air—or hair, I should say. And it's starting to trickle into salons, too.
Bobs have remained a constant in the hairdressing world. the style is not so much of a trend but a timeless cut we see morph over time. (We're looking at your box bob, Hailey Bieber.) For so long, we've seen the French bob haircut dominate in salons. It's a timeless haircut that manages to be simple yet effortlessly stylish on just about every hair type. After all, who doesn't want a slice of that Parisian style? However, there's undoubtedly been a shift towards longer and bouncier bobs. Enter the Italian bob.
The White Lotus actor Simon Tabasco has inspired many to take the plunge and go for the Italian bob cut. The Italian bob trend has been building momentum for a little while. However, if you're like me, you might have only taken full notice of it after watching The White Lotus's Lucia Greco (played by Simona Tabasco). When I first spotted her bouncy, voluminous bob in the second season, I've never been so close to taking scissors to my long hair. But what exactly is the Italian bob, and how is it different from other bob styles? "The Italian bob is a longer, bouncier, sensual and more versatile cut—that 'more is more' styling gives old Hollywood glamour," says Hollie Rose Clarke, hairstylist- and expert-in-residence at Dryby.
Zendaya is the latest celebrity to opt for a voluminous, side-parted bob. "We've seen a move away from the sleek Parisian bob to a longer layered and more playful Itialian bob, such as those that graced the red carpet at the SAG Awards," says Clarke, who predicts that the Italian bob will be one of this biggest haircut trends in 2023. "The Italian bob is becoming a big hit as it can be worn up or down, so it doesn't leave you feeling like hair up isn't an option, which is very rare for a short hairstyle," she adds.
The Italian bob perfectly complements naturally curly hair. So, what exactly is the Italian bob, and how does it differ from the French bob? "What sets this apart from the Parisian bob that has been a huge trend for quite some years now is the length," says Clarke. "The length of a French-girl bob is often on the shorter side around your jawbone, with very effortlessly undetectable surface layers for that very Parisian 'I woke up like this' cool-girl finish. The Italian bob is longer with more movement, a soft, playful, voluminous finish, and when it comes to styling, more is more."
The Italian bob paired with a fringe is a flattering combo. Rest assured this can be a low-maintenance haircut, but it looks incredible when styled. "You can have lazy hair days and tie it up, but, this style really comes into its own when blow-dried or set with heated rollers," she says.
Flicked-under ends give any bob instant bounce and shape. So if we're thinking of going for the Italian bob, what should we be asking our hairstylists for in the salon? "The Italian bob grazes the base of the neck with a thick base line, buts its internal layers and texture are what give this cut that va-va-voom," says Clarke. "The cut can be flipped from side to side, giving a slightly different feel to the look with each swoosh." 
The blunt cut is great against a detailed neckline. No matter your hair type, The Italian bob can work for everyone. "The Italian bob as a cut would work on all textures, and the cut isn't such that it has to be styled every day," says Clarke. However, she has some pointers on how best to style the Italian bob.
The plus of a longer bob is that it is still long enough to be tied back. "This cut gives you more versatility when styling and adding movement," says Clarke. "It's the perfect noncommittal bob for someone who doesn't want to be stuck wearing the hairstyle one way or lose too much length. The longer length gives you the ability to pull it up in a claw clip, chic French twist, chignon or ponytail, which cannot be said for most shorter styles," she says.
The cut looks so chic from the back too. "The easiest way to style this look would be with a Dyson Airwrap for that playful, soft, glamour finish," says Clarke. She also recommends using a hair mousse, such as Color Wow's Xtra Large Bombshell Volumizer, for volume and hold. To finish the look, she advises using Living Proof's Full Dry Volume & Texture Spray. "This is one of my go-to dressing sprays for maximising volume," says Clarke.
We're loving the flicked-out ends of Bettina's side-parted bob.
Get a pro finish at home with this award-winning styler. 
Protect your tresses. 
Top session stylists continuously rave about this dryer. 
For optimum bounce. 
This will help your volume to last all day. 
This is totally weightless but will leave you with thicker-looking hair. 
Give your bob its trademark lived-in feel with this texturising finishing spray. 
Up Next: 46 Blunt Bobs That Are Making Me Completely Rethink Having Long Hair