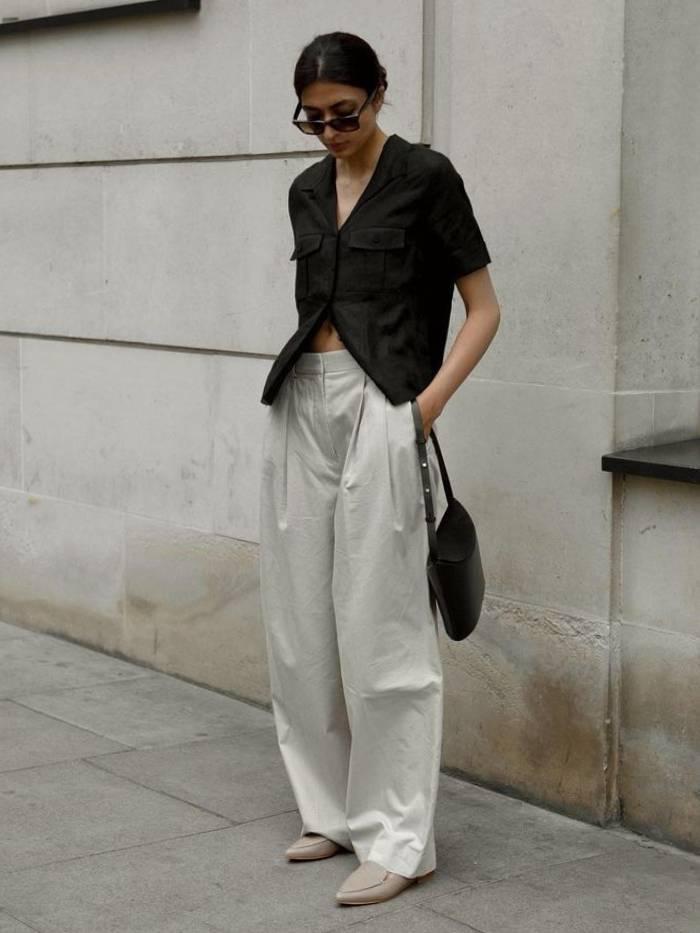 It all started last spring when COS introduced a pair of beige wide-leg trousers that filled the gap in our wardrobes created by the phenomenon that was The Row's pleat-front Phoebe pants. From Kendall Jenner to Rosie Huntington-Whiteley, many über-minimalists couldn't resist their pared-back, timeless charm. At a cool £1420, these exact trousers understandably didn't make their way into the wardrobes of our editors or anyone we know. Although there is a huge difference between a well-cut pair of trousers and an ill-fitting pair (not to mention the fabrics and finishes used), the style itself—a simple, roomy leg with a high waist—wasn't unusual or different and could be traced back easily to slacks from the '90s, '80s and even '30s. In fact, 1932 was dubbed The Year of Wearing Trousers, and the exact same silhouette led the pack then. To say this is a timeless and worthwhile investment is an understatement, but to be able to take part in said investment for something more around the £100 mark is certainly preferable.
Who What Wear editor, Emily Dawes, swears by her COS trousers. 
COS clearly saw a great resonance with its first round of beige trousers, as new versions have been launching ever since—in varied colours, fabric and cuts, but all with that same effortless slouch to them. Three of our very own editors have worn their black versions to the office on repeat this winter, and have reported back that the best thing about these trousers is in fact the elasticated, adjustable inner-waist sections so you can tailor the fit to perfectly suit you—amazing. I'd love to see the sizing go beyond an 18, but at least they do go up to an 18, unlike some high-street labels. 
Keep scrolling to shop the famously good COS wide-leg trousers, and shop our other favourite pieces at COS right now.
There isn't a single minimalist influencer I know who hasn't got a pair.
Tailored trousers can work really well with a sporty bomber and trainers.
You can easily restyle these trousers for any season depending on your shoe and top choices.
Add a vest, and you have 2023 wrapped up.
How chic do they look paired with a waistcoat, like Lindsey has done above?
The perfect slouch. 
The navy pair look so good with a baby blue top.
There's something about this brown two-piece that just looks so chic.
A dreamy set.
The grey pair is a particular favourite of mine.
This beige pair will work hard for you all year round.
Khaki is a gorgeous option that will go with neutrals and brights.
The front pleats really do it for me.
How gorgeous is the lilac?
A drawstring waist = maximum comfort.
Pair your wide-leg trousers with a slim-fitting roll neck as above and you have yourself an easy, stylish work look.
Another winning set!
A great pair of grey trousers act as a stylish base for an easy winter 'fit.
Next Up: Sorry, Jeans, I Only Wear Wide-Leg Trousers Now—25 Pairs I Really Rate
This post was originally published at an earlier time and has since been updated.