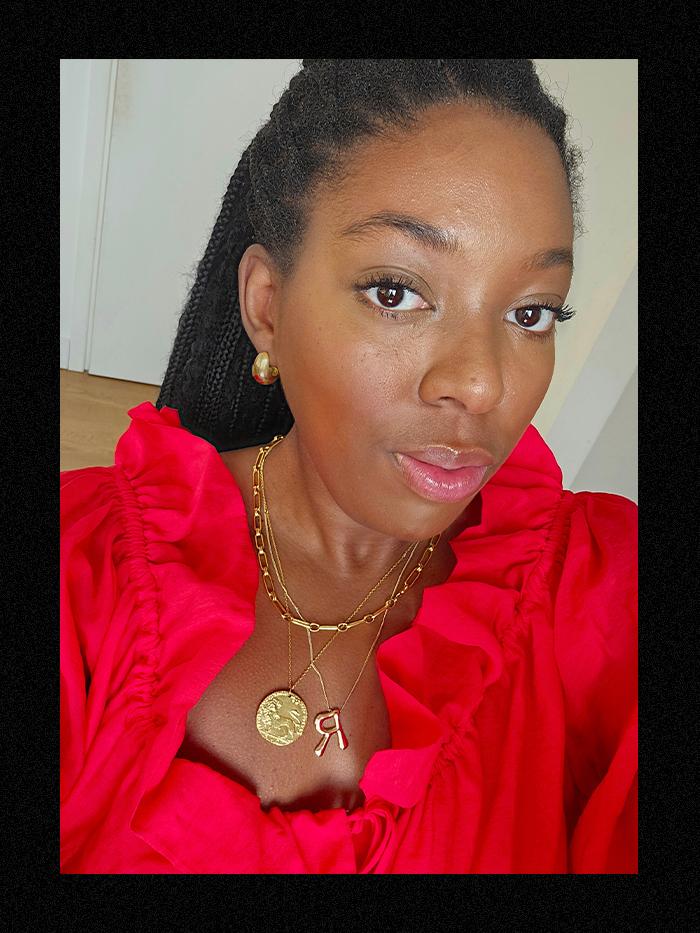 Welcome to Who What Wear UK's inaugural Next in Beauty Awards 2023. Here, we are crowning and celebrating the very best in beauty. From the game-changing newcomers that are industry innovators, to the tried-and-tested classics that remain a worthy mainstay in our skincare cabinets and makeup bags alike. To help us find the very best in beauty, we called upon our esteemed panel of industry experts, hard-to-please editors and in-the-know influencers, who put each and every single product to the test. We enlisted our judges to document and share their testing for every product they tried, so you can see all the winners in action—as well as those very important before-and-after results. After much testing, swatching and reviewing, the results are in. Join us in celebrating the best in our Makeup-Bag Marvels category.
The perfect lip liner does exist—and our judges have found it. By Terry is a brand that's much loved by our editors, and the brands Hyaluronic Lip Liner blew our judging panel away. Firstly, let's talk about the formula. Packed with shea and macadamia butters, it glides on with zero drag, delivering a creamy swipe of colour that is also nourishing to wear. Not only is it long-wearing, but the retractable nib can be sharpened thanks to the inbuilt sharpener, ensuring sculpted and defined lips each time.
"As someone who has been wearing lip liner since the early '00s, I know a good one when I try it. Without a word of a lie, By Terry's is the best I've come across," says Who What Wear UK deputy editor, Maxine Eggenberger. "Unlike most other liners, which feel dry and take considerable effort to apply, this product glides on with ease and the formula—a mix of shea and macadamia butters, as well as hyaluronic acid—is super creamy and makes my lips feel smooth and nourished. It lasts, too—I've worn it whilst eating and sipping cocktails and it didn't budge. I tested two colours and loved them both. This is top-tier makeup."
It also impressed freelance beauty editor, Mica Ricketts, who isn't normally a lip liner fan. "I don't tend to be fussed about lip liners, but this one has well and truly converted me and I'll be buying them in every shade! It's lovely to apply—so creamy and smooth—and it really does help to make my lips look more plump and full," she says. "It has brilliant staying power too, but when it does wear off it does so evenly—leaving lips with a natural wash of colour."
Team Who What Wear UK are already enamoured with Rose Inc, but the Skin Enhance Luminous Tinted Serum captured glowing reviews from our judges across the board. Harnessing the power of hydrating hyaluronic acid, plumping peptides and nourishing squalene, this lightweight serum texture features encapsulated pigment that burst on contact with the skin. The result? Glowing skin with sheer coverage that makes your skin look naturally radiant. It's a huge hit with Who What Wear UK's junior beauty editor, Grace Lindsay, and Donna Dia, founder of The Beauty Beat.
"I Ioved this product! Really lovely coverage for days when you just want a glow but not a full face of make-up," says Dia. "It felt really light on my face, not sticky or heavy at all. The product lasted the full day, really great for light coverage with added glow."
Lindsay agrees: "Loads of people had been telling me to try this product, so when I received it, I was a little worried that it wouldn't live up to the hype, but it truly is amazing," she says. "It's the perfect base if you don't like a heavy foundation, and works to even out skin tone while giving your complexion a gorgeous glow. It literally sinks into the skin and leaves your complexion feeling soft and hydrated."
Our judges felt that Rose Inc's Soft Light Luminous Hydrating Concealer was also a very worthy winner, with its expansive shade range that caters to all skin tones. Our panel also loved that Rose Inc lists its darkest shades first on its website; something rarely seen across the beauty industry. The formula itself is also worth shouting about. Both creamy and high coverage, it effortless blends into the skin to blur imperfections while leaving skin looking naturally radiant, with a whole host of skincare ingredients to boot.
"This is my go-to concealer. I love the creamy texture, which gives the perfect amount of coverage without being cakey," says Who What Wear UK managing editor, Poppy Nash. "It doesn't crease and normally lasts me all day, so I don't need to top up under the eyes or around my nose.The brand claims all products are ethically and sustainably made too, which is a huge plus!"
Bronzers can be hit or miss, but Pixi's On-The-Glow Bronzer stood out as one of the easiest-to-use bronzers that our panel tested. The twist up stick (touted as a tinted moisture stick) an be swiped onto the skin before blending out effortlessly, leaving a healthy glow. Enriched with antioxidants, it encourages a healthy glow while leaving an instantaneous tint of colour to the skin. The shade range was suited to both dark and fair skin amongst our judging panel, too.
"I Iove the formula, how creamy and blendable it was, and the colour," says pro makeup artist, Joy Adeunga. "Aside adding warmth to the skin, I can also use the product as a blush. Works well with both brushes and a beauty blender."
It was also loved by Next in Beauty's head of awards, Fiona McIntosh. "I love this bronzer! Great formula, and a good range of shades for different skin tones and undertones," she says.
Perhaps the best way to store all of our winning makeup products, Beautifect's Box neatly houses all your bottles, tubes, pots and brushes—no more rummaging in your makeup bag trying to find your products. The smart storage compartments are just one aspect our judges loved.The box includes a built-in mirror with multiple settings, which allows you to do your makeup perfectly in any lighting situation, whether it be in evening light, bright daylight or under office lighting. It folds away neatly to keep your makeup must-haves neat and organised, and was loved among the makeup artists and makeup lovers in our panel.
"This is a beautiful, luxury item that provides wonderful lighting, saves time, and allows flexibility with it being travel-friendly, wherever you go," says award-winning make-up artist and beauty educator, Aarti P. "The beauty effect box comes with everything a make-up newby would need," adds Who What Wear UK social media editor, Joy Ejaria. "This is such an innovative storage box that lights up based on your environment and converts into the most epic dressing table."
Merit has become a staple for many of us, with its chic and concise makeup edits that make getting ready and out the door quicker than ever. But our favourite product has to be the Flush Balm; a real mutli-tasker in our makeup bags. Serving as both a blush and lip colour, this domed applicator applies with a creamy texture that melts into the skin, lending a healthy sheen to cheeks and lips. Our testers also love the range of wearable shades, which vary from deep berry and terracotta to muted pink and taupe.
"I love this balm," says makeup artist, Emily Wood. "The shape is really functional, a great on-the-go product that lifts and hydrates whilst adding a subtle flush," she says. "I like the transparent finish for a few reasons; it feels gentle and lightweight on my skin plus I have started to enjoy seeing my skins true texture and enhancing what's already there."
"Now a staple in my makeup bag, I really love Merit's Flush Balms," says Who What Wear UK beauty editor, Eleanor Vousden. "The domed applicator makes applying easy, and it can be patted in with a brush or just your fingertips for easy on-the-go touch ups. There is a great range of beautiful shades, which impart a natural flush of colour to the cheeks with a radiant finish that stays looking fresh throughout the day."
We'll admit, we're used to mascaras boasting sensational claims. But, Makeup Revolution's 5D Lash Pow Mascara went above and beyond. Our judges wanted to highlight the innovative opening mechanic—which pops open, as opposed to a twisting opening and closure—which keeps the formula from drying out. As for the results, it delivered fanned out lashes, coating them in a blacker-than-black coat while stretching and lifting lashes to their full potential. At under £10, our judges were blown away.
"This mascara is brilliant," says makeup artist, Mira Palmer. "It creates great volume and length, and the black colour creates lashes to envy. No drying out here with the innovative closure mechanism, and no fall-out or flakiness," she says. "At under £10 this is a great mascara."
"The best thing about this mascara is the closure! It has a click function meaning it doesn't dry out as fast as other products," says Nash. "The wand was nice and chunky and the product went on really nicely. For the money, I think this is great. No smudging either!"
A good makeup setting spray is the MVP for locking in our carefully applied makeup, but not all finishing sprays are made equal. Morhpe's Continuous Prep + Set Mist was a favourite of the finishing products our judges tested. The continuous spray mechanism makes application even—without drenching your skin like some setting mists do—with micro-fine droplets that help to prep and set makeup. The hydrating formula also nourishes the skin, helping to diffuse areas where makeup looks cakey or is just in need of a quick refresh throughout the day. The judges also love that this spray comes in a miniature size for top-ups on the go.
"I wear makeup daily but find I have to reapply throughout the day to keep coverage," says Who What Wear UK branded content editor, Rebecca Rhys-Evans. "With the Morphe Continuous Prep + Set Mist, foundation and concealer really sets, making it much more long lasting. Others I've tried leave my face feeling damp or sticky, but not this one!"
This winner will be unsurprising to many who swear by this now-iconic blusher that needs to introduction. However, if you're yet to try it, you'll be seriously impressed with its easy to blend pigment, delivering a creamy flush of colour to cheeks. And the shade range will have you wanting to try them all. Just a dot on each cheek is all you need, meaning this blusher will last you for ages.
"The lightweight, liquid formula has a lovely consistency and is very pigmented which means that the colour is long lasting and the product will go a long way," says Who What Wear UK ecommerce analyst, Sophie Cookson. "I tried the colour 'Encourage' which is a darker colour than I usually go for, but the pigment were actually really flattering. It felt natural but also stood out."
It was also a favourite with Adenuga. "I applied with a brush and found the product applies and blends really well. The longevity of the blush is very impressive as I didn't need to reapply all day," she says. "Colour aside, it gave my skin a gorgeous glow after application. A little goes a long way, so I would adsice starting with a dot using the applicator and gradually building the colour."
Prepare to meet your new foundation favourite. Givenchy's Prisme Libre Skin-Caring Matte foundation was a standout amongst our entries. You'd be forgiven that a matte formula would be heavy—not this one. Virtually weightless on the skin, it has a luminous quality that looks like your skin, but better.
"Often finding the right foundation can be like the quest for the perfect pair of jeans, and both come down down to how well a product fits the individual. Prime Libre Foundation manages to capture the "second skin" effect that many others try and fail to achieve," says Who What Wear UK shopping editor, Remy Farrell. "Ultra lightweight, breathable, and still pigmented enough to balance out the dark spots I usually hide with concealer, I check the mirror hours after application and I'm pleasantly surprised by the natural, bright finish that looks like I'm wearing nothing at all," she adds.
The makeup artists amongst our judges also gave it their seal of approval. "I love this hybrid foundation and have done since it launched," says Palmer. "With an 82% skincare formula, this hybrid foundation cares for your skin whilst perfecting it. It goes on beautifully and blends, is buildable and comes in 35 shades. It says matte but it's just actually like skin and not to matte or not too dewy—just perfect for radiant natural looking skin."
When a lash appointment is hard to come by, these false lashes are a brilliant alternative to give you a realistic flutter in minutes. Our judges liked how easy this kit was to use (the brand's tagline sums it up: 'If you can mascara, you can apply Falscara!'). Simply apply the bond adhesive onto your natural lashes, press the lash clusters underneath your lash line and seal with set in place with the sealing solution. If you want a more affordable alternative to lash extensions, this is a great kit to keep on standy for when you want to elevate your lashes.
"I love the look of long lashes so much but I'm yet to find ones that work for me. I've tried stripes, magnetics and even been for professional installations but nothing has worked wowed me," says Ejaria. "My lashes and short and very curly which makes application hard but somehow, I managed to apply this one seamlessly and with no tears! Those like me who can't apply lashes to save their life will be very pleased with how easy KISS have made the process."
Complicated, multiple-step eyeshadows can strike fear into those of us who aren't a dab-hand at makeup, so many among our judging panel love the simplicity of this one-and-done eyeshadow stick, which makes creating beautiful eyeshadow looks easy. The crayons come in kaleidoscope of matte and shimmer finishes, which can be scribbled onto eyes and blended, resulting in a long-wearing finish that doesn't crease or smudge.
"After years of priming without success I thought I was destined to live a life where my eyeshadow was constantly creased. Then along came Nudestix" says Eggenberger. "A chunky soft pencil which you can use to line or build and blend into full-blown shadow, this product promised a high-pigment payoff and zero creasing, and it delivered on both, I really appreciated the accompanying sharpener, too." 
It's got makeup artists' seal of approval too. "An uncomplicated product that gives you room to apply imperfectly with little precision. Enriching!" says Wood. "This pencil does not budge once it's on. Also that unique, glossy matte finish is so enhancing and beautiful. Heaven."
With so many concealers promising to do it all, there was tough competition amongst our entires. However, Kosas' Revealer Concealer really did deliver on its promises. Dark circles? Disappeared. Blemishes? Hidden. Dryness? It simply smooths over. Our testing panel applauded its concealing powers, which also leaves a radiant finish. The skincare ingredients also help to boost skin as you wear it, making your skin look better and better as you wear it. Excuse us while we stockpile this modern makeup bag icon.
"I've found my holy grail concealer," says Vousden. "There isn't anything I don't like about this. The creamy consistency melts into the skin and effectively conceals just about everything from dark circles to blemishes and pigmentation without creasing or going patchy throughout the day. It has a radiant finish, that is in no way sticky, and adds a luminous sheen to the skin that makes it look like your skin, but better," she says. "I love that it is formulated with hydrating hyaluronic acid, as well as panthenol and arnica to help heal the skin."
Freelance beauty editor, Mica Ricketts rates it, too. "I love this concealer! It's lightweight and creamy yet has brilliant coverage and really brightens the skin. I can use it on dark circles and spots and it works brilliantly on both. In fact, I often skip foundation and other base products when I use this as it makes skin look so good."
Brow gels can be fickle. While some flop, others leave a flaky residue that we can't get on board with. However, Anastasia Beverley Hills' Brow Freeze is now a mainstay in many of our judges' makeup bags, from makeup artists to editors. With a clear, waxy texture, it tames brow hairs into place without flaking or leaving hairs stiff. Instead, our judges were left with the arches of their dreams: full, fluffy brows that held in place all day long. The workable texture sets into place, allowing you time to coiff hairs into place for setting into place.
"This provides an instant feather effect. It is easy to use, grips hairs well and holds hair well," says makeup artist, Lan Nguyen-Grealis. What's more, Cookson loved the results it gave too. "I am always on the hunt to find a product that will tame my unruly eyebrows. The styling wax definitely has an extreme hold and holds even the thickest of my brow hairs in place," she says. "It is easy to use and is clear meaning, that you can keep it natural or add a brow pencil afterwards."
Up Next: Next in Beauty Awards 2023: The Winning Nail Products