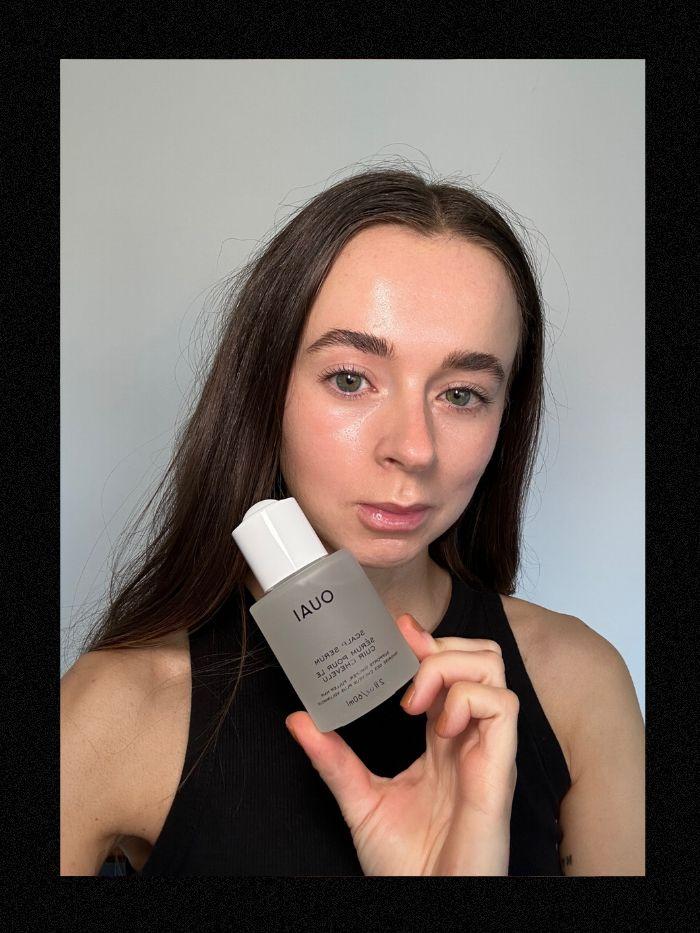 Welcome to Who What Wear UK's inaugural Next in Beauty Awards 2023. Here, we are crowning and celebrating the very best in beauty. From the game-changing newcomers that are industry innovators, to the tried-and-tested classics that remain a worthy mainstay in our skincare cabinets and makeup bags alike. To help us find the very best in beauty, we called upon our esteemed panel of industry experts, hard-to-please editors and in-the-know influencers, who put each and every single product to the test. We enlisted our judges to document and share their testing for every product they tried, so you can see all the winners in action—as well as those very important before-and-after results. After much testing, swatching and reviewing, the results are in. Join us in celebrating the best in our Good Hair Day category.
When it comes to finding a good shampoo, we expect to pay a pretty penny for a sophisticated formula that leaves our hair cleansed, soft and shiny. But the shampoo that impressed us so the most comes in at only £5. Monday Haircare's Smooth Shampoo is designed to have a smoothing effect on curly, coily and frizz-prone hair, and our judges agree. Props to Monday for leaving our hair—and bank accounts—looking healthy.
"This smells delicious and leaves hair feeling clean and fresh. It has lots of natural ingredients and is also vegan and cruelty-free," says makeup artist Mira Palmer. "The price is also incredible at £5, and it's great for my curly hair, leaving it frizz-free, soft and smooth."
"It gives a really nice, smooth finish," says Who What Wear UK affiliate editor Emily Dawes. "My hair is frizzy with breakage, and it gave a really nice, smooth blowdry after use. It's great value for such a big size, and I'd give it extra innovation points for being so affordable without sulphates. It's also PETA-certified and made from 100% recyclable packaging."
We want our hair conditioner to go above and beyond, and Fable & Mane's MahaMane Leave-In Conditioner delivered on the brief. The leave-in formulation not only hydrates and nourishes hair, but it can be used to detangle lengths and prep hair for heat styling, thanks to the addition of heat protection. It even protects against UV rays. The lightweight formulation mists onto the hair, weightlessly imparting a glossy finish on all hair types. It's the new overachiever of our judges' haircare routines.
"My toxic trait is that I never use heat protectants before blow-drying or styling my hair, so I was really keen to try Fable & Mane's Leave-In Conditioner," says Who What Wear UK affiliate manager Jerrylyn Saguiped. "I'm pleased to report that it doesn't leave my hair with a sticky or greasy feeling, and it also makes my hair smell lovely long after my wash day. The ends feel less dry than usual, likely thanks to the hydrating aloe vera."
A decent hair dryer can be a significant investment, so we scrupulously tested our entrants, and Zuvi's incredibly innovative Halo Hair Dryer is a very worthy winner. Unlike other hair dryers that use significant heat to dry the hair (which draws out moisture from the middle of the hair shaft), Zuvi's technology only dries moisture on the outside of the strand, keeping its integrity at optimum health.
"The hair dryer is efficient and leaves the hair looking visibly shinier," says Charlotte Mensah, award-winning hairstylist and owner and artistic director of Hair Lounge. However, it takes longer to dry thicker and afro-textured hair." 
Who What Wear UK copy editor Georgia Seago notes that whilst it's certainly an investment purchase, it's worth it if you spend a lot of time and money on your hair routine already. "I love it because it's quiet, compact, lightweight and quick, but I do have long hair which I get coloured and put a lot of heat on (I regularly use a hair dryer, straighteners, blowdry brush and a curling iron), and I only use salon-grade haircare products, so it makes sense for someone like me," she says. "This hair dryer definitely uses a cooler temperature and is kinder to my hair than others I've tried, so I can see why it would be a great option for sensitive scalps and compromised or thinning hair. I have a lot of hair, but this makes light work of drying it, leaving it super-soft and smooth with noticeably less frizz."
Dedicated curl products have long been overlooked, but thankfully, in recent years the status quo has moved on to celebrate texture in all its crowning glory. Now, there are more options than ever to make curls and coils shine. However, it was Holy Curls 06 Oil Serum that captured our panels attention the most. Our judges praised this weightless oil-serum hybrid which can be used on wet hair prior to styling, or as a refresher to add lustre and definition to lengths. Its uses know no bounds; it can also be used as a scalp oil, primer and hydrator to lock in moisture. A big round of applause for this all-rounder.
"This has a beautiful balance between oil and serum," says beauty content creator Lesley Buckle. "It's not too heavy or greasy and gives my hair a nice amount of shine without looking like it's loaded with product. I love that there are no silicones, as these can build up on my hair easily. Instead, it uses a natural alternative called hemisqualane to help with frizz."
Serum can often make or break a hair look—too heavy and it weighs hair down, too light and it might not give adequate results. Alfaparf Milano's Semi di Lino Sublime Cristalli Liquidi passed our tests with flying colours, lending the hair a healthy gloss whilst protecting from heat.
"I was initially apprehensive about using an oily serum as a heat protectant for obvious reasons," says freelance beauty journalist Ata-Owaji Victor. "So I was pleasantly surprised to see that this serum left my hair feeling light and without any visible heat damage after I blow-dried it. I used more than the advised one to two drops on my afro hair due to the coily texture of the strands, and I felt like there was a genuine improvement in the look of my hair. I can't wait to try it on wigs and weaves too."
It also received high praise from Who What Wear UK shopping editor Remy Farrell. "Those with fine hair might want to use this product sparingly, but dry hair like mine easily took to this thirst-quenching oil that smoothed flyaways and left my hair feeling silky-soft and glossy," she says. "Some oils can sit on the scalp and weigh hair down, but this creates a shine that absorbs without leaving too much of a greasy residue."
Most of us can benefit from a good hair oil, whether it be to replenish moisture to heat-damaged strands, add definition and gloss to curls or as an intensive pre-shampoo treatment to restore lack-lustre locks with an expensive shine. Our winner, Monpure's Ultralight Healthy Hair Oil, does exactly what is says on the very sleek bottle. Just a couple of drops make light work of reducing frizz and adding shine, all without weighing down lengths.
"This oil is so great for smoothing my curls and helping with frizz, and it's not heavy at all," says Buckle. "I love that it uses vegan keratin to help strengthen strands and protect from heat damage. It leaves my hair so shiny and glossy and a little goes a long way."
It also impressed Who What Wear UK deputy editor Maxine Eggenberger. "It takes a lot for a hair product—especially one formulated for use on dry hair—to impress and sway me, but Monpure's Ultralight Healthy Hair Oil has done it," she says. "It's incredibly lightweight and doesn't weigh my hair down, which is always a concern when using an oil. Immediately, I noticed enhanced shine across my locks, which were also soft to the touch. The biggest selling point for me, however, was its ability to eradicate my frizz and smooth flyaways. Whilst it's a premium product with a price tag to match, it's so efficacious, and the jumbo-sized bottle (a whopping 100ml, and you only need a few drops) means it'll last ages—the cost per use is truly a small price to pay for luxurious hair."
Whilst many have attempted to imitate our winner's innovative effects, Olaplex's No.3 Hair Perfector is the original bond-repair product that changed the game, with our judges crowning it the best hair treatment.
"It's a cult product for a reason," says freelance beauty editor Mica Ricketts. "This treatment really works wonders for my hair, which is naturally dry and prone to frizz. After I've used this my strands always feel stronger and more elastic, and they look smoother and glossier too. I love that you use it before shampooing (I can rarely be bothered with  post-shampoo hair masks), and my hair just feels so much healthier after I've used it."
Who What Wear UK ecommerce analyst Sophie Cookson also applauds its restorative effects. "The product is easy to use and I like that you can leave it in for however long you need depending on how damaged your hair is. I left it in for an hour and my hair felt silky soft even whilst it was still wet," she says. "I do feel it helps with bleached hair and split ends, and the blonde highlights in my hair also looked lighter and more prominent."
Salt sprays have come a long way in recent years, leaving our hair with an effortless look without the dreaded crunchiness left behind by versions from years gone by. Hair By Sam McKnight's Sundaze Sea Spray fits the exact brief, leaving our testing panel with easy-breezy hair that looks windswept in the very best of ways. And if you've tried any Hair by Sam McKnight products, you'll know that they smell incredible, leaving hair delicately scented. Expect compliments aplenty.
"It's been a while since I used a salt spray, as I often found they'd leave my hair crispy and tangled, but this one is a dream," says Ricketts. "Not only does it smell incredible, but it helps to lend a bit of an artfully tousled look to my often unruly waves whilst leaving them soft and shiny."
Cookson also rates its talents at lending a beachy look whilst protecting the hair. "This salt spray is perfect to use on wet hair to add some volume, or you can also use it on dry hair to create a natural texture that only the sea can usually give you. It features ingredients that help with UVA and UVB damage, which is an added bonus, and it also has vitamin B to help condition the hair."
Any hair tool that makes styling our hair easier and faster is a winner in our books. Our judges were seriously impressed by The Beachwaver Rotating Hair Iron, which rotates your hair around the barrel with the click of a button. Rotating in both directions, it allows you to create those face-framing, tumbling waves in no time at all. Thanks to the size of the curling barrel, it gives you S-shaped waves that can be brushed out for an effortless look that stays in place all day long. Featuring a long cord and three heat settings, our judges were really impressed with how easy and fast this tool is to use.
"This iron makes achieving those coveted beachy waves impossibly easy," says Seago. "Mastering the technique is key to getting that cool-girl hair, and because this iron basically is the technique, you can't really go wrong, as long as you clamp your hair into the iron facing the direction that you want the wave to go. You just press and hold either the left or right arrow on the body of the wand, it twirls your hair around the barrel, then you release the clamp for soft, uniform curls which you can comb out for more of a loose wave. Using this cuts my waving time in half," she says.
It also received high praise from Samantha Cusick, hairstylist and founder of Samantha Cusick London. "It simplifies the process of creating beautiful waves and ensures they last all day. When it comes to performance, it truly delivers," she says. "It's a fantastic choice for achieving gorgeous, long-lasting waves effortlessly." 
The spotlight on scalp care has increased in recent years, meaning that there now are more and more targeted scalp products on the market to choose from. We'll admit that choosing one can be a real head-scratcher, but our panel felt that Ouai's Scalp Serum soothed sensitive scalps without weighing hair down. Thanks to its gel consistency, it sinks in quickly without leaving a sticky residue, making it a scalp-soothing product you'll want to apply every day. It boasts a number of extracts that help to soothe irritated scalps, all whilst encouraging thicker hair growth from the root. It's another product we love from Ouai's much sought-after haircare range.
"No matter what your hair type or concerns, healthy hair starts with a healthy scalp, so this serum has benefits for everyone," says freelance beauty editor and aesthetician Grace Day. "I found it felt incredibly cooling and soothing on my scalp, which is easily prone to sensitivity. It's so easy to use and leaves no residue or greasiness to the roots. My scalp already feels much calmer and more balanced," she says.
Eggenberger also sang this scalp serum's praises. "Haircare aficionados rave about Ouai products, and its Scalp Serum is no exception. My hair is naturally quite thick, so the results I saw pertain more to my scalp health. I didn't think I suffered from dryness until I used this, but my hair and scalp feel more nourished and softer than ever," she says. "It's lightweight— which is great, as I hate using anything heavy in my hair—rinses out with ease and leaves no trace of oil. In fact, I think my hair looks good for longer between washes when I use this."
Our judges wanted to give Kérastase Nutritive Nutri-Supplement Split Ends Serum an honorary mention for its ability to effortlessly smooth and restore health to fragile ends. Enriched with polymers and lipids, it helps to seal split ends whilst lending a swishable lengths that healthy shine.
"I love this," says Cusick. "The sleek dropper bottle feels very luxurious and makes it a breeze to dispense the perfect amount. This serum has truly been a lifesaver for my split ends, leaving my hair silky and healthier," she says. "Plus, the precision of the dropper ensures I never overuse it. I did feel the formula would have benefited from being a bit thicker to help smooth ends more."
Our final runner up goes to Function of Beauty's Wavy Hair Shampoo. Our judges love the brand's ethos that one-size doesn't fit all when it comes to haircare, and this targeted shampoo for wavy hair delivers impressive results at a reasonable price point. Featuring fermented rice water and no sulphates, this vegan shampoo feels very premium indeed.
"Just like the conditioner, I really enjoyed this product and have actually continued to use it after testing," says Cusick. "It smells lovely, and as I have wavy hair, it's perfect for me. My hair was left clean and felt light after using."
Next Up: Next in Beauty Awards 2023: The Winning Skincare Products