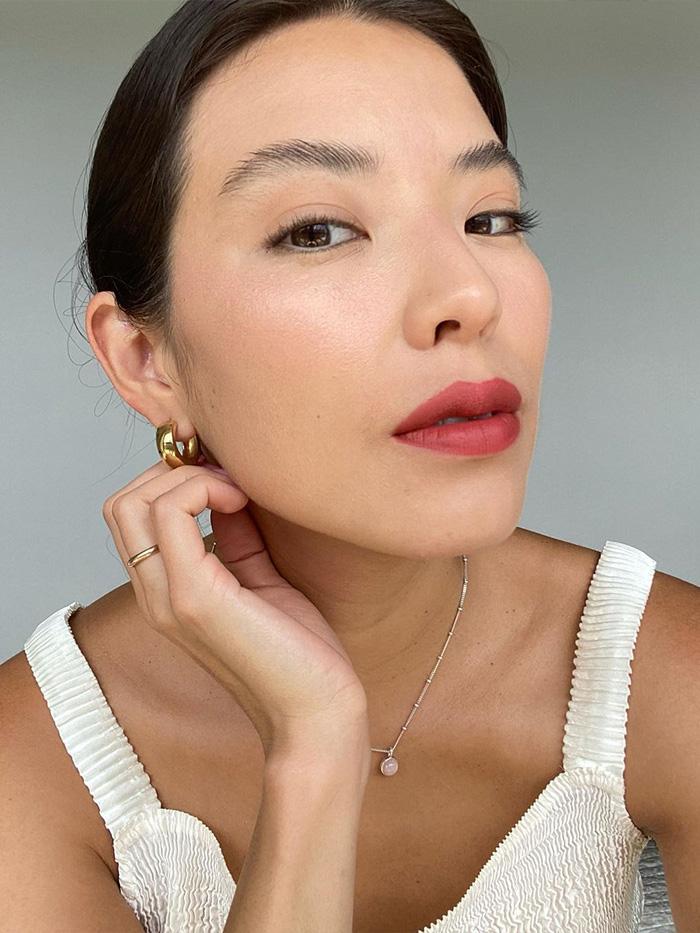 Of all the questions that I'm asked as a beauty editor, how to actually get rid of dark circles has to be up there as one of the most widespread enquiries. Dark circles are all-inclusive when it comes to who they target, from my teenage sister whose laid-back approach to studying often results in all-nighters spent at the library to my friend who has forgotten what sleep is since becoming a mum of three. The truth is, there are many factors that can contribute to dark circles. In many cases, dark circles are often down to genetics, so if your parents are prone to them, you may be more likely to have them too. As we age, our eye area can also become hollowed due to fat loss, which can create shadows.
Luckily, there are things that you can do to combat if they are bothering you (and it is personal preference, at the end of the day). Staying hydrated, eating well and taking care of yourself with plenty of sleep can make a world of difference to the appearance of dark circles, but one of the simplest places to start is with a decent eye cream. We'll admit, an eye cream won't permanently eradicate dark circles (that miraculous product just doesn't exist), however, the right eye cream can play an important part of the puzzle in treating dark under eye circles—if you know which ones to go for.
Kate Kerr, skin expert and director of the Kate Kerr London Clinic, told me that there are two main ingredients to look out for when selecting the best eye cream for dark circles: "L-ascorbic acid, a potent form of vitamin C, and a retinol-based eye cream, which will help to strengthen the area." So without further ado, keep scrolling for the best eye creams to invest in now to minimise darkness, reduce pigmentation and brighten up tired-looking eyes. Plus, there are some celebrity favourites in the mix too.
Proving that you don't always need harsh ingredients to target dark circles, this eye cream from Origins actually strengthens capillaries and provides anti-inflammatory benefits to reduce the proven causes of dark circles.
You only need to glance at the glowing 5-star reviews to know that this eye cream really works to deliver visible results. Reviewers say this eye cream brightens dark circles while also targeting fine lines and wrinkles too. It contains a powerful cocktail of stem cells to rejuvenate the eye area, priming the eye area for makeup with a lightweight texture that sinks into the skin instantly. It also contains diamond powder, which scatters light around the eye area to disguise dark circles too.
Price shown is member price.  Beauty Pie has gained a loyal following for its great (and affordable) skincare formulations, and its Super Retinol eye cream is excellent for brightening and overhauling the skin around the eyes. Retinol is the key ingredient, which helps to brighten dark circles and leave your eye area looking refreshed.
While not technically an eye cream, this do-it-all serum is ideal to take up to the eye area to brighten and boost all areas of your complexion. One of the star ingredients of this luxurious formula is wild harvested dulse algae extract, which contains polysaccharides that work to brighten the skin and leave it looking radiant. 
Beauty editors and skincare lovers adore Medik8, because the formulas really work. While this serum is on the pricier side, it's a great investment to transform the delicate skin around the eyes, which is prone to accelerated ageing. This eye serum has multi-weight hyaluronic acid, hesperidin and caffeine which help to brighten dark circles and leave the skin looking plumped.
This eye cream from Drunk Elephant is a cult favourite that basically every beauty editor I know swears by. It contains a pretty impressive five forms of vitamin C for a real boost of brightness.
It's no secret that Laura Harrier relies on celebrity facialist Shani Darden for her glowing skin and product recommendations. Darden's eye cream of choice? The IS Clinical Youth Eye Complex (£105).
"It has hyaluronic acid to deeply hydrate the under-eye area and keep it bright," Darden told The Cut. "It also has peptides to minimise the appearance of fine lines and wrinkles. I've used so many different eye creams, and this one is my favourite because it's one of the only eye creams that I can see a visible difference with."
Retinol is one of the most effective ingredients at encouraging skin cell renewal (hence its ability to improve fine lines, dark spots and pigmentation), but it can be harsh. Thankfully, this nourishing formula from Pixi combines retinol with hyaluronic acid to effectively target dark circles without causing irritation.
Rosie Huntington-Whiteley is a fan of BareMinerals Skinlongevity Long Life Herb Eye Treatment (£38).
"I'm absolutely obsessed with BareMinerals Skinlongevity Eye Cream (£38)," Rosie HW revealed during a YouTube tutorial of her skincare routine. "I love this eye cream because it's really soft and gentle and very, very cooling—this is one of my favourites." Having tried this myself, I have to say it really does a brilliant job of brightening dark circles of a morning as well as de-puffing.
The name says it all with this eye cream—a potent formula that's specifically formulated to reduce dark circles, fine lines and puffiness (basically all of the major under-eye concerns).
Jourdan Dunn uses Sunday Riley Autocorrect Brightening and Depuffing Eye Contour Cream.
I don't know about you, but when an actual supermodel reveals her full Monday morning skincare routine on Instagram—including her favourite eye-brightening cream—I take note. Turns out Jourdan Dunn swears by this Sunday Riley eye cream (£60), which uses caffeine, watermelon extract and ginseng to brighten the most tired of under-eyes.
This is one of the most affordable in this list, and it's also one of the most effective. It contains caffeine, which basically gives your undereye area a thorough wake-up call to brighten and de-puff tired eyes.
I'd always recommend expert-led skincare brands like Dr Dennis Gross when you're looking for really hardworking beauty products. This eye cream uses breakthrough retinol technology that's gentle enough for the eye area yet powerful enough to reduce pigmentation and smooth fine lines.
Gwyneth Paltrow swears by Dr. Barbara Sturm Eye Cream.
As a specialist in cosmetic medicine, Dr. Barbara Sturm and her products are beloved by many a celebrity and industry insider. Gwynnie swears by her eye cream (£115) for dark circles, telling The Skincare Edit that it's a "very important part of the process."
Shadows and wrinkles appearing? This wonder product corrects as it perfects. How? Well, it's infused with diamond dust (how fabulous) to reflect light and blur the visibility of imperfections.
Packed with vitamin C, caffeine and niacinamide, this cream helps to alleviate dark circles as well as redness. Plus, it has blurring properties to help you look even more well-rested.
If you've ever tried the original moisturiser, you'll know that this cream truly is magic. This version helps to restore and rejuvenate the skin around the eyes thanks to the shea butter and coconut oil. 
Touted as an eye mask, this serum-infused formulation can actually be used as an overnight treatment, an under-eye primer before makeup or a rescue balm to touch up throughout the day. Basically, it does a bit of everything, and it feels incredibly soothing and plumping on the skin even without all of the de-puffing, wrinkle-reducing benefits.
Another range that has a cult following is this newly reformulated eye concentrate from The Body Shop—which is now a bestseller. It contains edelweiss, a plant that has 43% more antioxidant power than retinol, helping to revitalise tired-looking eyes.
Filled with antioxidants and a powerful complex to help lessen the appearance of dark circles, this eye serum means serious business.
Don't let its tiny price-tag fool you—this serum packs a potent brightening hit and has impressed just about every WWW team member. This featherweight formula contains a high concentration of caffeine and EGCG (a potent polyphenol found in green tea) to provide a powerful blend of antioxidants and anti-inflammatories to the delicate eye area. These ingredients are known to reduce puffiness and dark circles, delivering results editors can't get enough of. 
Enriched with a 10% encapsulated vitamin C complex and 3% niacinamide blend to brighten dark circles and even tone. The lightweight gel formula makes it a great choice for daytime use.
A potent eye cream powered by a plant-based retinol alternative that works to brighten, hydrate, smooth, depuff, and prep for concealer. I'm a big fan of the applicator which makes light work of sweeping the product under the eyes in a rush.
As well as brightening under eyes in the long term with its potent vitamin C and collagen blend, this eye cream also contains reflective pigments that immediately reduce dark circles and brighten the eye area in the short term, too.
So many of Kinship's skincare products have been going viral on TikTok, but they've only just landed here in the UK. This de-puffing and brightening eye cream is definitely worth the hype. It cools tired eyes, boosts luminosity and smooths. Plus, it's fragrance-free so there's no risk of irritation.
This story was originally published at an earlier date and has since been updated. 
Next Up: Makeup Artists Say These 6 Moisturisers Will Age You in Reverse