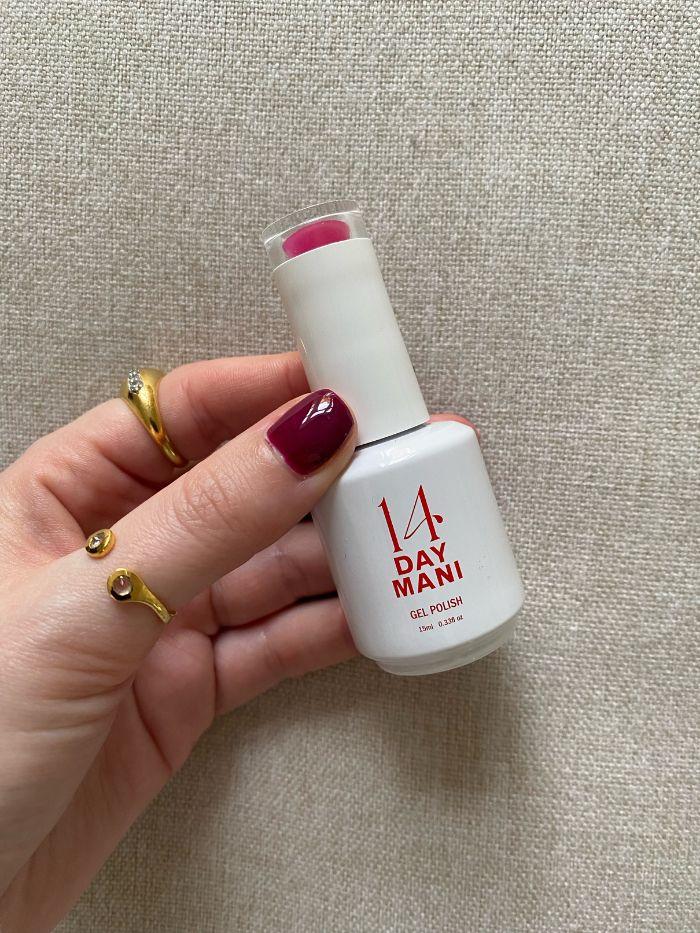 I'm a big fan of gel manicures. Not only do they look so much shinier than regular polish, but they make my life easier thanks to the fact that they can last for anything from two to four weeks. For me, going to my favourite salon to get a fresh gel mani became something of a habit, however I quickly noticed just how much this was costing me, and realised that I needed to take a break from appointments every now and again in order to save some money.
That being said, I wasn't ready to say goodbye to my beloved gel nails. My friend recommended investing in an at-home gel manicure kit, but if I'm being honest, I always thought that they seemed like a bit of a faff. That was before I discovered the gel nail kit from 14 Day Manicure. 
This product landed on my beauty desk a couple of months ago, and I'm not lying when I say I haven't been back to the nail salon since. I've been able to pull back my spending, and my manicures look just as good (if I do say so myself). I love this product so much that I thought it was only right to share all the information with you, so that you can treat yourself or someone else this gifting season. Intrigued? Keep on scrolling for my honest review…
First things first, what actually is 14 Day Manicure? If you've not heard of this clever brand, then you're missing out. 14 Day Manicure was founded by Suzanne Fowler, who wanted to be able to save money on gel nails, while making at-home manicures simple and convenient. It all started with the gel nail kit, and now the brand offers a huge range of gel polishes and accessories too.
The kit itself comes with an LED digital lamp, four gel polishes, a base coat, a top coat, a nail file, a nail buffer, acetone remover, a steel cuticle pusher and a reusable mani kit pouch. After opening up the kit for myself, I was so impressed by how much was included. The brand really has thought about everything you need to get those salon-worthy nails in the comfort of your own home.
Not only that, but in the kit you will also find step-by-step instructions to make doing your manicure as quick and easy as possible. I personally found these instructions so helpful as I had never done my own gel nails before, and after one try I felt like a total expert.
I started by making my natural nails look as polished as possible. I used the steel tool to neaten my cuticles, before shaping and lightly buffing my nails to remove any shine (this helps the base coat to adhere properly). I then cleaned the nail plate with nail polish remover before applying a thin coat of the UV base coat. All you have to do is cure the coat under the UV lamp for 30 seconds before moving onto your colour. 
I opted for a deep purple shade, and applied a thin layer of this before curing my nails under the lamp for another 30 seconds. I did another quick coat then finished everything off with the top coat. It's important to note that after applying the top coat, the brand recommends placing your nails under the UV lamp for 60 seconds to make sure everything dries and seals properly. Once everything was done, I applied my favourite hand cream and cuticle oil to give my hands some much-needed moisture, and I couldn't believe how good my nails looked. The whole process took me no longer than twenty minutes and I didn't even have to leave my house!
As the name suggests, this gel manicure is designed to last for around two weeks. I actually left mine on for a couple of days longer, and was really impressed by the lasting power of the gel polish.
When it came to removing the gel nails, I used the gel polish remover included in the kit, but it is worth noting that I did have to purchase my own cotton wool and foil. I buffed my nails and then soaked the cotton wool in the nail polish remover before wrapping it with foil to hold it in place. I left this on for around ten minutes and then gently lifted the polish off with the cuticle pusher. I did actually damage my nails the first time I did this as I didn't realise how powerful the cuticle pusher was, so I would definitely advise being as gentle as possible.
One thing I've always wondered is how safe at-home gel removal kits are. I'm always weary when using UV lamps, however, according to the 14 Day Manicure website, the lamp is at a professional level for safe use. That being said, always make sure to follow the instructions and only keep your hands under the lamp for the amount of time advised, as you do not want to risk any overexposure.
Although your hands are only under the lamp for seconds at a time, you can always apply your favourite SPF before doing your nails for extra protection.
All in all, I would definitely recommend this kit for anyone looking to do their gel manicures at home. Although it is a bit of an investment, you will end up saving yourself money in the long run, and after a bit of practise, no one would be able to guess that you are doing your own manicures. 
The only downside is that removing the gel polish can be a little bit of a faff. I usually do my nails on my dining room table but make sure to move to my bathroom just in case I ruin any surfaces with the nail polish remover, and so I can do it near an open window (the smell can be quite strong!) It's sometimes quite hard to apply without spilling small amounts, and if you have any children or pets around then you would definitely want to keep this out of reach! That being said, it does get easier over time, and the brand also offer polish remover wraps that are already soaked in acetone to make the process a lot simpler.
This kit is currently on sale for just under £80 and you get all of your manicure essentials.  Pros: Easy to use, helps you to save money and has a range of gel polishes available. Cons: Takes practise and removing the gel can be a little bit tricky
I've got my eye on this gel nail polish bundle for winter as it has the perfect selection of deep red and purple shades. 
I like to give my nails a break from gels now and again, and I make sure to apply a treatment like this one to help repair my nails from any damage.
To keep my hands nice and moisturised, I always opt for a hydrating hand cream.
A cuticle oil is also key for maximum hydration. This one is great for applying on the go.
As mentioned before, 14 Day Manicure do these handy gel polish remover wraps that are pre soaked in acetone.
When it comes to applying (and removing) gel nails, you can never have enough nail buffing blocks, and I love these fun pastel colours.
Next Up: 14 Nail Polish Brands That Deliver Salon-Grade Manicures