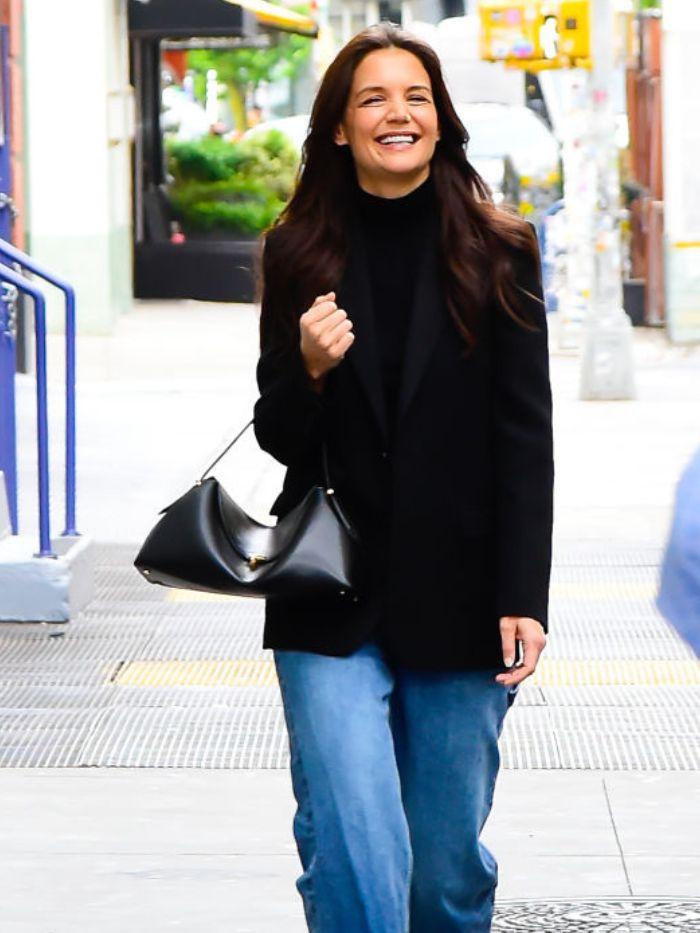 Often when a celebrity causes chaos with an outfit that everyone wants to copy, it's because it's "trend-free". That is to say, an outfit so timeless and so effortless that it can be easily recreated by us non-A-listers time and time again, and is always going to spark conversation with some simple at-home styling. Sometimes you just want to keep getting ready in the morning simple and fuss-free, and celebs clearly feel the same, as there are plenty of trend-free celeb outfits out there for us to take inspiration from, and all with 4 pieces or under (give or take a handbag). 
The beauty of an understated look is that it is often made up of items we already own and love, such as a great pair of jeans, a cosy knit, and or oversized jacket. And while the foundations of all the looks below are timeless in nature, feel free to add some trendy elements (take Tracee Ellis Ross' Loewe bomber for example) or swap in fun accessories to add a contemporary touch.
Intrigued? Keep scrolling for seven of our favourite trend-free celebrity outfits, as well as everything you might need to help recreate each look at home.
Style Notes: J.Law's simple errand running outfit made us all sit up and take notice, and it wasn't because it was a look we'd never seen before, but it was the sheer, sleek, simplicity of it all. We're willing to bet you already own all of the pieces needed for your own spin on this look, so it tops the list as the easiest to assemble, but still one of the most polished. 
Dark green is just as versatile as classic camel. 
I'd happily take one in every colour for shoulder-robing. 
Just the right amount of supersized slouch. 
Such a cute ballet pump. 
Style Notes: Rosie HW always gets "quiet luxury" right, and if you're looking for a timeless 'fit that always looks expensive, her penchant for knit dresses and neutral colour palettes provides endless inspo. Thankfully, the high-street have us covered on the knit dress front, and with the right pair of easy-to-wear mules, you can rely on this combo for the rest of autumn. 
This also comes in slate grey, 
Mid-heel shoes are having a big moment. 
Even minimalists will agree, Aspinal jewellery perfectly finishes an outfit. 
Style Notes: The latest star on our style radar is Laura Harrier (just take a look at her recent looks to see why), and if there's one thing to copy from her wardrobe it's luxe colour blocking. Whether she's wearing head-to-toe cream, black or seasonal brown, layering different shades of the same colour palette is the easiest way to make your outfit look instantly rich. 
Sure black leather is good, but brown looks opulent. 
One of our favourite pieces from the COS Atelier collection. 
These would also look good with oversized shirts, chunky knits and contrasting blazers. 
These also come in patent red and matte black. 
Style Notes: Looking for a new way to wear jeans? Take tips from Sofia Richie Grainge's simple bomber and t-shirt pairing. Dress the look up with heels, or keep it simple for weekends by swapping out stilettos for white trainers or ballet flats. 
Bombers might be the coolest jacket of the year. 
Everyone should own at least one great white tee. 
The strong contender for best fit and wash. 
Style Notes; We've been keeping tabs on Katie Holmes' street style for quite some time, and her casual looks always outshine her red carpet moments. Once again, a turtleneck and blazer might not be reinventing the wheel, but it is one of the few smart pairings you could wear for the next ten years without ever having to worry about looking "dated". 
Such a cool fit. 
How to layer up in style (and unmatched comfort). 
Just add a pointed ankle boot. 
Our editors most wanted. 
Style Notes: Experimental dresser Tracee Ellis Ross frequently appears in best dressed lists for her fearless approach to fashion, and while she might wear the same t-shirt and wide-leg jeans combination as the rest of us, she makes it feel altogether different with a statement jacket and head-turning handbag. We're immediately taking notes. 
The Loewe jacket may be sold out in this colour, but Pull and Bear have filled the gap. 
If it's a fashion forward fit, you can believe that the Frankie Shop has already nailed it. 
Some serious A-list arm candy.
Style Notes: The little black dress is a classic for a reason, and Emily Ratajkowski manages to put an autumnal spin on the staple, making the LBD (that's longer black dress), the perfect transitional piece. And frnakly any outfit that combines longsleeves, a ribbed knit and suede boots scores highly for us for the next 6 months. 
There's nothing not to love about this excellent midaxi. 
Boden's knee-high boots are as comfortable as they are chic. 
A carry-everywhere bag thats deceptively roomy. 
We were already sold on cord chokers, but By Pariah's pendant pendant will elevate even the most simple style a into statement necklace. 
Up Next, The Best Designer Bags of All Time, According to the Experts