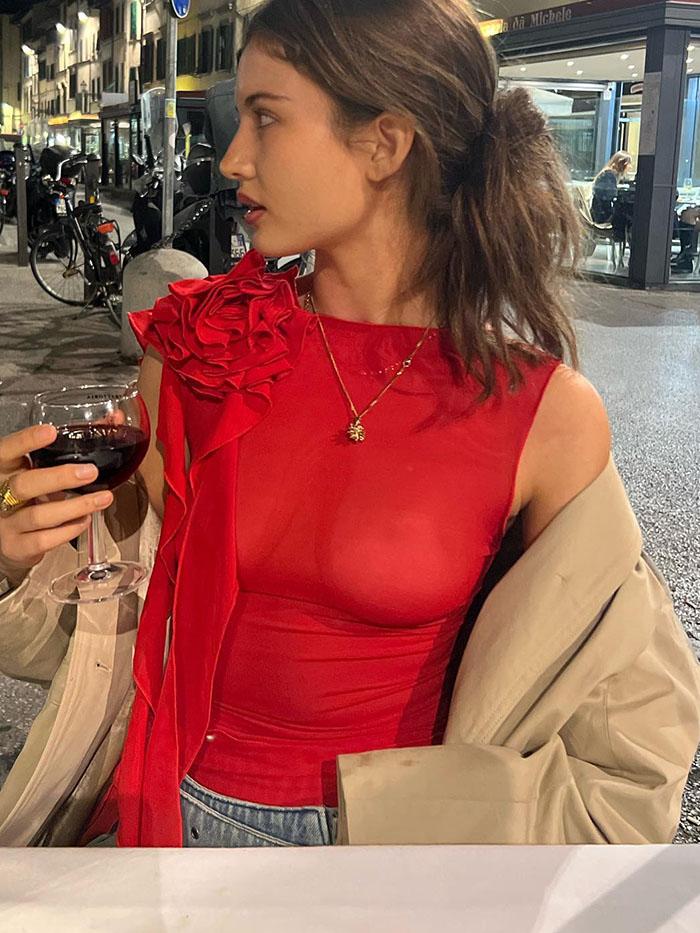 After every fashion week, we anaylse the runway looks in-depth, and one of my personal favourite undertakings is writing about the colour trends that were ubiquitous among the thousands of looks that graced the four cities. We've already covered the trends will be dominating this winter, and after analysing the recent runways, many of these hues will continue to come into play for the remainder of the year.
There's no doubt that one of the easiest ways to integrate this year's colour trends into your look is by styling them with a pair of jeans. This is particularly ideal for those who are colour averse and want to dip their toes into the chroma waters in a subtle way.
Today, I want to share five specific colour trends that go particularly well with blue denim that we're spotting all over the fashion crowd this season. These will unquestionably make your basic jeans look very "2023/2024" and give them a trend-forward touch. Take a peek below and shop plenty of picks to add colour to your wardrobe this year.
Style Notes: One of the most dominant trends we saw on 2023's spring/summer and autumn/winter runways is a vibrant chili-pepper red. The fashion crowd is sporting the colour in full force right now, styling the shade in the form of tops, dresses, handbags, hair accessories, and eyewear. The shade really pops against blue denim and is, by far, one of the most strikingly cool colour combos of the season. 
Staring strong with this statement jacket that'll be unmissable in a crowd. 
What a beauty.
Such a lovely knit.
The shoe of the year in one of the biggest colour trends? Win win.
Wear this gilet with slouchy blue denim for a cool outfit that still looks polished.
The perfect heel height, no?
Yes, this is a swimsuit, but there's nothing stopping you wearing it as a body with your jeans.
For a subtle nod to the colour, try a belt.
Style Notes: Metallics are having a major moment this autumn, and we're seeing silver, in particular, all over the street style set—especially when it comes to shoes and bags. The shiny, glistening hue is an easy way to elevate your denim and make your jeans look sleek, polished and evening-ready. 
It is all about the boot this season people.
The smaller the better. 
These are selling fast, run don't walk. 
The perfect dress-up look. 
An effortlessly beautiful cut, silhouette and colour. 
Don't you just love the '90s vibe? 
So fun!
A silver stiletto? I'm in.
Style Notes: Yep, you read that right. It's all about blue denim-on-denim looks this season, an outfit formula that feels fresh and cool. Opt for a shirt or jacket in a matching shade to your jeans, which will give your outfit a more streamlined silhouette. But quite honestly, if you don't want to match your blues, that's fine too. You can break the style rules and have fun when it comes to a Canadian tuxedo in 2023.
Your classic denim shirt – but with a sartorial twist. 
The whole Who What Wear team are loving the resurgence of double denim.
The styling opportunities are endless. 
Waistcoats are another trend that is sticking around for SS23.
This classic denim jacket will work hard for you for years to come.
The rich hue is so alluring. 
Why not keep things creative with unique and striking accessories? 
So cute!
Style Notes: Sure, some of the stronger fuchsia pinks continue their popularity this year, but it's soft ballet pink that embodies the "pretty" theme we're seeing dominate the catwalk. Whether you go for a pale-pink accessory, a sweet statement coat, or a silky-satin pastel top—my personal favourite—there's no doubt the colour will complement your blue denim beautifully.
Isn't the blush pink hue adorable? 
This whole look gets a yes from me. 
The prettiest waistcoat around. 
The internet-famous basket bag in a new, pale pink hue.
You can never have too many polo-necks in your rotation once the weather changes. 
A strong entry for the prettiest clutch bag in town. You won't be able to resist wearing it in the daytime too. 
The perfect evening top to pair with your favourite denim.
Wear now, treasure and love forever. 
Style Notes: Okay, okay, I know that black is always in style, but it's absolutely worth noting that the versatile colour had a major presence on the spring/summer runways (there were over 4000 all-black looks in total), proving that 2023 is all about making a bold statement through this understated, powerful, and perennially chic hue. Moreover, it's quite literally one of the easiest colours to pair with your jeans, day or night.
Tweed never strays far from the perennial staple category, so this is one to get sooner rather than later. 
I'd wear these with dresses and denim alike.
Style exactly as above!
These will be simple impossible to tire of. 
The gorgeous satin fabric will make any denim pairing feel so elevated. 
Sometimes the simplest items are the best.
Bodysuits are here to stay so it's best to invest in one as comfortable as this. 
Dragon Diffusion's tote is high on my autumn/winter wish list right now. It's an investment, yes, but it will go with everything in my wardrobe. 
Next Up: 9 Rainy-Day-Proof Outfits We're All Going to Wear
This story originally appeared on Who What Wear U.S. and has since been updated.