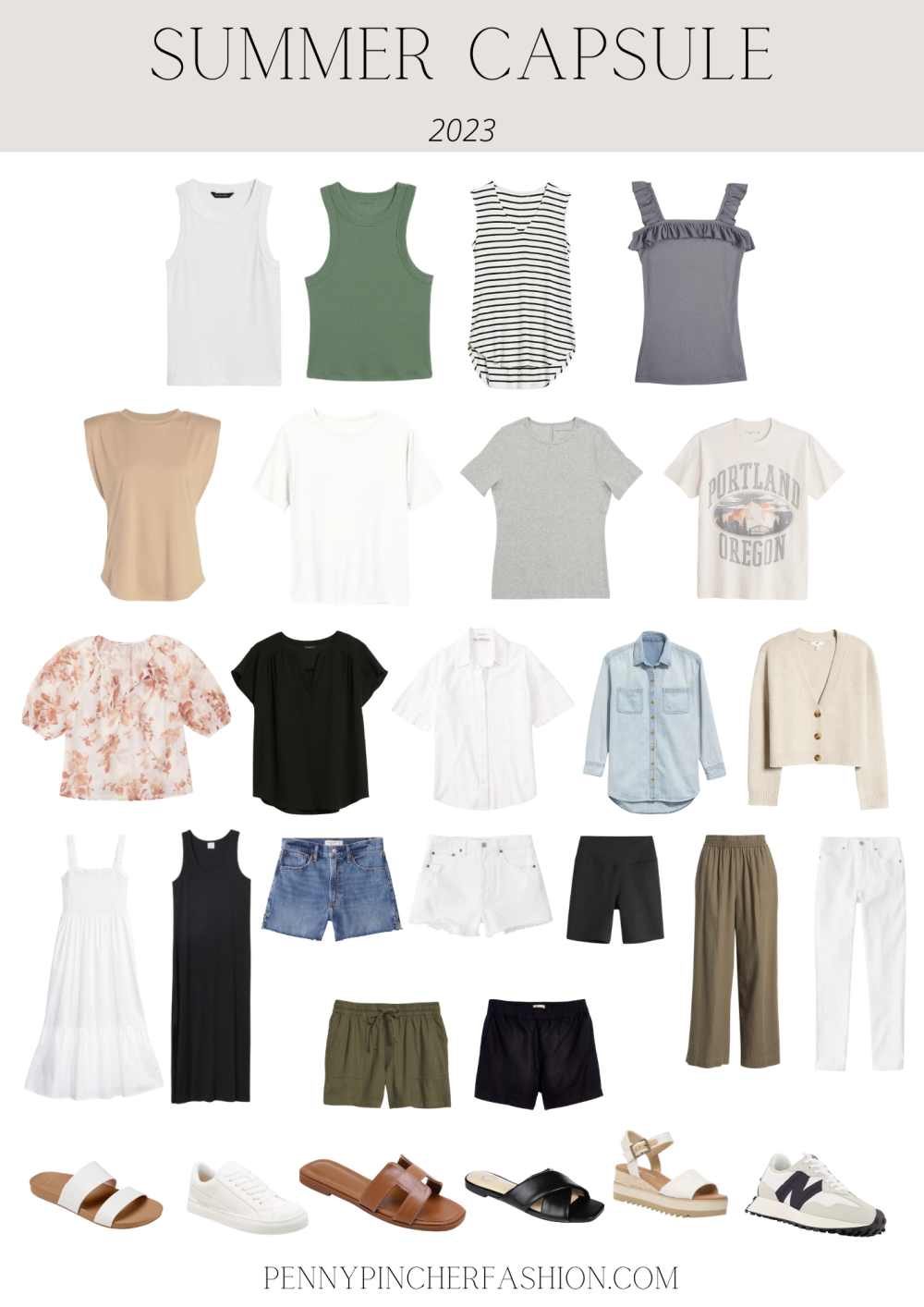 In case you missed it, my Summer 2023 Capsule Wardrobe Guide is live! It contains 28 pieces & style tips for 100 capsule wardrobe outfits Summer edition. This Summer Capsule wardrobe was thoughtfully curated for casual & effortless transitional weather outfits. Today I am giving you a small preview how the capsule can be styled into 10 outfits. My complete capsule guide includes 100 outfits… don't miss it!
FOLLOW ME ON PINTEREST FOR MORE CAPSULE WARDROBE OUTFITS!
Affiliate links may be used in this post. To learn more, please review our full disclosure statement below (on mobile) or to the right (on desktop). Also, as an Amazon Associate, I earn from qualifying purchases. Thanks for your support! 
What is a capsule wardrobe?
If you've never heard of this concept before, a capsule wardrobe is essentially a small collection of clothing items that can be interchanged and worn together to create a wide variety of unique outfits.
If you are new to the idea of capsule wardrobes, check out this post! 
10 Outfits from the Summer Capsule
Using similar pieces from this capsule, below are 10 outfits for the Summer season! What I love about a seasonal capsule is that several pieces are staple items that most women already own. By incorporating items you already own in to a seasonal wardrobe, you can save money by shopping less for new seasonal pieces! Since implementing a capsule, I personally have cut back so much on shopping for clothing.
If you are looking to start a capsule wardrobe, you can shop my favorite summer pieces at the end of the post. Which look is your favorite?
One item I wear all year long are simple white sneakers. These sneakers have been featured in all of my capsules! They are comfortable and versatile!
READ NEXT: A YEAR ROUND CAPSULE WARDROBE
Here is a direct link to the Summer 2023 Capsule page!
SHOP MY TOP PICKS