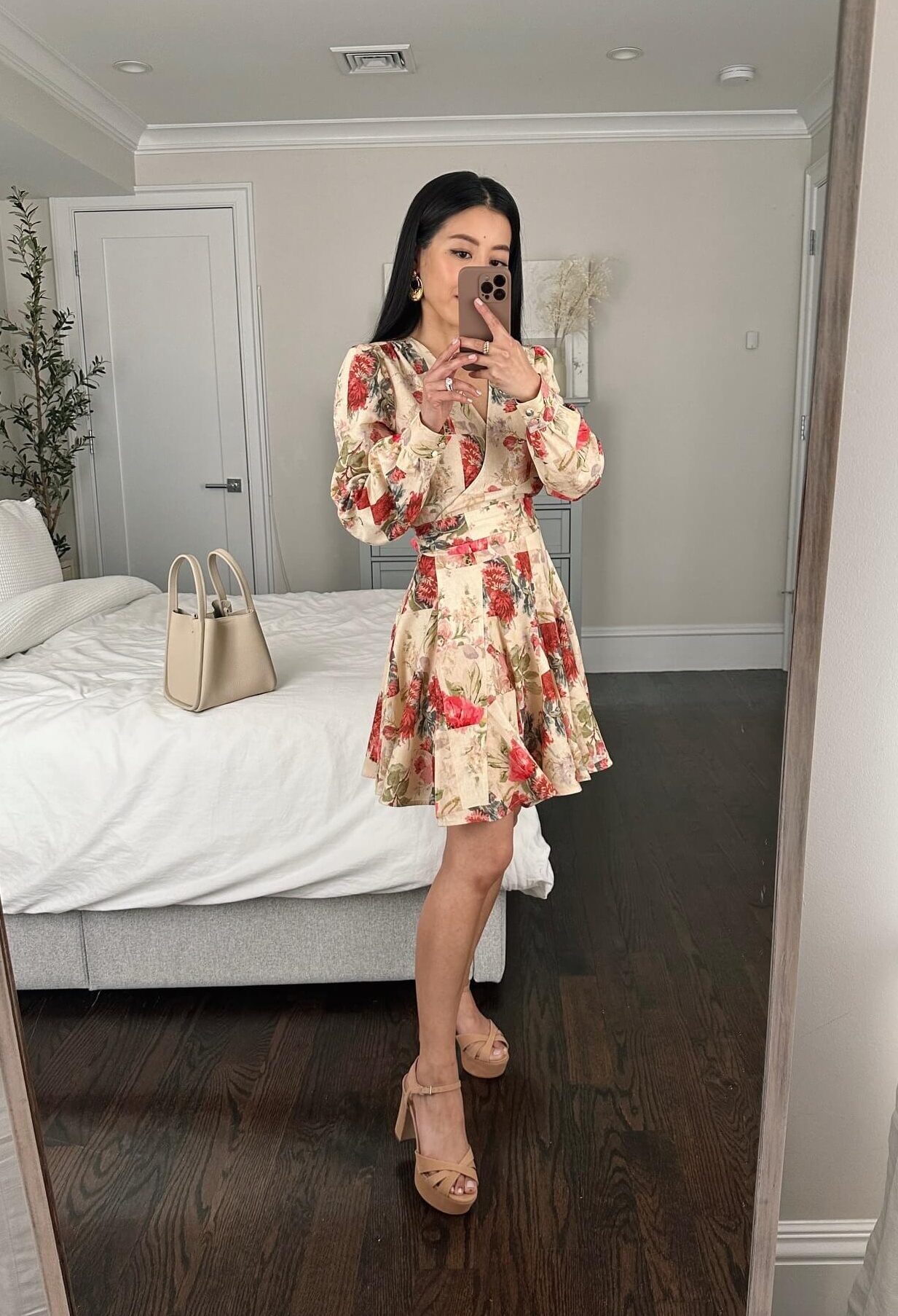 Sézane Solana dress sz 2 and earrings c/o, Schutz sandals 5.5, Songmont bag c/o
Earlier this year I reviewed some of my favorite Sézane sweaters and tops, and recently got to try on a few of their dresses. Their knits start in xxs and tops start in 0 (for select styles), but dresses sadly seem to start only in a size 2 and up. Some of the styles were much too big, but I did find a few that were fairly petite-friendly and worth sharing!
1. Solana Dress
Sizes are unfortunately going quickly, but I've seen Sézane offer this style in different fabrics and prints over the years. The quality and cut of this dress immediately reminded me of a Zimmermann blue wrap dress I have that was 3 times the price. The construction is high quality with a lot of individual piecing together of fabrics to form a twirly skirt. The linen blend fabric feels high-end with a vintage rose print and soft lining.
A size 2 is expectedly loose on me, but due to the wrap style it can be wrapped a little more snugly to fit as shown. The overall dress length is petite-friendly and the sleeves are not terribly long on me.
2. Ilona Dress
The embroidery and scallop detail on this dress is stunning in person, and fit-wise, it's one of the most petite-friendly dresses I've tried on from the brand! The cut is also very flattering with a nipped in waist and swingy A-line skirt.
Sézane Ilona dress sz 2 and earrings c/o, Reformation sandals 5, Songmont bag
The chest is the roomiest area on me, so as someone smaller chested I'll be doing a DIY alteration to take it in a little bit. The rest of the dress felt surprisingly proportionate for a petite frame, with the waistline actually hitting at my natural waist and even the sleeves being a reasonable length on me. Compared to American brands like Ann Taylor, I'd say this definitely fits more like a 0 petite. The dress has an embroidered cotton exterior and a full lining with a side zipper entry.
Size 2 measures: 13″ across waist, 16.75″ across chest, 23.25″ sleeve length from top of shoulder, 31″ dress length.
3. Carola Dress
I shared this dress last month and wanted to mention it again, since it's well stocked and they added a new ochre / marigold floral print in the same style. The linen blend fabric feels good quality, and there's a stretch smocked back torso and full lining. The higher waistline is flattering on petites and actually hits near my natural waist, like the Ilona dress. It's a little loose on me throughout and one size down would be perfect – really wish Sezane will expand dresses to start in 0!
Size 2 measures: 13.25" across the waist, 16" across the bust and has a 32" length.
Sézane Carola dress sz 2 / 34 c/o and earrings, WHBM shoes (similar platforms; another option)
Photo is originally from this post.
Sézane Solana dress sz 2 and earrings c/o, Schutz sandals 5.5, Songmont bag c/o