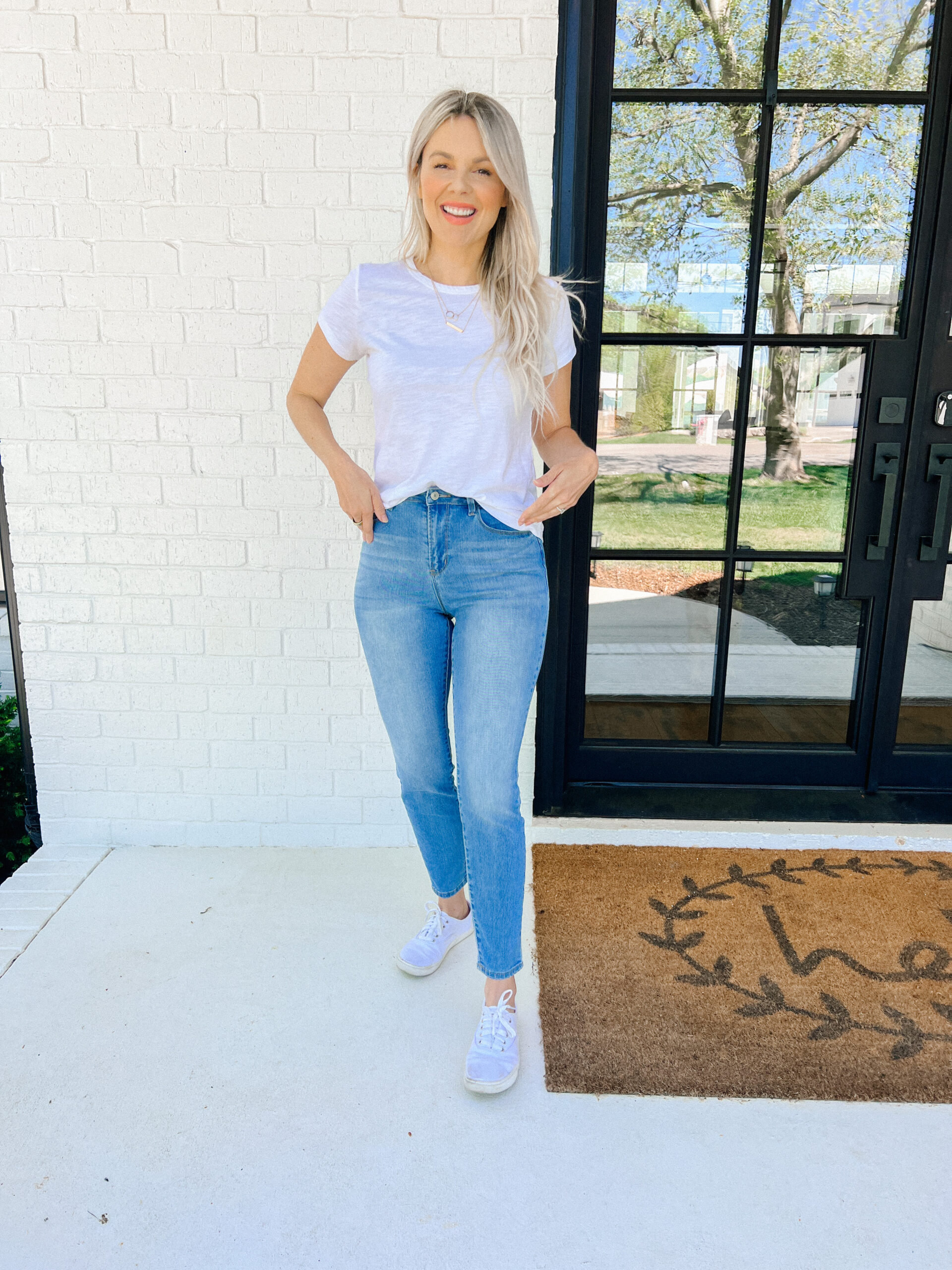 Welcome to today's Affordable Friday! I'm always proud of my Affordable Friday post, but this is definitely one of my favorites in a long time! You'll know it is cause you're gonna see me wearing these pieces again and again and again this summer – and guess what?!?! EVERYTHING, yes everything, is under $20!!!!!
My Go-To Look
I'm gonna jump right into it with this 1st look. Sure it's just a white T-shirt and jeans, but you guys know that this is what I wear probably 50% of the time, maybe even more. The T-shirt I'm wearing is my absolute favorite go to white T-shirt right now. You get a two pack for under $15 making each shirt around $7.50 apiece. I got the white and black combo pack but they have other colors as well. It is the perfect relaxed fit T-shirt and I have at least four of them because I love this T-shirt so much.
1. 2-PACK TEES $13 | 2. $10 JEANS
I paired it with this $10.88 pair of skinny jeans. I know some people think skinny jeans are out and I get it. I wear a lot of non-skinny jeans these days, but I still love a good pair of skinny jeans and these are so great! Plus, I know a lot of you are with me and we don't necessarily keep up with all the Gen Z trends. Might just want to stick to our skinny jeans. Ha! I think these are not only amazing skinny jeans, but the fact that you get them for just $10 seriously blows my mind. I would recommend the skinny jeans even if they were 3 to 4 times this price. So get them, get them, get them before they sell out! I'm wearing a size 7 and they're definitely snug in the waist. If you're more of an apple shape, I would probably say to size up one of these. But if you're a pear-shaped, get your normal size. I personally love that they're snug in the waist cause a lot of times I find a hard time finding things that fit me in the waist well and or are wide enough for my hips cause I'm pear shaped. I love the wash of these jeans. I can't say enough good things and get them while you can. If you want to hear what other people are saying there's over 1200 reviews on these skinny jeans.
Striped Tee
I also paired the skinny jeans with another T-shirt I want to tell you guys about. I got this T-shirt in both light pink and navy because I love it so much it's only $7.50. I think this T-shirt looks so expensive! The pink color is just super fun and pretty for spring. But the navy definitely has that sort of classic look that I think looks really expensive.

1. $7 PINK TEE | 2. $10 JEANS | 3. $11 SNEAKERS
I put the pink top with the $10 skinny jeans and $10 sneakers. It's the perfect relaxed fit top and comes in other colors as well.
I paired the navy with a pair of white denim that I got from Walmart years ago. They are low waisted, so I definitely need to update my white denim this summer and get a pair of high waisted, so stay tune for that in a future Affordable Friday cause I'll be on the hunt! Feel free to share links with me in the comments below. But regardless, I paired the navy striped top with white jeans, this super affordable purse, and these $12 sandals. I love the purse and sandals together because they're the exact same color so they go perfectly. I love love love love love the sandals. Let me talk about them for a second.

1. $7 BLUE TOP | 2. $15 PURSE | 3. $12 SANDALS
First, if I could, the sandals are only $15 is amazing! They are so so so comfortable! I sometimes have a hard time with long sandals, because my feet are a little bit weirdly shaped and they rub on my toes. But I don't have that issue with these at all! They have a cushy bottom that make them so comfortable. These will probably be my number one go to sandals this summer, so if you like them and wanna see how I styled them throughout the summer, grab a pair for yourself. You're gonna love them.
Flowy Tank
The beginning of this blog post is heavily focused on tops, because I feel like I haven't focus on that too much in past Affordable Friday post. So that's why I want to share this tank top as well. I constantly find myself looking for good solid color shirts. Especially ones that can be dressed up and down. I think that's because I worked in TV for so long and having a nice looking solid sure it was always something I needed for TV. So I was so excited when I found these tank top that are only $12.88 apiece. They come in a bunch of different colors on the Walmart site but just keep in mind that they are different links so if you click through on tank top, you'll only see the pink top, but I put a widget below that has a bunch of the different colors. There's even a printed one that's on sale for under $10!


1. PINK TANK | 2. BLUE TANK
I'm wearing a size medium, which is my normal size, but it comes in size a small to XXXL. I love how it's a loose fit. I, like many women constantly find myself looking for tank tops that are have flow and aren't clinging tight to the body and the top is the perfect example of one of those! In these pictures, I have tucked mine in the front, but you can totally leave it untouched and it's got a great length and a little bit of an A-line flair to comfortably go over your hips. I love love love love love this top and it has really great reviews. Again I got it in the pink and moonlight blue, but it comes in multiple other colors.
Quick note, however. These are not double lined. So if that is important to you, I wanted to point that out. I personally love that they're not double lined because they're not see-through and the fabric just lays a lot more beautifully and loosely and not stiff at all.

1. PINK TANK | 2. BLUE TANK
Floral Tank
One last thing to have I wanna show you before I move on to other apparel items is this beautiful pink floral tank top for under $15! I'm wearing a size medium, which is my normal size, but I honestly think that I maybe even could've sized down one in this. So if you're in between sizes or unsure of what size to order, I would go with the smaller size you're considering. However, if you're big busted, definitely go with your normal size. Just because the top doesn't have stretch which I like but I'm not big busted so that's never some thing that is a concern for me. In the reviews, somebody mentioned the arm holes being big, but truly that's not even something I noticed at all and when I read the review, I went back and checked the shirt and I honestly don't get it. My bra doesn't show when I wear it and I think the arm holes are perfect. Plus, I just think it's really pretty and easy to throw on with a pair of jeans and feel fresh and springy! It comes in a couple other colors/prints and is available in size is XS to XXXL. And once again, I'm wearing it with a $10 skinny jeans and $11 sneakers.

1. $14 FLORAL TOP | 2. $10 JEANS | 3. $11 SNEAKERS
Affordable Summer Dresses
Vacay Mode
I'm gonna try to keep the rest of this brief so I do not overwhelm this blog with too much text. These next two dress options are actually skirt and tops. But as you can see, you can wear them together to look like a dress or you can wear them separately! You could also fold the top up a little bit if you wanted to show some midriff. I personally prefer not to so I wear them as is. I'm wearing a size medium in both and they both fit well. I would say maybe I could size up to a large in the green option, but the medium fit – but if I had a big lunch I might be a little uncomfortable. Ha! Whereas the white option is super stretchy so you really can't go wrong. Wearing both with the super cute sandals I talked about earlier.

1. $18 GREEN DRESS | 2. $19 WHITE DRESS
Everyday Errands Dress
This dress is true to size and I'm wearing a size medium and it's only $18! I love love, love, love, love this dress as a go to every day dress. It's super comfortable, easy to throw on with a pair of sneakers, and has a stretchy drawstring waist so it will fit all different body shapes! This will be a go-to of mine this summer. Molly's adorable dress is also only $11 and it is so so darling.

1. MY $18 DRESS | 2. MOLLY'S $11 DRESS | 3. $11 WHITE SNEAKERS
Flowy Green Dress
This is the perfect casual dress for spring and summer. It's under $20, super breathable, lightweight, super comfy fabric, and just so cute. I feel like this is a dress I could wear anywhere. From brunch with friends to playing in the backyard with my kids. I feel like I'll garden a lot in this dress! I'm wearing a size medium, but honestly I wish I sized down in this. I feel like it would fit perfect if I had gotten a small. Love, love, love, love, love this dress! It comes in other colors as well.

$19 GREEN DRESS
Affordable Sunglasses
I want to include a couple sunglass options in this blog post, so sharing these fun oversized purple sunglasses that are under $15 and these aviators that are $11.97.

1. $14 PURPLE SUNGLASSES | 2. $11 AVIATORS | 3. BARBIE SWIMSUIT
I almost didn't include this bathing suit because it's the only thing in this entire blog that's over $20. But still only $21.99! so I guess technically everything in this blog is under $22! It comes in size is XS to XXL and it's just so funny nostalgic! I feel really sexy when I wear it. It does have super high cuts in the thighs, so if that's not for you, you might not love this. But I personally highly prefer a bathing suit that's higher cut over lower cut on the hips. Whenever I get one that's cut low, I feel like it cuts into my thighs, and is way less flattering. High cut is always more flattering in my opinion, which I just kind of realized within the last year or two. I always used to go for the ones that were cut lower because I thought that was more flattering but I soon realized I had it all wrong! Ha! I ordered a medium and large just cause I wasn't sure which would fit me better. The largest way too big and the medium to be great. So it's definitely true to size.

1. $14 PURPLE SUNGLASSES | 2. $11 AVIATORS | 3. BARBIE SWIMSUIT
Thanks for coming by the blog today!
Okay that's it for today! I hope you're able to find some great pieces for under $20!!! I love when I am able to find pieces that I truly love so much and are at such affordable prices. In case you missed it above, I am on the hunt for some affordable high waisted white jeans. If you know of any, please comment the links or tell me about them below! Also, let me know what pieces from this blog you are most looking forward to trying out! Thanks again for coming by today