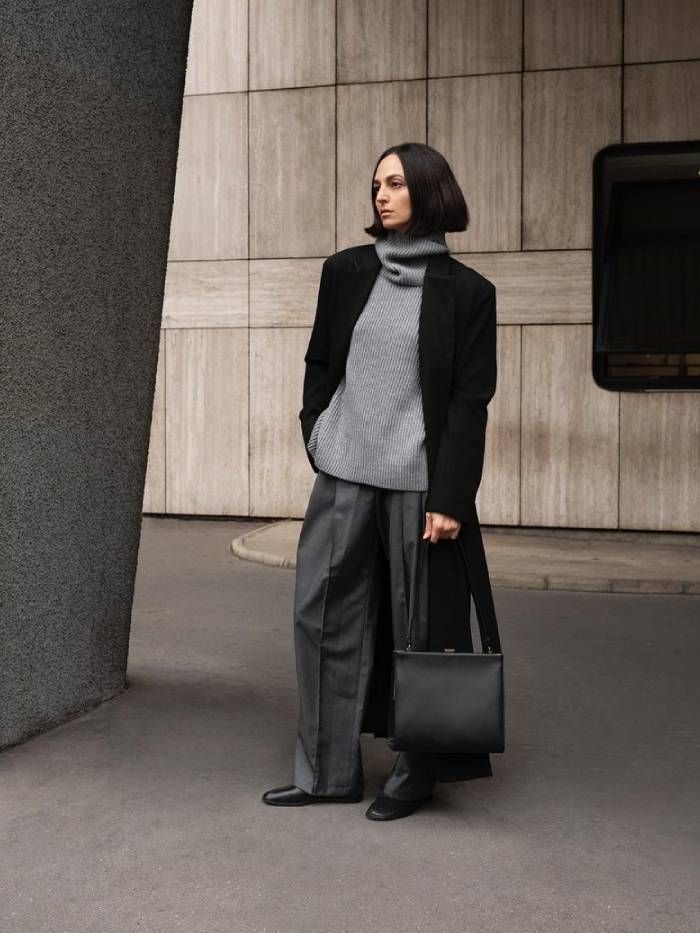 Anyone else finding themselves in a weird wardrobe rut right now— somewhere between never wanting to relinquish WFH comfort but also wanting to get dressed in real, trendy outfits again? Oh, good, I'm not alone then. Not to worry— finding myself in this position recently as a stylist, I set about searching for the perfect wardrobe pieces I could invest in to get me most efficiently out of said rut— and I'm about to share my findings with you.
The key item I landed on? The Frankie Shop's wide-leg trousers trousers. I'm sure you're already familiar with their excellent oversized blazers, and trés chic quilted and wool coats— influencers the world over have been wearing them all winter. But this is your sign not to overlook their tailored trousers. Turns out they're the perfect comfy but smart thing to be wearing right now. And it's not just me that's obsessed— I've spotted a number of influencers who have nailed the polished minimalist aesthetic, wearing theirs on repeat— from Linda Tol who pairs hers with cosy knits to Pernille Teisbeck who opted for the matching blazer too.
'Boring' as a pair of trousers may seem, the chic proportions and expensive-looking simplicity of Frankie shop's versions make them stand out from the rest. The two main hero pairs right now are the Gelso, a slightly tapered full-length trouser that work really well with a chunky trainer or black boot, and the Bea, a slightly cropped wide leg that go with every shoe, from loafers to boots to sandals. In my opinion they're just such an easy way to make an outfit look cool while wearing what feels like pyjamas. I've been wearing mine recently with thin roll necks and crew necks which tuck in easily and balance the volume of the trousers, then throwing a cardigan or blazer over it and finishing the look with a leather belt. For spring, I'll be switching for crisp white-t-shirts on top and loafers instead.
Keep scrolling, then, for some major trouser outfit inspiration, and if you've been searching for the perfect pair for a while, or your wardrobe needs a little pep like mine, you can shop the trousers below, too.