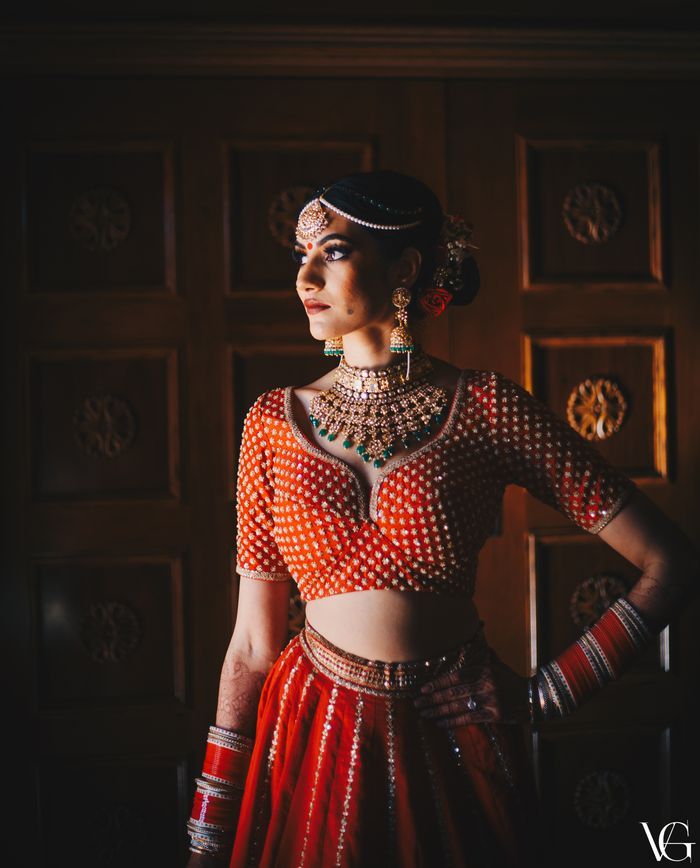 Festival and wedding seasons are here, and you must be looking for the best blouse designs because ethnic dresses complement the festive season the best. This is why I bring you some of the best-selected mirror work sari blouse designs to accompany you this wedding season.
Full Sleeves mirror work silver blouse design
This silver-color full sleeve blouse is a must in your wardrobe as it can go with any type and color of the dress. Moreover, you can pair this blouse with an embellished as well as a plain skirt. It will look fantastic with both of them. Also, don't forget to contrast it with the skirt and dupatta.
Back Circle Mirror Work Blouse Design
An absolutely gorgeous back circle cut golden blouse with pink mirror work. This piece of art is neither too gaudy nor too simple. It will just go with any outfit.
Also Read: 21 Latest Saree Blouse Back Neck Designs
One Shoulder Mirror Lace Blouse Design
Wanna be sensual and conventional at the same time? Try this amazing one-shoulder blouse design with mirror lace on the neck and hemline. You can also add feathers on the cuffs to give it a more vibrant look.
Peplum Blouse Design With Mirror Work
In this contemporary era, not only peplum tops but also peplum blouses are in trend. Also, the mirror in the front gives it a festive look. You can pair it with a lehenga or sari as both will look nice.
Sleeveless Blouse Design with Mirrorwork on Sleeves
This pattern will look amazing with heavy pallu because heavy pallu sari hides most of the front blouse pattern and only sleeves are visible. Hence, this blouse pattern is a must for heavy sarees.
Off Shoulder Mirror Work Blouse Design
A beautiful turquoise off-shoulder blouse design with full mirror work. You can pair this design with any attire to look trendy and traditional at the same time.
Back Mirror Blouse Design
Thick mirror lacework on the blouse back is a must to give a simple blouse a contemporary look.
Boatneck Criss-cross Mirror Work Blouse
Not a fond of too heavy mirror work? Well, this criss-cross pattern will give you the fancy look without making it look too much.
Short Sleeves Mirror Blouse Design
A combination of different color mirrors on the blouse with a high collar and short sleeves. The heavy mirror design on the neck will serve the purpose of a necklace. This blouse will look best with a plain chiffon saree.
Also Read: 25+ Latest Saree Blouse Sleeves Design
Full sleves net Mirror Work Blouse
Beige color blouse with net and mirror sleeves. A perfect full sleeves blouse that will go well with a plain beige color chiffon saree.
Also Read: 50+ Trendy and Stylish Blouse Back Design
Boatneck Blouse Design with Net
Circular mirror work on boatneck blouse with beautiful peeping lotus leaf hole in the back. The design is further made elegant with the usage of the net in the top portion of the blouse.
Also Read: 10 Beautiful Full Sleeves Blouse Designs For Winters
Sleeveless Strap Blouse with Shell Embellishment
This is a beautiful black blouse design with shells decorated on the sleeveless straps.
Also Read: 21 Latest Saree Blouse Design For Silk Saree
Deep Red Embellished Blouse
Short sleeves mirror work blouse design with sweetheart neckline. Design it with multicolor lace on the neck, sleeves, and bottom. This red color blouse with multicolor mirror lace looks flat-out beautiful.
Big Mirror with Deep Neck Blouse
Magnificent black blouse with the big mirrors and deep neck on the back. A simple black blouse adorned using circular mirrors in various sizes further decorated by dori on the back.
Front Button High Neck Blouse Design
Mirror embellished short sleeves blouse design with high collar and front button. This design is inspired by Rajasthani Style as it resembles the Koti that is worn in rajasthan over kurta. This design is very gorgeous, and you must have this one in your wardrobe.
Mirror Lace Work Blouse Design
Black blouse fully covered with mirror lace and wonderful neckline. If you have a simple black blouse lying around your house, then you can convert that simple blouse into this by attaching mirror lace to it. Trust me this blouse style will look absolutely gorgeous with any plain saree.
Halter-Neck mirror Blouse Design
Elegant halter neck blouse design with mirror work in golden color. One golden blouse is a must in every women's wardrobe. This golden blouse embellished with square mirrors will go will all dark color sarees or skirts. Tip: Choose plain georgette black color saree with thin golden border with this blouse and you will look like an angel.
Multi-color round neck short sleeves blouse design
Multicolor mirror enhanced round short neck blouse design with small sleeves. Everyone must have this multicolor blouse in their wardrobe as this design will go with any kind of saree.
These days, the blouse stitching has become very expensive, and we cannot afford to pay 1000 INR just for stitching when the cost of saree is less than that.
In this case such multicolor blouses come in handy as they can be paired with almost every saree.
Diamond-cut light lamps mirror work Blouse
Half net sleeves with diamond cut at the back decorated with mirror lace. Mirror work looks best on black or dark color blouses as in them the mirror work stands out.
The diamond cut in the back is cherry on the apple. This blouse will look best with golden color plain saree either in georgette or in chiffon.
Boatneck Blouse design
Front button boat neck blouse design with multicolor mirrors. Front hook design is considered to be traditional in the past, but now it has again becomes a trend as back blouse designs are getting more attention.
This design is also focused on the back as you can see in the image that the back of the blouse is V which is adorned with mirrors and laces.
Square Neck Mirror Blouse Design
Mesmerizing blouse design in pink color which has circular mirrors attached to it. This blouse can be paired with a floral saree as shown in the image below. With embellished blouses, simple or plain sarees goes well.
Collar V-neck Full Sleeves Blouse Design
Mirror work blouse design with V-neck and Collar. This blouse has the combination of different colors of mirrors attached to it mainly on the sleeves end. While most of the heavy work blouse comes in dark colors, this one will look something unique.
I hope you liked this article. If you have any thoughts please write them in the comment section below, I would love to read and reply to your comments.
Thank You
Stay Safe, Stay Beautiful.
The post 30 Latest Mirror Work Sari Blouse Designs appeared first on MissBonic | Beauty | Makeup | Home Remedies.