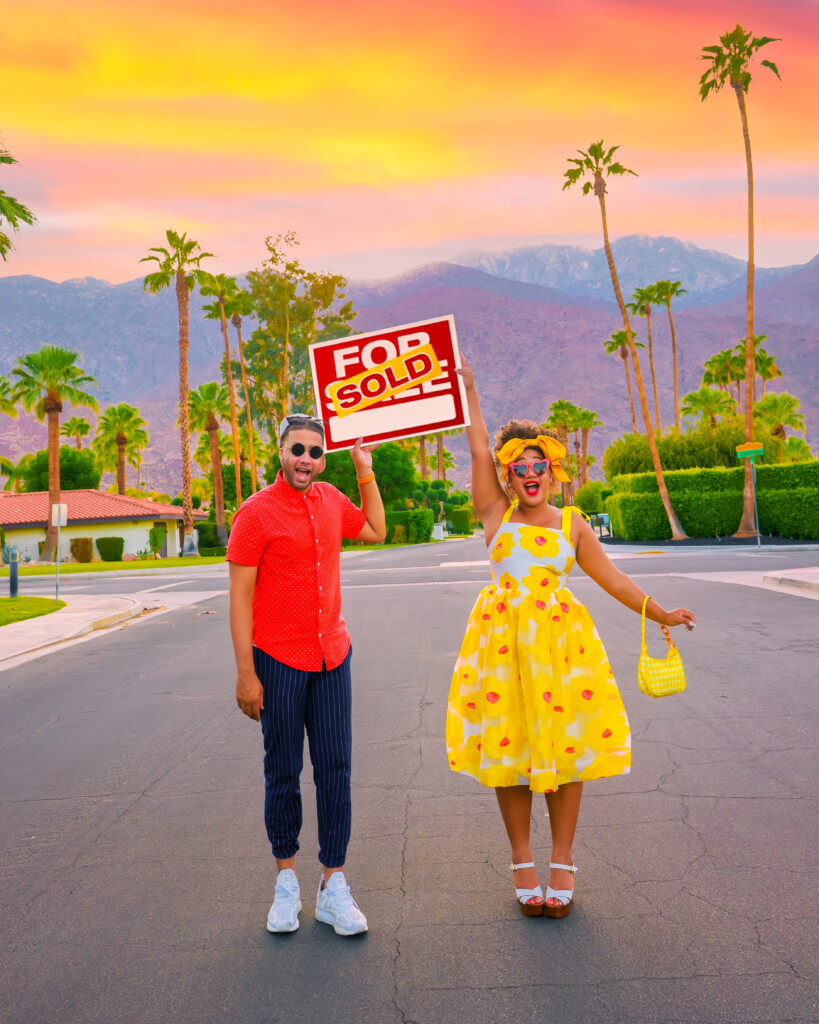 We've made our biggest purchase yet!!!! So excited to finally share that me and my fiancé Paris bought a house and our lives are about to change!
SHOP: dress || bag || shoes
First things first, we will be keeping our place in New York City. I love renting in New York (both for work & play) and we have no intention of leaving at this point … but we will be splitting our time between the city and our first home together!
Earlier this year (January 2021) , we shared that we were planning on buying hopefully this year…..BUT we didn't realize we would be entering one of the craziest housing markets LIKE EVER and we definitely didn't understand what we were in for. Well nearly a year later, we are happy to share that we are OFFICIALLY home owners.
We've been wanting to buy a home for a few years now (even before I shared) but that comes with the question: Where do we want to live forever? Something every young New Yorker faces eventually. We came to harsh realization of what it costs to buy a home in New York coupled with the understanding that our needs might change as you get older, start a family, change jobs, etc. We felt all that & more as our concerns were amplified by the global pandemic. We were living on top of each other and confined to our apartment; but still weren't sure where we wanted to move and if we were ready to trade our city lives for the suburbs.
Our original pre-pandemic 5 year plan was…
1 – Get married (MUCH MORE ON THAT SOON)
2 – Buy a vacation home & continue to rent here in NYC
3 – Start a family and live here in NYC (with a vacation home elsewhere)
4 – Move to our forever home (wherever that is)
However, with travel suspended amidst the pandemic, our plans – just like so many of you cuties – completely changed! Because we didn't have a definitive location (outside of NYC) where we currently wanted to live – we began to look for fun vacation/rental markets where we could be close to family, friends and offer something that the city didn't.
Palm Springs was always my first choice. It's charming, colorful, warm, close to LA (great for work) & close to our west coast based families! Truthfully, I was game to buy a few homes sight unseen during 2019 & 2020, looking on Zillow became a hobby of mine and would shout "Paris, let's make an offer!" every other day! In hindsight, it was a great choice to wait because Paris had never been to Palm Springs and buying a home sight unseen can be dangerous as photographs are deceiving and understanding neighborhoods/locations are so important.
Earlier this year, we spent a few months in Palm Springs! It was really nice to have a full house to enjoy & stretch out a bit after being cramped in our NYC loft! My best friend came to join us and the three of us were able to celebrate my birthday with a barbie themed pool party! While we were there, we started looking casually at houses – unsure if we would find what we wanted but just hoping to get an idea!
We went back and forth on style, location & general house desires. Were we buying something we would live in for the next few years? Were we buying a vacation home for us? A rental income property? All common questions we entertained while trying to figure it all out. Every day became about house hunting, I got very sick with migraines that weren't helped by the stress of it all while Paris held down the fort like a pro. Truly I thought we wouldn't find anything and be back to the drawing board when in our last week, we found it! Our now future home.
& now for the fun part … MAKING IT OUR OWN! I cant wait to take you along for the process of remodeling, designing & being bicoastal! In future posts I'll share more details about the home we bought, how we plan to split our time between coasts and everything else so feel free to ask away on this instagram post so I can make sure I keep you in the loop!
Questions? Ask us anything the comments of this post! Cant wait to share this next chapter with you!
The post MAJOR Life Update!!!!!!!!! appeared first on Color Me Courtney.