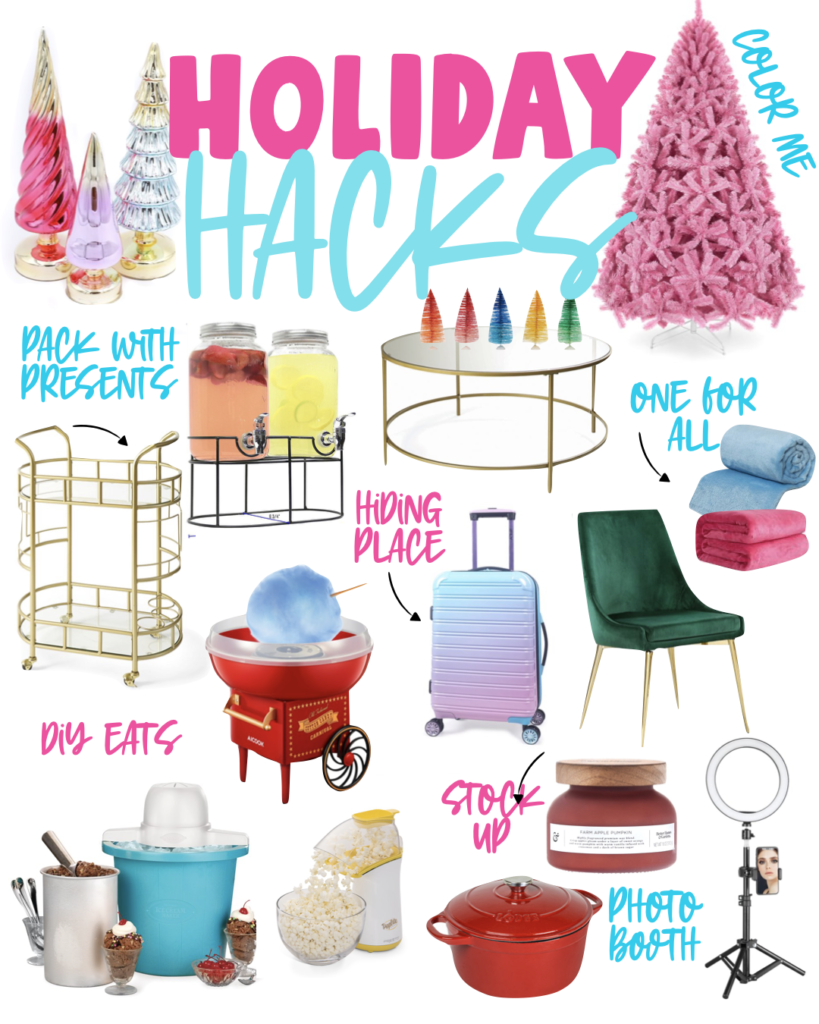 Hey cuties! I finally started decorating for holiday and bought a lot of the things is shared in my last post from Walmart! Now the fun part … putting it all together, but with decor, hosting, gift giving, cooking & everything else it can get a little overwhelming ! so today I wanted to share some holiday hacks & a few things to make the holidays easier for you! let's do it!
Holiday hacks: These are going to save you so much time & energy!!!


Convert a bar cart to Santa's Sleigh! Here is one way to reuse something you might already have ! turn a bar cart into a present cart on Christmas morning, or a hot chocolate cart leading up to the big day!
DIY eats – add an element of fun to your food by incorporating cotton candy machines, ice cream makers & home made popcorn! having these food activities will keep guests entertained and make food prep a project for everyone!
Keep it a secret – if you're traveling to someone's house & haven't wrapped your gifts yet, simply hide them in your suitcase after you unpack! No one will be snooping there! This also works if you're staying home since no one would suspect you'd be using your suitcase then!
Stock up on smells – buy extra candles & use a slow cooker when you can, both will provide great smells for your home while you're entertaining. You'll want to have candles on deck too for any last min holiday parties or surprise visitors who might pop by!
make a Photo Booth! – make sure you capture high quality photos & videos to help you cherish the season by setting up a ring light as a mini photo moment! You'll be happy you caught these moments later on!!
One for all – get a ton of blankets in different colors for your guests, this way everyone can have their own colored blanket for the duration of their stay!
Color Me Tree – add some whimsy to you decor by going with an unnatural colored tree! it will make all of your guests smile!

& when in doubt – DECK YOURSELF!!! This only happens once a year so I say more is more! Go over the top with accessories, wear all the color & go overboard with all of the decorations!! Don't know where to start ? Here are a few favorites to help you out from Walmart

Hope this helped!! Happy shopping & HAPPY HOLIDAYS!!!

this post is done in sponsored partnership with Walmart.
The post Holiday Hacks appeared first on Color Me Courtney.