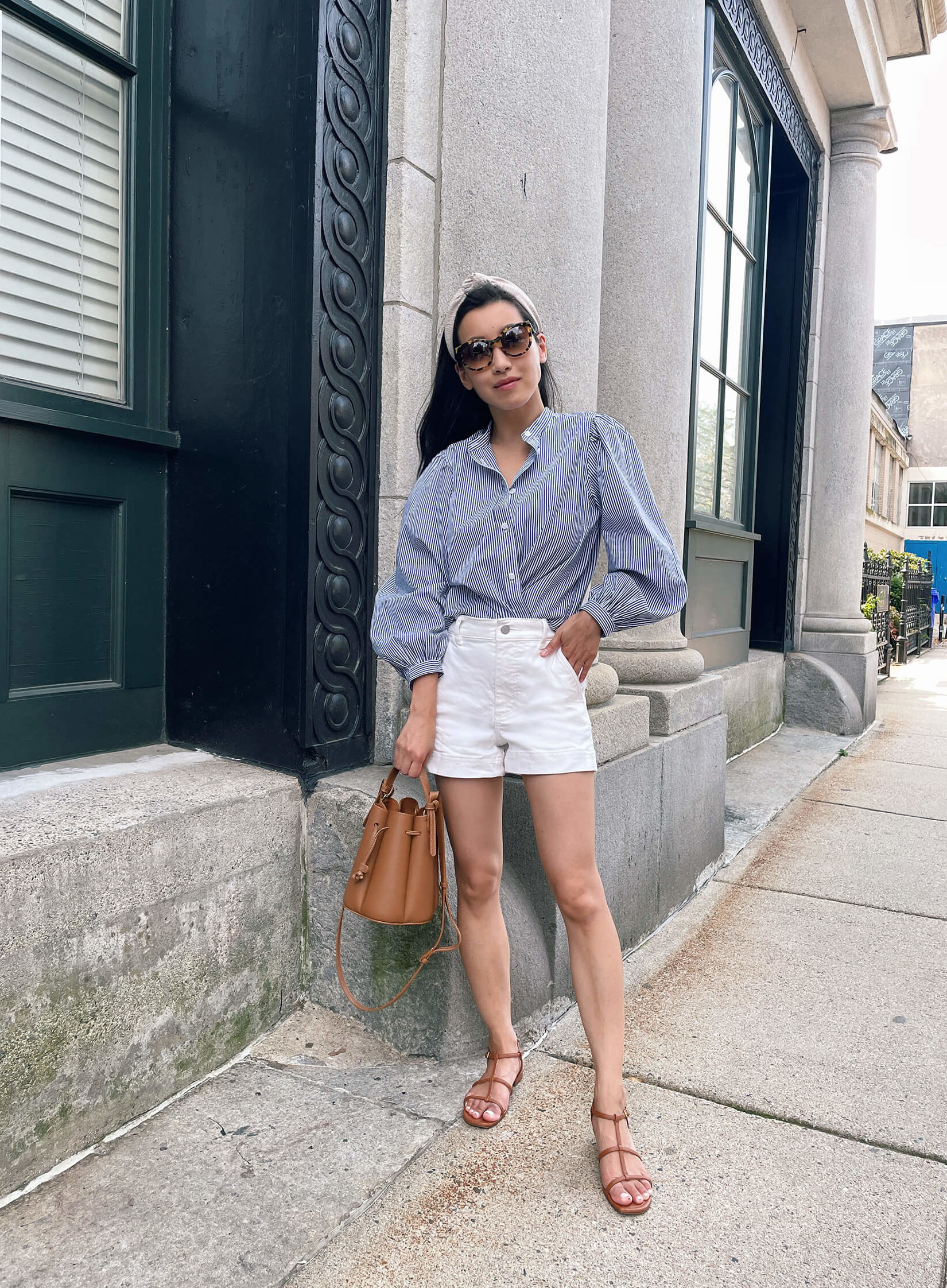 On sale: J.Crew shirt 00 (my review) c/o + sandals 5.5, Everlane shorts 00, Polene bag, Express headband
On Nori: T&T jumpsuit 3T (she also *adores* this butterfly dress w/ pockets), Rothy's kids shoes, Zara headband
Hope you had a wonderful weekend, friends! We're hanging on to the last of summer in New England, which means playground hopping and picnics around the city as long as the weather allows! If you're visiting Boston, here's a few of our favorite weekend itineraries with the little ones:
Charles River + Public Garden: Strolling along the Charles River esplanade, grabbing food from one of the many grab & go restaurants along Boylston or Newbury Street, and enjoying it at the Public Garden on a bench or lawn. Our kids love the three playgrounds along the esplanade ranging from toddler/baby age to a challenging big kid one closer to Beacon Hill. For food, we usually do Dig Inn just because it's food allergy friendly with lots of things the kids happily eat (like sweet potatoes, half an avocado, meatballs, chicken). Little ones can also enjoy a very slow moving swanboat, or the merry go round or playground across the street at Boston Common.
Castle Island: This family favorite spot in South Boston has a decent amount of parking, tons of outdoor space for picnicking, a long walking path with views of the water, and Sullivans is right on site for good ole New England fare (lobster rolls, fried fish) and affordable basics like hot dog and hamburgers. It's easy to order online ahead of time, they've been great with my food allergy concerns and questions (they're happy to prepare the food separately away from the allergens, use a fresh pair of gloves each time, etc), and Nori is a happy camper just with their french fries and a plain burger. The kids enjoy throwing rocks into the ocean or the playground right at Castle Island, but there's also several other better (IMO) playgrounds in South Boston a short drive away.
Coolidge Corner, Brookline: We've also found ourselves going back to Coolidge Corner, Brookline, where we loved living as young professionals out of college! There's a book store we used to frequent, little shops, playgrounds, picnic tables along Harvard Street, and a surprisingly good assortment of Asian cuisine like Rod Dee Thai, Bab Bistro Korean, ramen, plus a popular bagel spot and a newer Tatte location. A welcome new addition since our days living there is Maruichi Japanese deli, where you can grab a bento lunch or reasonably priced sushi, and also some freshly made Brooklyn ramen noodles in their refrigerator section! (see pic below) These ramen noodles have the perfect chew factor and freeze well, too for quick weeknight meals!
Grab & go lunch from Maruichi Japanese Deli – Nori happy enjoys a pack of maki rolls for a picnic lunch

Random but ever since Nori was little I've loved Surprize by Stride Rite at Target for standing up / early walking baby shoes! Not the cutest styles but they open up wide with velcro straps so are super easy to get on and off, have flexible bottoms, and seem comfortable for little ones.