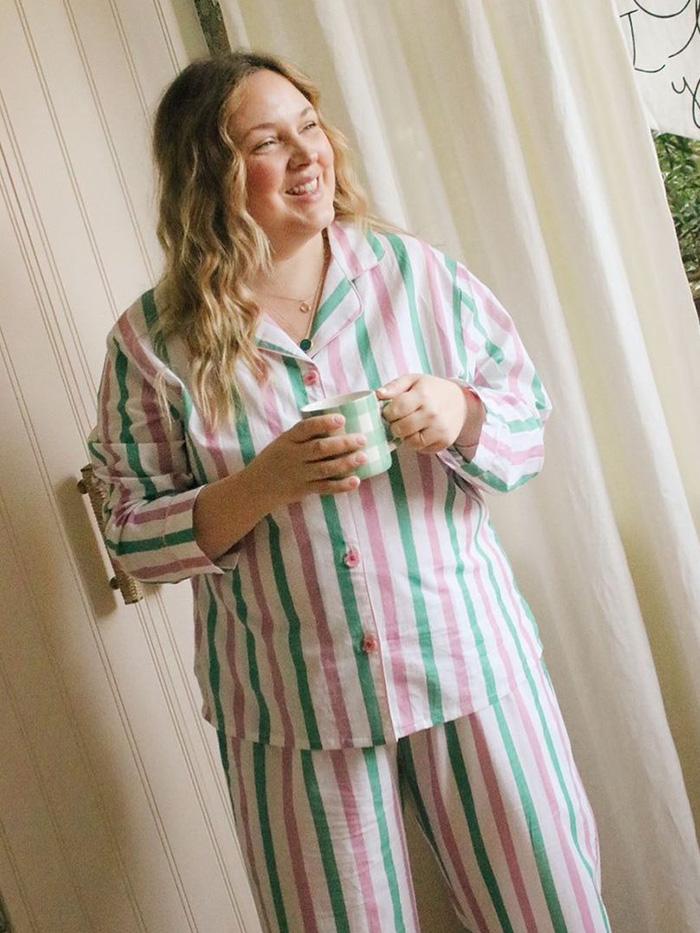 It's that time of year again. The time where we start to (some of you may well have already finished) put together gifts for loved ones and think about hunkering down for winter. As December looms and the chill sets in, you might be considering pyjamas as a great gift for friends and family, as well as an essential cosy staple for yourself. I know I am. 
A good pair of pyjamas can transform how you feel at home and take you from bed to the sofa in true style. A matching set of button-down PJs isn't only reserved for children at Christmas, and luckily there is now a vast selection of cool and bold, as well as minimal and chic, printed sets in an array of fabrics to suit a multide of tastes. And what better way to get you in the festive mood than with a luxurious two-piece? Christmas PJs aren't just for Christmas after all, and definitely aren't synonymous with Father Christmas prints and snowflakes, as I'm about to prove.
Charlotte's PJs are just so perfect for this time of year.
Some of the offerings on the market can venture outside too. Why not put a lightweight cashmere jumper over your silky set with the collar coming out for a relaxed and fashion-forward look? Sometimes the prints need to be seen by everyone (not just your dog) to be truly appreciated. 
I have to admit, I never used to put any effort into owning and genuinely enjoying a good pair of pyjamas, which felt great against my skin and made me look a little less dishevelled. Lockdown came around and a lot of people's everyday habits and rituals were forced to change and mine was one of them. I realised that feeling good at home was just as important as it was when at work or seeing friends. 
So if you have decided that this season is the time to  invest in a good pair of pyjamas, or you simply want to be known as the very best gift giver out there,  then scroll on for my edit of the best Christmas pyjamas for women. And there's not a reindeer print in sight.
Reclined and relaxed. Tennille Murphy makes the most of downtime in a chic and simple matching set of pyjamas. 
Feeling the cold? Vic Styles nails quiet luxury with her ribbed set. 
Ali Tate is elegant and sophisticated in her silky camisole with matching shorts in beige.
Up Next: 51 Fancy Christmas Gifts We'd Be So Happy to Receive This Year (Hint, Hint)