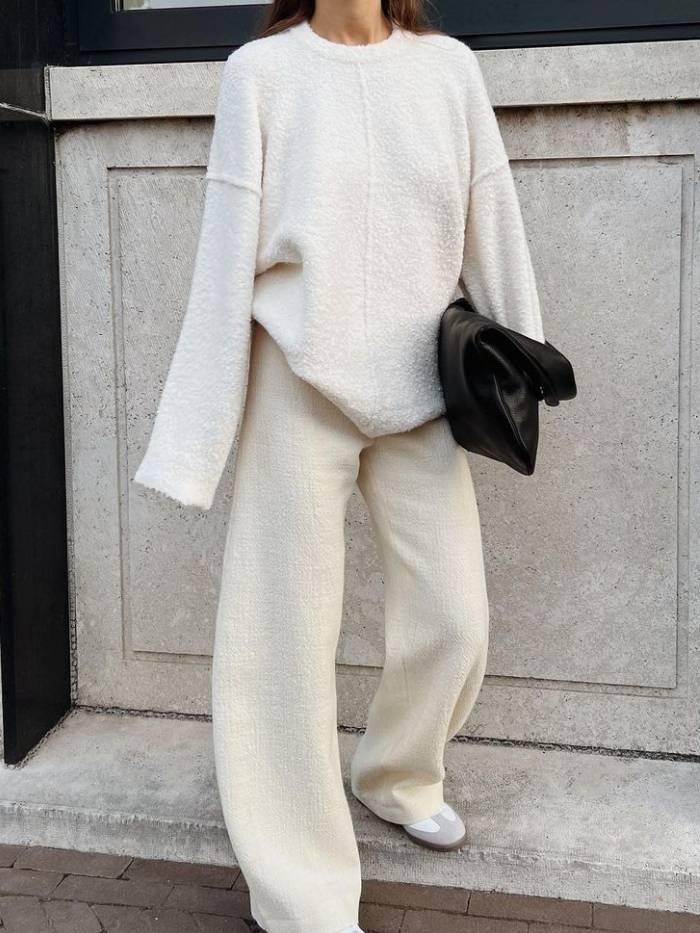 Let's be honest. Winter can be pretty miserable at times. Cold, often wet (thanks, England) days and long, dark nights can make it hard to motivate ourselves to get out and do the things we usually enjoy—exercising, catching up with friends, and even going on your favourite coffee run. It takes a concerted effort to focus on the things that do bring us joy in the winter months. Maybe that's an indulgent roast dinner by a pub fireplace or a Sunday afternoon in front of Netflix snuggling your dog. Me? I love a good cosy jumper. Honestly, I can tell you now. Add a fluffy, chunky or snuggly knit to your collection, and suddenly, all cold-weather activities become a lot more bearable. 
Alexa Chung shows us cosy knits can still be extremely stylish in this fluffy quarter-zip jumper. 
Even fashion expert Alexa Chung showcased her cosiest jumper on Instagram lately, and ever since, I've been keeping a mental list of the best styles I've come across, both online and on a couple of recent trips to Oxford Street. Of course, knitwear is hitting the stores thick and fast now that the clocks have gone back and the temperature has dropped significantly. Everyone from H&M and Zara to Net-a-Porter and MATCHESFASHION.COM has some gorgeous styles I just want to wrap myself up in, and no doubt, you will too. 
Keep scrolling to see my edit of the 15 best cosy jumpers out there right now, from alpaca-blend to cashmere polo necks. They're all ready to be your new best friend this winter… 
Cosy enough to wear in the house, chic enough to wear to dinner.
The colour of the season.
Our Managing Editor @poppynash has already ordered this one.
We love Navy Grey for timeless styles.
On my Christmas wish list…
Fairisle knitwear is back.
One of the best jumpers on the high street right now.
An investment, yes, but one that is worth making.
This punch blue looks so chic with dark denim.
The whole WWW team has a penchant for Raey's knitwear. 
New in today and destined to sell out.
This comes in three shades: Grey, black and beige. Pick your player!
A high-neck = instant cosiness. 
An affordable hero.
Up Next: 7 Winter Wardrobe Staples to Carry You Through the Cold Snap
This story was published at an earlier time and has since been updated.