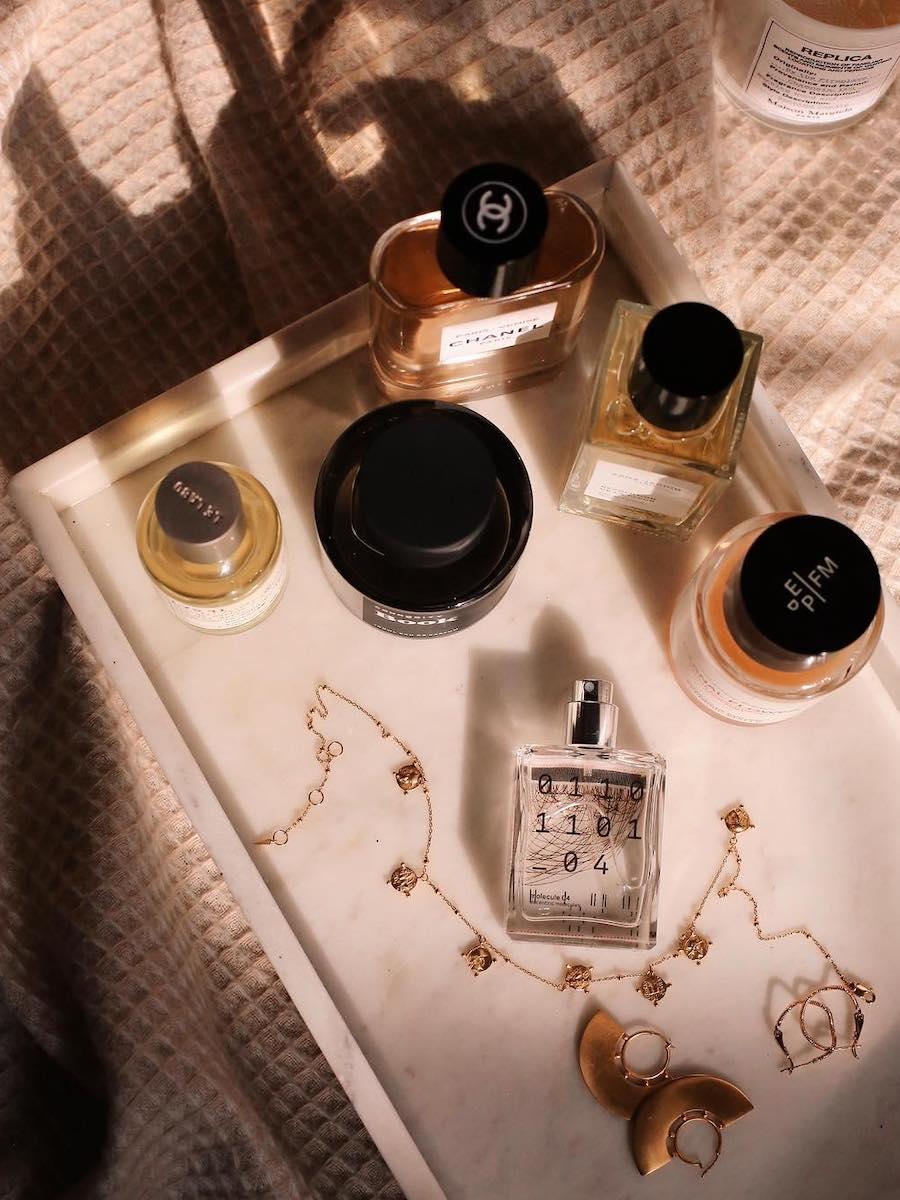 Growing up, the bottles of body sprays, lotions, butters and eau de toilettes that lined my bathroom vanity were far sweeter than a dessert-filled episode of The Great British Bake Off. My rotation typically included Britney Spears's Fantasy (or Curious); a pure-sugar scent that, not surprisingly, was called Pink Sugar; and anything else my collection of glossy magazines was advertising. If it smelled like a frosted cupcake with sprinkles, I was—without a doubt—wearing it. 
I'll always love unapologetically sweet scents, but now my tastes have graduated to fragrance blends that are warm and woody or grounded with spices, leathers or classic florals. That said, signature sweet notes like vanilla are often at the heart of my all-time-favourite perfumes. They're just far less overpowering.
Being a beauty editor and all, my desk is always overflowing with perfume, so I decided to start a little experiment late last year. Instead of sticking to my normal trajectory of signature fragrances, I went on a perfume-wearing spree, if you will, in which I wore a different scent every day for about of month, taking note of which formulas I liked best and which blends won me the most questions, comments, and compliments. In review, I noticed something intriguing: The top eight scents all had a common, not-so-secret ingredient, vanilla (a result that very much proved my hypothesis that vanilla is still relevant post–teens and outside the kitchen). Below, I'm sharing the vanilla fragrances I'm currently obsessed with and which have never failed to earn me compliments from strangers and loved ones alike. Keep scrolling! The best vanilla perfumes lie just ahead. 
Key fragrance notes: black pepper, juniper berries, leather accord, orris, violet, black amber, patchouli and vanilla. Meet the Byredo fragrance you've never heard of but absolutely need on your radar. I realise describing a scent as "intoxicating" might sound dramatic, but I'm seriously so addicted to this enveloping mix of black pepper, leather, patchouli and vanilla, which, in retrospect, is pretty amazing since I would never classify myself as a lover of peppery scents. This is a deliciously smooth and velvety perfume that's sweet enough to feel elegant and lovely but complex enough not to feel basic or like anything you wore back in junior high. In fact, I love it so much I keep the matching hand cream on my nightstand at all times. I feel like people in L.A. don't like to ask "what are you wearing?" (the fear of seeming uncool or tryhard-y), but it's a no-fail occurrence whenever I'm wearing this Byredo scent and this Byredo scent alone. 
Key fragrance notes: bergamot, juniper berries, lemon, pepper, incense, orris, pine needle, amber, sandalwood and vanilla 
Key fragrance notes: ambrette, magnolia, sandalwood, violet, cedarwood, chantilly musk, crisp amber
Key fragrance notes: pepper essence, orange flower petals, patchouli, cypriol, tonka bean absolute, vanilla, cedarwood, vetiver. I've always been a huge fan of Maison Margiela's lovely line of Eau de Toilettes, Replica, and one of the latest releases is this yummy (but far from cliché) mix of coffee, pepper, vanilla, orange and cedarwood. It's unlike anything I've ever smelled before, and the compliments have been coming in hot ever since I added it into my regular arsenal of fragrances. According to the brand, it's supposed to evoke the warm and comforting feeling of a coffee shop—creamy, escapist (especially in the middle of winter), and savory with hints of sweetness reminiscent of pastries. It's a truly dreamy scent that deserves your attention. 
Key fragrance notes: aquatic accord, coriander, red seaweed essence
Key fragrance notes: pear accord, lily of the valley accord, musks
Key fragrance notes: Vanilla, pink peppercorn, cypriol, calamus. If you like vanilla scents but don't want them to be too sweet, this one is a spicy yet sultry take on the scent.Pink peppercorn gives it heat, which combined with the freshness of cypriol, means it dries down to an addictive and alluring fragrance.
Key fragrance notes: fig leaves, fig tree sap, fig tree wood, black pepper
Key fragrance notes: juniper berry, cedar, tonka bean, jasmine
Key fragrance notes: orange blossom, honeysuckle, rose, vanilla, luscious marshmallow. While the combination of vanilla and marshmallow might sound too sweet to handle, trust me—it's not. This is Rihanna's signature scent, and the earthy, fruity hits of orange and neroli give it a juicy and robust finish. I never wear it without receiving a compliment, and it's by far one of the best "grown-up" vanilla perfumes on my vanity. You'll be obsessed. 
Key fragrance notes: apricot, orange blossom, rose, tuberose absolute, jasmine and narcissus
Key fragrance notes: ambrette seeds, almond milk, iris and musk
Key fragrance notes: black coffee, white flowers and vanilla. Maybe I'm partial to this classic YSL scent because it's truly wonderful if you're after something vanilla but still very, very chic, or maybe I'm partial because it's Zoë Kravitz's favourite scent. Or, more likely, it's a combination of the two. I love this fragrance because it manages to feel both light and mysterious at the same time. It's not too conventional, but it's also not too complicated. I keep it on my desk for those mornings when I need a jolt of confidence. 
Key fragrance notes: lavender essence, orange blossom, musk accord
Key fragrance notes: strawberry, raspberry, bergamot, pear, orange flower, jasmine, white peony, patchouli, white musk, cedarwood, crystal moss
Key fragrance notes: citrus, rose, jasmine, white musk and vanilla. This is literally my favourite perfume of all time, and pretty much everyone who I've hugged while wearing this fragrance has agreed. It's been my signature ever since its launch last year, and the fact that Zendaya (my hero) is the face of this mix of vanilla, jasmine, citrus and musk makes it perfect. I've always been a Lancôme stan (in addition to Chanel—my mum wore a few of its staple scents), so it's a warm and fuzzy line of fragrances that is only punctuated with this new debut. 
Key fragrance notes: apricot blossom, rose, lilac, iris, peach, amber, sandalwood, musk and vanilla
Key fragrance notes: iris, patchouli, praline and vanilla
Key fragrance notes: cardamom, vetiver, vanilla and grapefruit. Jo Malone makes some of the most iconic and well-known perfumes, and over the years, I've accrued a few favourites that always win me compliments. When I first sniffed this new debut from the brand, I had mixed feelings, but after I had let it melt into my skin for a few hours, I quickly became kind of infatuated with it. It's strong, but it's been winning more attention than my other standbys (which are below), and I'd be willing to bet my life savings that this luxe vanilla perfume will go down in history as one of the brand's absolute best. 
Key fragrance notes: ambrette seeds, sea salt, sage
Key fragrance notes: red apple, jasmine, rose, gillyflower, peony, suede
Key fragrance notes: beeswax, caramelised benzoin, bitter almond, gaiac wood, tonka bean, absolute of Mexican black vanilla, black licorice, sandalwood and coconut milk. This vanilla from Serge Lutens is so supremely decadent and divine. It's my go-to antidote if I happen to wake up on the wrong side of the bed or have an anxiety-provoking day ahead of me. If you're a vanilla lover like I am, this is a scent to worship. It's buttery, warm, woody and just so mellow and rich. I happen to love what Lutens said of this specific fragrance: "To paraphrase Freud, it's not the evil who are full of regrets, but the good. Both the devil and vanilla like black." 
Key fragrance notes: lavender, amber, tonka bean, iris, dry wood and incense
Key fragrance notes: rose, violet, pink and black pepper and musk
This post was originally published at an earlier time and has since been updated.
Up Next: I'm Calling It—These Will Be the Most Popular Perfumes of 2024.