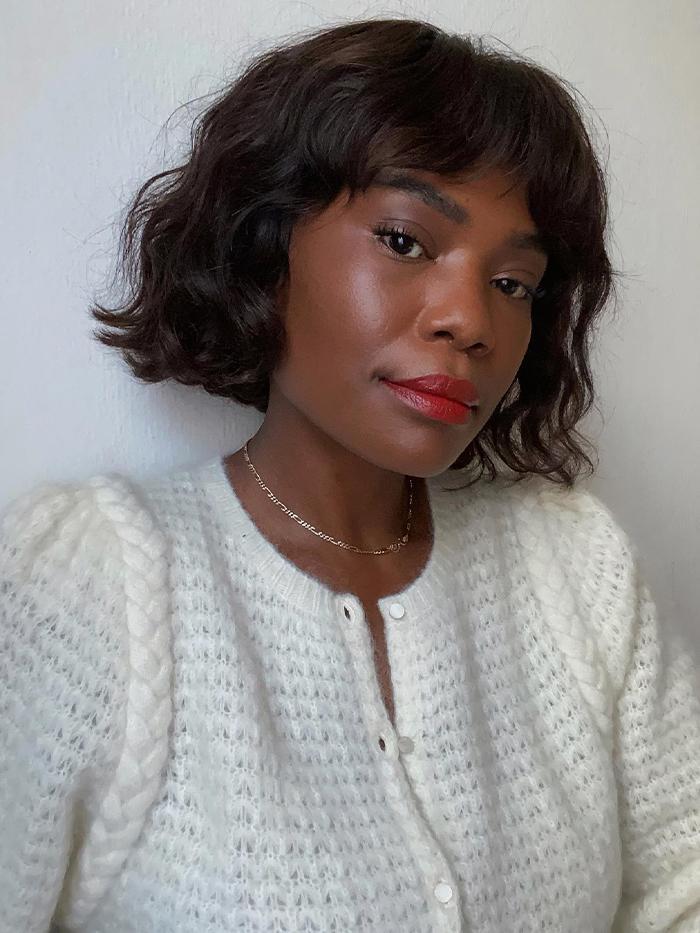 In case you didn't get the memo, when it comes to the latest hair trends, the shorter the cut the better. Lobs, bobs, and blunt cuts are seeing a lot of love lately, and many of our favourite style icons and celebrities have been reaching for the scissors (or, you know, booking a hair appointment). For curly hair, the short-cut trend brings a lot of potential when it comes to revamping your style. 
A shorter length, cut above the chin, can give curly textures a lot of extra body and volume, while also lending curls a relaxed, effortless appearance. However, as most curly-haired folks know, it can take some work to get your curls to play ball—so can short, curly hair every truly be low-maintenance? 
Turns out, no matter your curl pattern, density, or face shape—or whether you have loose waves or tight coils—short curly hair can work on everyone with a little effort and research.
"A style that is short and curly is easy to style and manage, but it is one that requires maintenance," says Daniele de Angelis, international artistic director of Toni&Guy. The 2020 London Hairdresser of the Year recipient goes on to explain how the short curly cut can be achieved: "You should be sure to make regular visits to your hairdresser, especially if the length is above jaw level, in order to keep its shape."
"A short hairstyle can absolutely suit multiple curl textures, but your stylist must adopt the correct cutting technique for the required texture," he adds. "For example, tight curls shrink a lot, so you need to be careful when deciding how much you want them to take off. Curls are also heavy, so weigh the shape down. If you've got a longer length, you may find the top of your hair becomes flat and wide and forms a triangular shape like a Christmas tree! Layers will help solve this and add bounce back into your hair."
For your own inspiration, we've pulled together some stylish women who are inspiring our next hair appointment. Keep scrolling for the short curly hairstyles that just work.
"For looser curls, a mid-length shape works really well," explains de Angelis.  Marianne's loose waves—cut just above the collarbone—are a really great alternative to the short-curls trend. 
Struggle with volume? I hear you. Living Proof's Dry Volume Blast helps create the illusion of thick hair without making it feel heavy.
Amy's curly cut with a full fringe has become her signature hairstyle, and many have followed suit. "Something we are seeing a lot of at the moment and is very on-trend is a collarbone length with a soft, undone wave and loose fringe to give a 'shaggy' element," says de Angelis.
Rich in nourishing plant oils and free from nasties (the "suspicious six," including silicone and alcohols), this conditioner is a great addition to your curly-hair arsenal. It's great for detangling washdays.
We can't help but envy Renia Jaz's beautiful defined ringlets, but how easy are they to style? De Angelis explains that curly hair tends to be much drier than hair that is straight due to its lack of protein, so it's very important to look after its condition. "It's equally as important to use a good quality shampoo and conditioner," he says.
Olaplex's Bond Maintenance Shampoo is championed by many hairstylists for its strengthening and hydrating properties.
Tight curls respond well to regular trims, which help to add volume and definition. Freddie's gorgeous style makes a statement and frames her face.  . De Angelis recommends making sure your hairstylist adopts the correct cutting technique for the required hair texture. 
This affordable comb has 4.6 stars out of 5, so it's a solid bet.
With a soft Parisian-style centre-parted fringe, you can create a timeless wavy bob. This works well if your hair is somewhere naturally between straight and curly, and has some natural volume to it. If not, you can always add some extra body with a wand. 
Whenever you add heat to your hair, you always need to keep it protected.
Alyssa, the queen of short curly hairstyles, has tried everything! We're huge fans of this grown-out pixie crop. Do we dare go this short, too?
Described as a "lotion for hair," Ouai's Finishing Créme is the final step in your hair routine. 
If you find that your hair falls flat but you want more texture, it can be a good plan to layer in colour as this naturally contributes to a dryer texture that can more easily hold curls and waves in place.
Achieve voluminous beach waves (even short ones!) with this texture spray by IGK.
Sometimes, the shorter really is the better. Ellie's natural curls are tapered on the sides and left thicker and voluminous on top, creating a fresh and stylish shape. 
Get added shine with this sought-after hair oil. It can be worked into strands after styling to define the shape of curls or applied as an overnight treatment to strengthen and condition.
If your hair is wavier than curly, you can still pull off this trend, as Aida proves.  
The Herbivore Sea Mist adds texture and moisture to tired tresses. Spray any time to revitalise your style. 
Fran's simple, elegant bob works so well with her fashion choices—it makes necklines and jewellery always stand out.
If your hair is in dire straits, this is the nourishing syrup to reach for.
If you're looking for a style that has in-built movement, you'll need layers rather than a blunt cut. This 'do is a more daring options because of the feathering, but it works as a great face-framer.
Add flicks and extra movement with a wand tool.
Up Next: According to an Expert, These Short Hair Trends Will Be Everywhere Next Year
This piece was published at an earlier date and has since been updated.