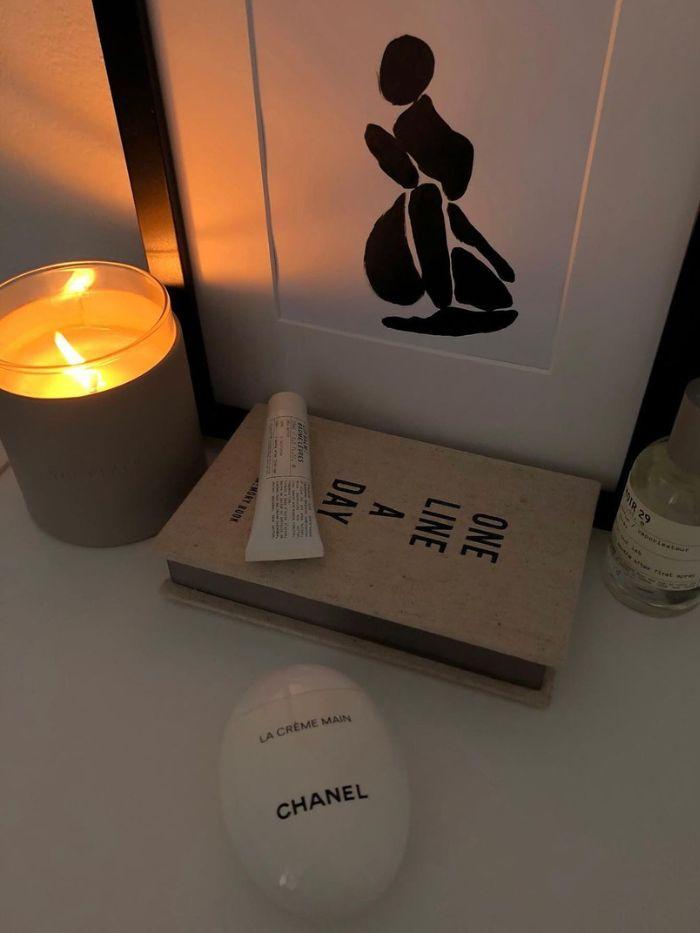 Is there anything better than giving your house a good clean, then lighting your favourite candle and cosying up on the sofa? There's something so relaxing about having a candle burning, especially now that we are in winter. I always tend to opt for warmer, richer scents, as I find that they really fill a room and leave my home smelling amazing for hours. In fact, the other day my friend popped round for a coffee, and as soon as she walked in she asked what candle I was burning, as apparently it made my house smell like a luxurious hotel lobby. She assumed it would be from the likes of Diptyque or Jo Malone, but it was in fact from none other than British brand, The White Company.
As a beauty editor, this brand is always my go-to for chic, expensive-smelling candles, and the scent that I am currently burning 24/7 is called 'Noir'. With sensual notes of amber, sandalwood and mandarin, it really does leave your house smelling so luxurious, and I will definitely be getting my friend her own Noir candle for Christmas. If you are yet to try one of the iconic home fragrances from the brand, not to fear, as I've taken it upon myself to roundup all of my other favourite White Company candles, and there is something for everyone to enjoy. So, whether you're treating yourself or someone else, keep on scrolling for my edit of the best White Company candles that will leave your house smelling seriously good…
Key notes: Amber, mandarin and sandalwood. Yes, this candle is just as sexy as it looks. The warm, creamy fragrance will make your home smell so luxurious, and I love burning this in the winter months.
Key notes: Cinnamon, clove and orange. Speaking of winter, this candle from The White Company is so iconic, and for good reason. The candle itself is infused with red berries, orange slices and cinnamon sticks, so not only does it look amazing, but it smells just like a Christmassy winter's day.
Key notes: Eucalyptus, pine and cedar. For those of you who like to go for a fresher scent in the colder months, you can't go wrong with the Fir Tree candle. Woody, earthy notes of pine and cedar smell just as invigorating as a crisp walk outdoors.
Key notes: Bergamot, amber and vanilla. When the warmer months roll around, I always make sure to have a Seychelles candle burning. Warm vanilla and amber notes mix perfectly with coconut and orange to transport you to a beach far, far away.
Key notes: Pomegranate, mandarin and amber. I always think pomegranate scents smell so sophisticated, and this candle is no exception. Rich, fruity notes combine with smooth patchouli and amber accords for a truly decadent finish. 
Key notes: Juniper berry, clary sage and ylang ylang. Although I love lots of different candles in my house, when it comes to the bedroom, I tend to stick to more soothing scents. The Calm candle from The White Company is the perfect choice thanks to a combination of natural essential oils.
Key notes: Smoked woods, birch and amber. This is one of the cosiest scents from The White Company, and it makes me feel like I'm cuddling up by the fire whenever I burn it (even though I have no fireplace). The smoky, woody notes are balanced out with amber and vanilla for a slightly sweeter, warmer finish.
Key notes: Geranium, juniper and patchouli. I don't think I've met anyone who doesn't like this scent. It's fresh, it's floral and it's perfect for all year round.
How chic is this electronic diffuser? You can use this with a fragrance oil of your choice to keep your space smelling incredible. 
These candle plates are so handy for protecting surfaces from heat.
I bought my boyfriend this stylish car scent diffuser for Christmas last year and he loved it.
This set of mini diffusers comes with all of the most popular seasonal scents, including Winter, Nordic Woods, Fir Tree and Myrrh.
If you already have an electronic diffuser, these fragrance oils will make your home feel like your very own spa. 
You know I love this scent, so I will definitely be getting the hand wash to match my candle.
I spray a relaxing pillow mist on my pillow every night before going to sleep, and this is one of the best ones I've ever tried.
This is the ultimate gift for anyone who loves the Seychelles scent from the brand. The hamper contains a candle, a fragrance oil, a shower gel, a body and hair mist, a home spray, a bamboo body brush and a body lotion. What more could you want?
Next Up: These 47 Holy-Grail Beauty Gifts Come With Our Editors' Seal of Approval