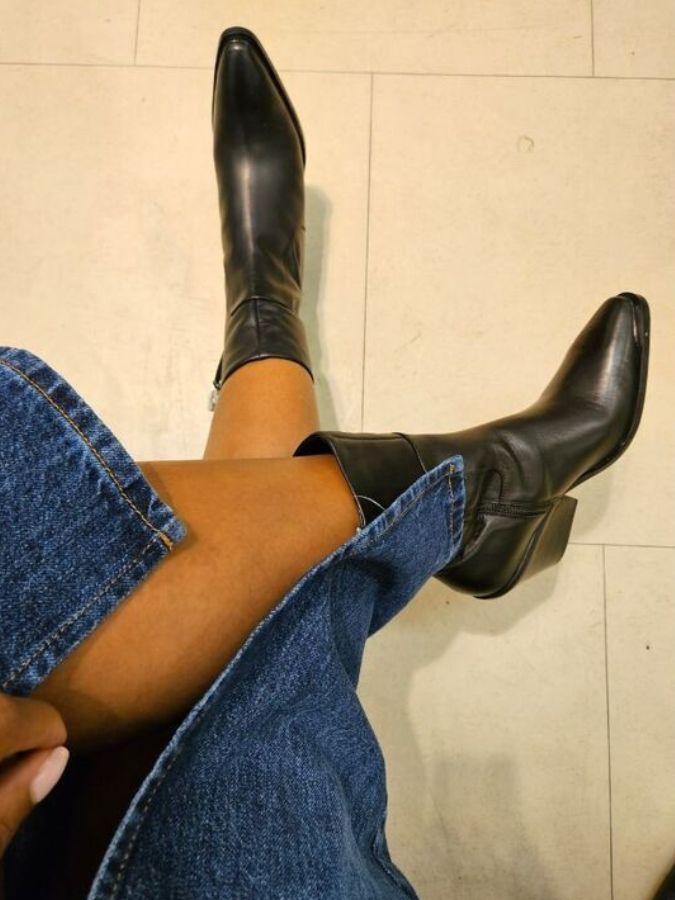 Unlike some, I'm very happy to embrace the advent of the winter season. A few months of cold weather in exchange for brisk mornings, long evenings and twinkling cities sound like a fair exchange to me. Of course the onslaught of wetter, windier days does occasionally dampen my spirits. When all of a sudden the weather is at its foulest, and your trusty trainers or sharpest loafers just won't cut it anymore, there is only one thing to be done: commence the hunt for the perfect spirit-lifting pair of winter boots.
As a fashion editor I've done the rounds in search of practical, stylish and long-last boots and I am delighted to report that one of my favourite brands to meet these demands heralds from the British high street.
High-street favourite Marks & Spencer has long been loved for their extensive knitwear range comprising a great number of wool and cashmere items, but on this occasion I've honing in on their under appreciated leather goods.
Who What Wear UK Shopping Editor, Remy Farrell styles Marks & Spencer Leather Cowboy Boots (£89). For a few years now I've been heading straight to Marks & Spencer when in need of a new pair of boots. With a range encompassing trending kitten heel boots, retro biker boots, sturdy Chelsea boots and the season's favourite, knee-high boots, their extensive range offers plenty of choice.  To make matters a little easier, I've sifted through their stock, editing together a list of the very best styles available to shop right now. Take the first step towards ensuring a warm winter and shop my edit below.
Espresso brown is one of the season's favourite colours. Integrated the trend into your wardrobe via this chic knee high boots.
With winter around the corner, now is the time to bank your perfect pair of Chelsea boots.
Biker boots are a '00s footwear trend that's back with vengeance this season.
Style with your favourite jeans or a wide-leg wool trouser.
The perfect shade of chocolate brown. These flatform boots are a no-brainer during windy winter days.
Cowboy boots continue to trend this season, and this subtle pair is the perfect nod to the enduring trend.
Wear your dresses throughout winter with the easy addition of a knee high boot.
Wear with fluffy socks to stay warm all evening.
Style with a silver mini skirt, or a black maxi.
Survive a snowy day in style.
Style with dark wash denim and a cream knit for an easy weekend look.
In my opinion, these are the perfect party shoes.
Wedge boots have never looked so sleek.
The flat heel will take you through your day in comfort.
Up Next: The M&S Boots That Fooled Everyone Into Thinking They're Designer Are Back