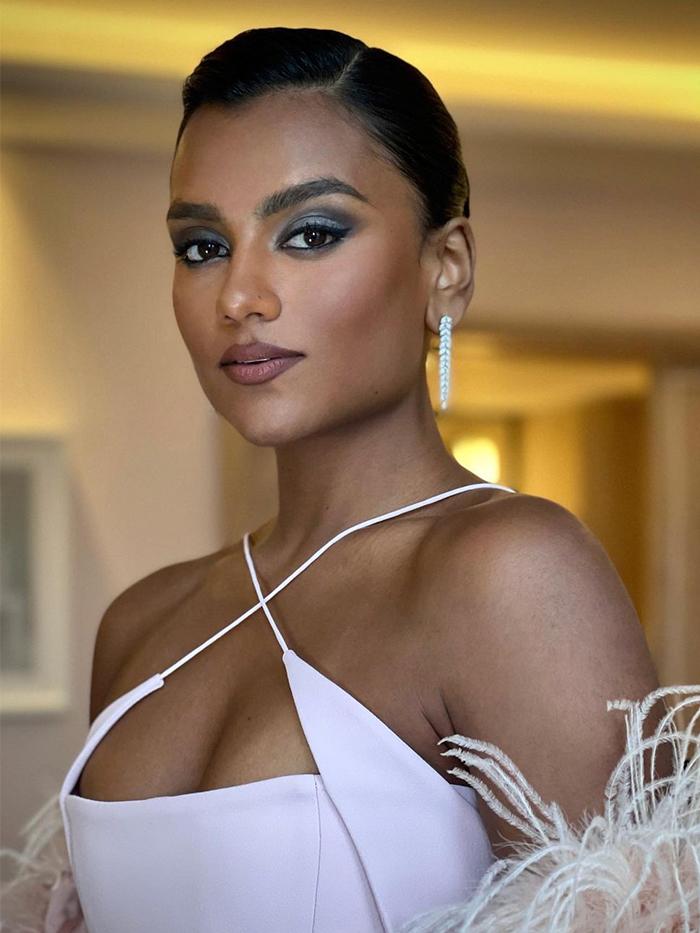 As if by magic, the festive season is almost upon us. I don't know about you. but I've already started bookmarking party outfits and planning my party-season manicure. My hairstyle, however, is often an afterthought, which leads to an influx of stress as I try and work out what to do with my hair, which is usually worn down and left to its own devices most days.
This year, though, I'm ready to switch things up. I want to go all out hair accessories but I'm rejecting the notion that you need to spend hours at the hairdresser's to create a look deemed party-ready.
So to mark this more laidback approach to special occasion hairstyles, I've rounded up some of my favourite party hairstyles that I've spotted on celebs and fashion types this year. Trust me—these are looks that you can genuinely re-create at home and will only take minutes to do—no skills required. Keep scrolling to see the best party hairstyles I've found.
I've obsessed with how simple yet effective this bun is, which is instantly elevated with a gold ponytail cuff.
A slicked back bun is always a winning party hairstyle (and works even better if you've skipped hair wash day).
Simone Ashley demonstrates how a side-parted slick bun looks so stylish for the party season.
If you want to go all out with your party hairstyle, then why not update the humble ponytail with a glittering diamanté ponytail?
If your outfit has a strapless neckline, then a half-up, half-down hairstyle with tendrils really showcases this as well as giving a does of nineties vibes.
If you have braids in your hair, then some hair crystals dotted along the partings looks so chic.
Party season is all about excess, so follow Linn Eklund's approach to party hair. Why wear one hair clip when you can wear four?
There's a time and a place for a messy bun, but Scarlett Johansson proves that for a special occasion, sleek and glossy is the way to turn heads. Wear your bun mid-height—not too high, not too low—for a twist on this classic hairstyle.
No words, just J.Lo giving us all the '90s supermodel blowout inspiration that we need for our next party.
Slicked-back hair looks good on any hair length and is perfect for showing off party earrings.
Sometimes, it's the classic hairstyles that work best for parties and a bouncy blow-dry always looks good. Use a large barrel brush to create glamorous volume like Lizzo's style.
Rosie Huntington-Whiteley's party hairstyle might look avant-garde, but it's surprisingly simple to get a similar look. Just tie your hair into a low ponytail at the nape of your neck, loop the ends up towards your crown and secure it with bobby pins.
If you've got a shorter hairstyle, then why not experiment with the placement of hair accessories? I have my eyes set on a twinkling bow.
A low ponytail or bun always looks elegant when the roots of your hair are slicked-back. I love how ASOS Lesley has finished her look with one of the ultimate party accessories: a pearl hair clip.
When in doubt, some loose curls à la Beyonce is a timeless party hairstyle.
This low ponytail is a staple time and time again at backstage at fashion week, but it just so happens to make a great party hairstyle too. Simply leave a piece of hair free from your ponytail, wrap it around the base and secure it with clips.
Whether it's one clip or several placed through the hair, it makes a great statement on short hair.
For me, there's something about a side-parting that instantly makes the most simple hairstyle look party-ready. Freddie Harrel's looks so amazing with her curly hair.
The ultimate French-girl party hairstyle as demonstrated here with a ponytail and a velvet ribbon. Perfection.
Unless you have naturally straight hair, you're likely going to need a pair of GHD stylers to re-create Emily Ratajkowski's sleek lob. It's worth it, though, because that hair is shinier than a disco ball.
I'm head over heels for Laura Harrier's party ponytail: low, tousled and with a few tendrils left loose at the front.
I love how Nina Sandbech's party hairstyle is so simple yet so effective. Just brush your hair back into a low ponytail and add a few extra hairbands at varying points. Pull the hair out slightly in each section to create a bubble ponytail.
If you're keeping the rest of your hair simple like Monikh Dale, then a statement headband like this double-height velvet one is the perfect way to create a hairstyle that will still turn heads.
If your hair is curly like ASOS Syana's, then pull a few coils free from a high ponytail to create a majorly glam party look.
J.Lo is the queen of high ponytails, but I love how the flicked-up ends lend this simple style a bit of oomph.
Up Next: 51 Party Nail Designs Fashion Girls Are Obsessing Over