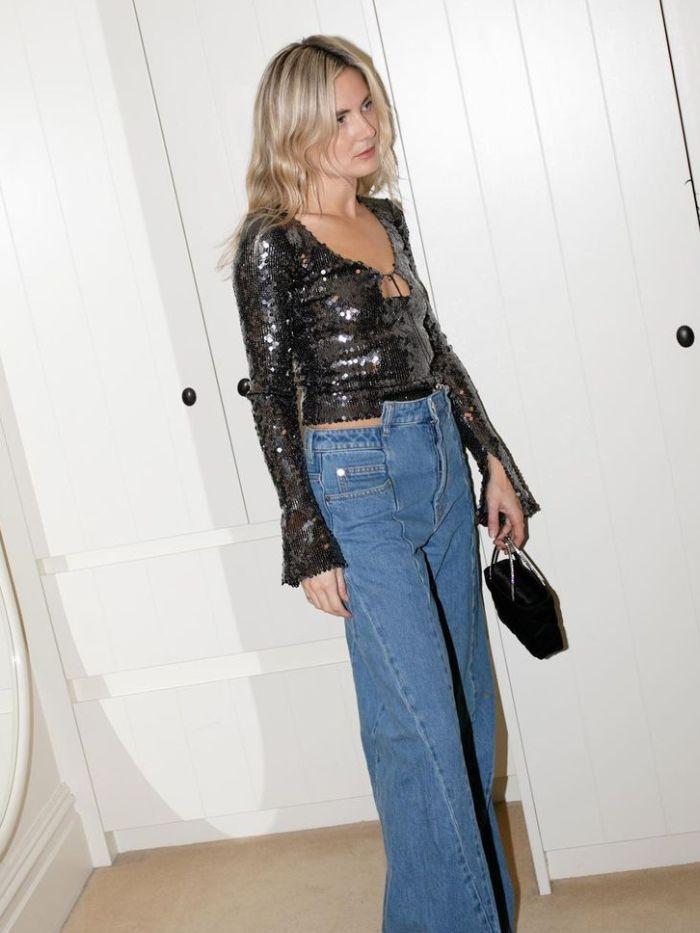 I really don't want to think about the effort I'd have to put into getting dressed if it weren't for jeans. They're the piece I grab when I'm in a hurry, when my friends and I decide to meet up last minute or I when just don't have the mental capacity to pull together a look. However, when dresses become an integral part of my aesthetic, I found myself leaning less on my jeans for the daytime. Instead, they became my preferred nighttime attire.
Unlike party season—when I'm always keen to embrace embellishment and feathers—there's something so effortlessly cool about more laid-back going-out looks during the autumn, and jeans will help you nail that assignment. Keen to see how influencer types style their evening outfits with jeans, I went on a social media deep-dive with the aim of unearthing ensembles I could copy and paste for my next night on the tiles.
Below are six of the best looks that I found, from the shoe choice that fashion people always pair with their denim to the various tops that'll help elevate your strides and give them after-dark appeal. Scroll on to see the evening outfits with jeans that have impressed me.
Style Notes: Never before has the vest top been so pivotal in our outfits as it is now, but until the temperatures rise again, wear the look with a leather biker jacket. 
Style Notes: With strap sandals and a chunky chain necklace, the vest-top-and-jean outfit combo is elevated from day to night. 
AllSaints know all about exquisite leather jackets. 
Arket has some excellent vests this season. 
I wear a chain necklace just like this one almost every single day. 
Editors and influencers both rate Agolde denim. 
Style Notes: Cut-outs are a still key trend in 2023, especially if you're not into the rivalling sheer look. In top form, cut-outs will instantly give your outfits "going-out" credibility. 
Style Notes: A little sparkle never hurts either. 
A striking neckline always brings the drama. 
White denim is having a moment. 
Trust Prada to give us one of the most covetable bags this year. 
Style Notes: There's something refined about the turtleneck, and a sleeveless iterations loans itself perfectly to nighttime pursuits. 
Style Notes: Swap out blue jeans for unexpected grey, and you've got the perfect attire to dance all night in. 
A high neck top makes for a sleek alternative to a simple t-shirt. 
If you're dipping into grey denim, opt for looser styles for a fresh 2023 look. 
Aeyde are expert in refined shoe design.
Style Notes: Strapless tops signify one thing: You're going out. And they also happen to be the base for some exceptionally good jewellery styling. 
Style Notes: A simple shoulder bag is all you need to complete this minimalistic evening look. Oh, and add a blazer if you're prone to feeling the chill.
Our editor's favourite blazer, back in stock. 
Such a great shade (but it also comes in no less than 17 other colours). 
A dream handbag. 
You'll restyle this pair throughout all seasons. 
Style Notes: There's a lot to be said for the old phrase 'jeans and a nice top'. If you're still unsure about the relaxed nature of jeans, go full force with your top. My suggestion? Sequins.
Style Notes: To add to the impact of the look, layer up your jewellery and opt for a striking bag too. 
I'm a big fan of 16Arlington's embellished styles. 
Agolde jeans come highly recommended. 
I downright refuse to leave the house without my Missoma hoops. 
It's hard to believe this highly embellished bag is from the high street. 
Style Notes: A white blazer will instantly lift blue and black denim, giving it a more premium feel that works well for the evening. 
Style Notes: Nearly every influencer on this list has styled their jean evening outfits with mules. If in doubt, invest in a black strappy pair for maximum versatility. 
The shoulder pads add a structured touch to the silhouette. 
Straight-leg jeans are still a fashion-person favourite. 
You'll get so much wear out of these BY FAR block heels. 
Next Up, 7 Stylish Shoes French Women Deem Essential for Winter
This story was published at an earlier time and has since been updated.