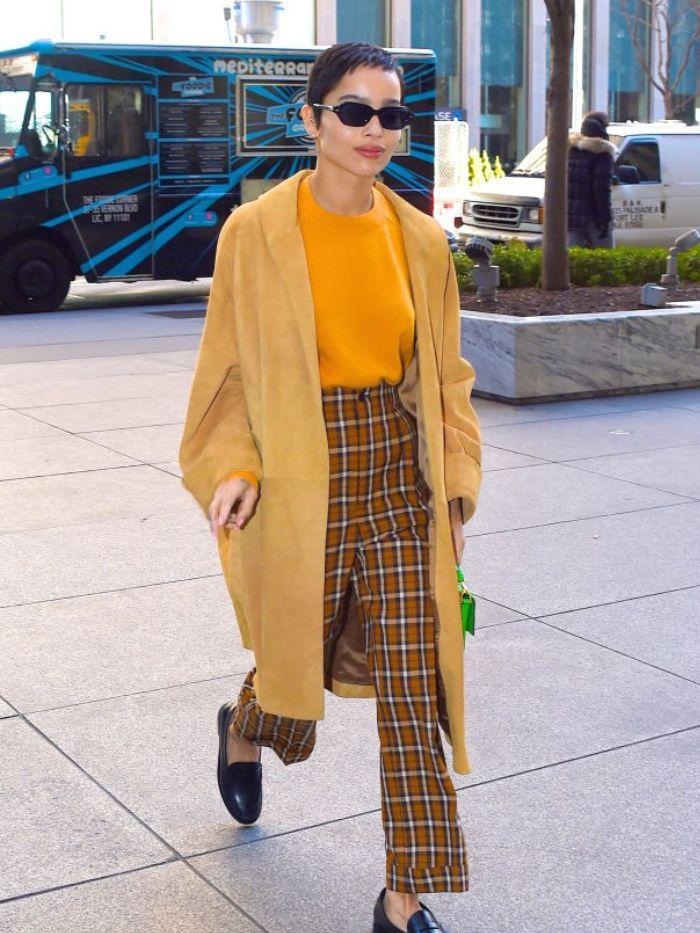 When you're 5'4″ and under, shopping for clothes can be a time-consuming effort (and if you regularly find yourself spending hours in fitting rooms in comically long trousers, you'll know what we mean). Although the high street is getting better at producing clothes in petite, regular and plus-size options, it still has a long way to go to make a full size range accessible across all pieces, so if you're shorter and looking for ways to revamp your wardrobe, where do you begin? Thankfully, we have the answer.
Liza Belmonte is an expert in the petite styling field and the brains behind the Every Body Gets Dressed newsletter. You may already know her from her social media presence (she currently has 44,000 followers on Instagram) or from her weekly Substack newsletter that offers style advice to help "build a streamlined wardrobe that sparks joy", so when it comes to getting advice from someone who knows petite styling (and has worn the trousers) there is no one better to ask for pointers that will really work. 
To help you, dear reader, embrace whatever size, shape or height you are, we asked Belmonte for her top tips on how to confidently dress a smaller frame and it doesn't start with throwing everything away and starting again. Keep scrolling for her seven ways to champion your height and to shop the pieces that we love now. Your wardrobe will thank you. 
"My first recommendation is to invest in achieving the right fit, whether that means shopping from a petite brand, taking your time to research the right cuts for you or paying for alterations. This will hugely contribute to the longevity of your wardrobe. I recognise that it can be frustrating to have to pay for alterations because most standard-sized clothes don't fit properly, but you're actually more likely to wear an item more often and keep it for longer when you spend more money on it. This is explained by a psychological effect called the 'sunk cost effect'.
"Getting the fit right is particularly important if you like to wear oversized styles. Contrary to what most people think, it's difficult to find oversized clothes that fit well when you're petite. Oversized and too big are two different things and the latter can make you appear frumpy. Shop for pieces that are designed to look oversized and are labeled as 'boxy', 'oversized'', or 'relaxed fit', and hem the sleeves to avoid any unflattering bunching."
"My go-to for everyday wear is a full-length pair of high-rise jeans or trousers. Many short girls tend to opt for 'standard-sized' trousers labeled as 'cropped' or choose the shortest available length, but I think that does us a disservice because these still appear too short on our already shorter legs. I prefer to buy a pair that is too long and have them hemmed to the ideal length, which is a few centimetres above the floor. Visually, this does wonders to elongate your silhouette.
"Choose high-rise and you'll appear to have much longer legs. Beware of jeans or trousers labeled 'ultra-high-rise' though, as these have the opposite effect and look too overwhelming on a petite silhouette—they usually come up to my bra line! Don't get rid of your cropped trousers after reading this though. You can achieve the same elongating effect by pairing them with a pair of boots in a matching colour to that of the trousers."
"Speaking of footwear, not all shoes are created equal when it comes to looking flattering on shorter bodies. You can appear taller even without wearing high heels by choosing a pointed or rounded toe or a nude-coloured shoe. Metallics like gold and silver can also have the same effect as a nude shoe depending on your skin tone.
"Still in the realm of colours, match the shade of your shoes to the colour of your trousers to create vertical visual lines. This can be achieved easily in winter too by wearing tights with black shoes or boots. Another option is choosing a pair of shoes that are cut low on the bridge of your foot. If you're wearing a shoe that's cut high on the bridge of your foot, like a loafer, wear them with long trousers, or with socks if you're wearing a skirt or dress."
"Creating the effect of a more elongated silhouette has a lot to do with optical illusions. This is why I recommend wearing pieces that are rich in details around your neckline or face, like a statement necklace or earrings, or a top with embellishments around your shoulder and neck. These accessories or design elements will draw the eye and attention upward. This is a particularly helpful tip when choosing a look for special occasions.
"Conversely, I tend to avoid any attention-seeking details around the lower half of my body that will visually weigh the silhouette down. This is the reason why I tend to avoid large handbags and always recommend smaller bags for shorter women. Large bags can drown your silhouette and drag the eye down, whilst mini bags will give you a more imposing presence."
"I recommend focusing on outfits that create length. A really easy way to do this is by wearing an outfit in the same monochromatic tone from head to toe. To make monochromatic outfits look interesting, mix different fabrics, like leather mixed with wool or shiny satin; and different textures and materials like lace and fringing. If you don't want to wear the same colour from head to toe, you can still get the same effect from wearing a gradient—just avoid 'blocks' of contrasting highly saturated colours.
"Choosing the right fabrics to wear is really underrated in helping you feel more elongated. Create length by choosing slinky or fluid fabrics like silk or wool that drape the body in a flattering way. Sarah Jessica Parker, who is 5'2", and her Sex in the City character Carrie Bradshaw gave us so many examples of this with dresses in flowy silk, chiffon and light jersey that looked really feminine and sexy. As a short woman, I have often been made to feel like the designated 'cute' friend, and I've loved styling pieces in materials like these that make me feel womanly."
"Another very common styling tip that comes in handy, especially when styling oversized looks, is to show some skin. This can be done strategically. As mentioned above, I avoid showing skin at the ankle as cropped trousers are less flattering than full-length ones. Instead, my favourite hack is to show the skin of your wrists and forearms. This is particularly helpful and easy to implement in winter when wearing chunky, heavy knits that cannot be tucked or cropped.
"Rolling up your sleeves is a lot more accessible than showing skin around your cleavage or midriff. This works well because the wrists and forearms are the daintiest parts of anyone's body, so by rolling up your sleeves, you create a balance of proportion. You can accentuate that effect even more by wearing puffy or slightly voluminous sleeves—the contrast will be greater. Another 'dainty' part of the body where it's easy to show some skin is your neck and nape; I always wear my hair up when wearing oversized and recommend doing the same if you have long hair."
"Get familiar with the rule of thirds. It's one of the most useful rules of styling to help create flattering outfits. It's applicable to everyone but is particularly helpful if you're petite. Think of the length of your body in thirds as opposed to two halves (torso and legs). Wear a cropped top, jacket or knit with a high-waisted, full-length pair of trousers. The top, because it's cropped, will make up one third of your body and the trousers will make up two thirds. It will be much more flattering than wearing a long top over short trousers. You can reverse the order by wearing two thirds at the top and one third at the bottom; for example, by wearing a short dress. A belt is your best ally to implement the rule of thirds and to mark your waist wherever you want it to appear. Use it to cinch in your waist when wearing a dress."
"Last but not least (and this isn't to discredit the above advice), don't let 'flattering' become the be-all-and-end-all of putting together an outfit. Whilst styling a flattering outfit can make you feel more confident, don't let it stand in the way of wearing something you really want to wear. Being 5″ myself, there are things I will draw a line under even though I like their look on others, but some things (for example, squared-toe shoes) I'll still wear even though they're not the best to complement my height. It's already tricky to find clothes that fit well for petite women; we shouldn't add the pressure of abiding by too many sets of rules. I really look up to women like Tessa Thompson, Sarah Jessica Parker and Zoë Kravitz for making bold choices and not letting their small frames dictate what they should wear. Don't hesitate to take up space."
You can find Liza at @lizambelmonte on Instagram, or subscribe to her newsletter here. 

Next Up: The WWW Gift Guide: 52 Chic Buys We'd Love to Open Ourselves