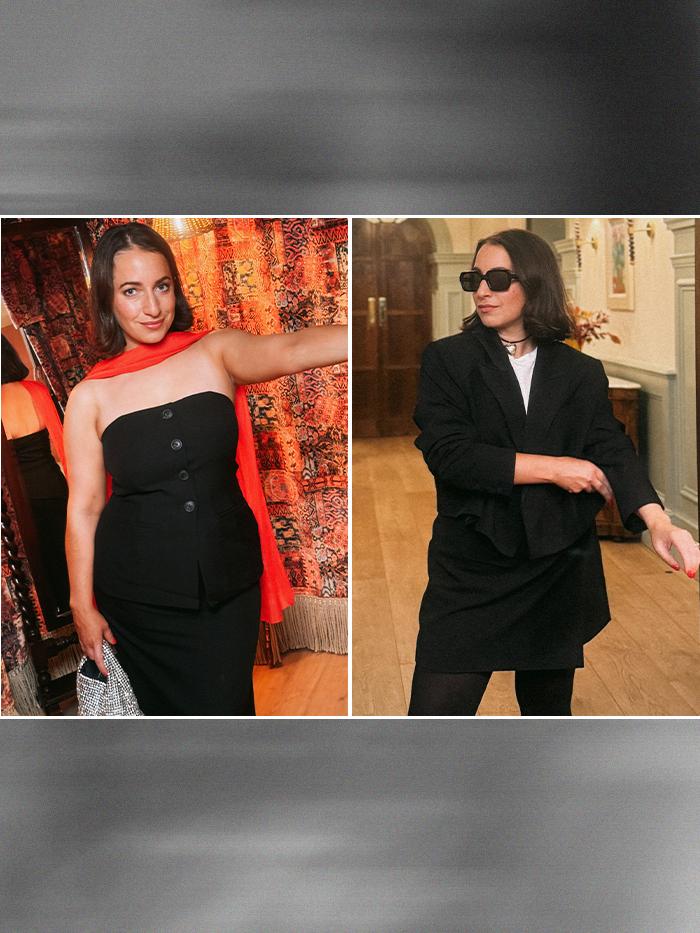 As an editor who attends more than your average share of drinks, dinners, galas, parties and all other manner of evening events, you'd think I would've run out of steam when it comes to getting dressed for a soirée, but not so. I simply love the process of selecting a special outfit. Party season has once again come around all too quickly, and although I enjoy the creativity of pulling together a fancy ensemble, sometimes I just don't have the hours to put as much effort in as I'd like to.
That's why I've worked on honing a list of reliable looks over the years that I can call upon in my moments of fashion need. These are simple yet effective combinations that have stood the test of time and provide something chic, elegant and appropriate whenever my Google calendar starts to stack up. Not only does this make the standard pre-party "I've got nothing to wear" panic fade away, but it also means I can be more mindful with my festive-season wardrobe, choosing pieces that work harmoniously together, don't date and avoid becoming one-wear wonders. 
I'd describe my fashion personality as both practical and joyful, and one brand that always exemplifies these traits is ALIGNE. The female-led, East London–based label is one that is beloved by editors and influencers alike for its unique, high-quality take on core wardrobe essentials. Mindful and transparent in its production, ALIGNE also manages to provide accessible price points and fantastic design credibility. Until now, the brand has been more focused on daywear, but for this recent Party Edit drop, there's an injection of sparkle and glamour that sits beautifully alongside its excellent tailoring, leather separates and denim. 
If you want all-out fabulous, then the gold lamé gown is going to tick every possible box. But if you'd like to opt for something pared-back, there's a mix-and-match array of highly sophisticated black pieces that flatter and fit like a dream. The Party Edit collection spans the gamut of evening looks I've been curating over the years, so I could easily apply my methods to the new-in section. Below, you can find the trusted formulas I always return to, re-created with the pieces I adore from ALIGNE's latest collection. 
Style Notes: When in doubt, wear black. I'm certain that no one ever regrets wearing a chic black look. Refined and understated, you can still bring a little drama to the concept by playing around with silhouettes. Here, for example, a black bandeau top (structured beautifully, even for boobs!) and a demure maxi skirt provide a '90s spin on a classic combination. 
This sculpted, black, button-through top is selling like hotcakes, with the waistcoat version proving to be just as popular as the bustier.
Celebrities are also reaching for these polished maxi-skirt styles to bring a little something different to their after-dark outfits.
Style Notes: When you commit to wearing a really knockout dress, you have to go the whole nine yards and decide to up the volume, say yes to loud fabrics, throw in equally strong accessories and bring the required attitude for making an entrance. This gold lamé dress has a '70s disco feel to it and features an incredibly generous amount of fabric in the cut (something that's hard to find for this price tag elsewhere), which makes it instantly appealing to swish around in. 
This tiered midaxi comes with its own matching skinny ribbon belt, but I decided to cinch the shape in with a bigger belt for a more retro look. So, if you prefer a more ethereal, billowing silhouette, know that this dress is designed to be worn looser than I've styled it.
The quality of this piece is second to none—once you try it on, you'll know exactly what I mean.
Style Notes: Show me a person who has the time after work to go home, get dressed and head back out again. See? Not realistic! That's why, on weekdays, I'd recommend trying out a sassy little skirt suit that you can transform into evening attire just by changing your jewellery, adding heels and maybe even switching to a lower-denier pair of tights (or losing them entirely, if you're not prone to feeling the cold like I am). The cropped proportions of this tuxedo blazer make it the perfect partner to many other pieces, such as high-waisted tailored trousers, jeans and every kind of party dress. 
The perfect cropped tuxedo jacket—a particularly good buy for someone of my 5'1" stature.
ALIGNE has so many black staples in similar or the same fabrics that you can really mix and match to your heart's content. The cropped blazer also looks great with the brand's wide-leg tailored trousers.
Style Notes: I actually prefer wearing denim in the evening than I do in the daytime. In my mind, it's quite alluring to look party-ready in something that actually appears a bit casual and nonchalant, which is why these baggy, crystal-dotted jeans really appeal. They do a lot of the hard work for you, so all that's needed is a simple white tee or button-down shirt and a pair of heels to balance out the long hemline for my petite frame.
These super-fun jeans are already a baggy cut, so you can either opt for your regular size or even try a size down if you want to go for a slimmer fit.
Style Notes: I think we've already established that investing in timeless black party pieces will never, ever be a bad move. ALIGNE is well-known for its top-notch leather pieces, and this beautiful double-breasted, halterneck dress is nothing short of spectacular. I love the idea of bare skin against a relatively covered-up leather dress, but I also think this style would work incredibly well for daytime wear with a roll neck or shirt layered underneath. It's a double (or even triple)-duty dress that will look good for years to come.
This is an incredibly sophisticated take on the leather dress trend.
The shimmering silver fabric here is really unique, and guaranteed to garner compliments.
This limited-edition three-piece suit has been created in collaboration with new British tailoring brand Kipper, founded by Sarah Corbett-Winder.
Incoming: another co-ord I won't be able to resist.
The full skirt is having yet another moment in fashion circles.
The Leo waistcoat is a versatile piece that can look equally fantastic with a simple pair of jeans as it does with the whole suit.
Sometimes you just need a comfy black party dress to fall back on.
I like the idea of re-styling this for the office with smart heels and a blazer or cashmere knit. 
ALIGNE clearly knows how to turn leather into fantastic dresses.
The head-to-toe look is nothing short of jaw-dropping!
In my book, leopard is a neutral, and it's also a reliable print for party season.
A classic off-the-shoulder top is the kind of piece that suits everyone.
Discover more of ALIGNE's Party Edit.