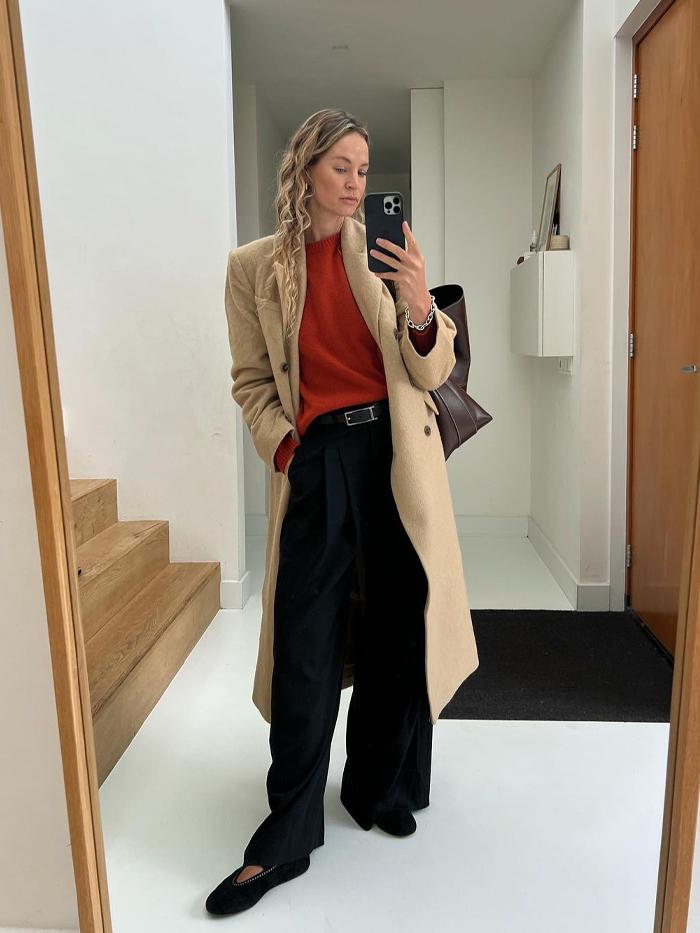 Flats are the dominant footwear choice of 2023, period. From ballerinas to Mary Janes, loafers to clogs, fashion people everywhere are forgoing stilettos in favour of comfortable (but no less stylish) flat shoes.
But as we adjust to lower temperatures, the question on every flat-shoe fan's mind is, "Can this trend be adapted for the autumn/winter months?" The answer, I'm pleased to share, is yes—but with an asterisk. It's natural for boots to feel like the only safe option if you struggle with cold toes at this time of year, and this might well be the case for some, but we've seen first-hand how influencers have made daintier shoes work in chilly weather.
The below outfits are prime examples. As they suggest, long trousers, insulating coats and wool knitwear are key to ensuring you're cosy top-to-toe. From there, you can add socks or sheer tights to retain the heat in your feet. Simple.
At the first sign of snow or minus degrees, you might want to rethink some of these looks, but until then, get inspired by our round-up of the best winter flat shoe outfits.
Style Notes: Scarf coat season is here—it's time to bust out your Toteme beauty, or finally give into the temptation. There are also great alternatives on the high street that will look just as chic with this jeans-and-Mary-Janes combo.
This year, it also comes in a light grey and all-black colourway.
This is one of COS's most popular jean shapes.
Cute, cute, cute.
Style Notes: This is an outfit I can see myself wearing on repeat. It's a simple but foolproof formula: take any long coat, pair it with tailored trousers, flats and a wool knit for added warmth.
The perfect everyday coat.
This colour-pop jumper will cheer you up on gloomy winter days.
Such a great shape—and so timeless, too.
Le Monde Beryl makes the best Mary Jane ballet flats around.
Style Notes: Loafers are a footwear staple at this time of year, and they're easy to incorporate into a whole range of looks. I love Lauren's monochrome styling here. We've said it before and we'll say it again: there are few outfits a blazer won't make better.
You could also layer this under a bulky coat when it gets really cold.
Whatever the season, you'll get so much wear out of this elevated basic.
Use the slightly cropped leg to show off your flats.
Who says you can't find expensive-looking shoes on the high street?
Style Notes: If you've decided to brave bare legs, it might be wise to pair your loafers with socks, like Nnenna. A cosy knit and longline coat are also essential to keeping this outfit cold weather-appropriate.
Chuck this on over everything and anything.
You can also pick up striped variations of this handy knit.
The mini slit is a nice detail.
Perfectly chunky.
Style Notes: It being October, Birkenstock sandals have cleared the way for the more autumn-friendly Boston clogs. I always look to Francesca for tips on how to style them—this is an ensemble you can likely re-create using pieces you already own.
I love the length of this, it's so versatile.
Khaki is a neutral, as far as we're concerned.
Don't expect these to hang around for long.
Style Notes: On milder days, opt for a lighter-weight tweed jacket (a Parisian favourite) and give it some edge with wide-leg jeans. A pair of pointed flats will look super sleek peaking out from the bottom.
This looks so premium for the price.
Influencers are always spotted in Agolde denim.
I can't stop thinking about this unique take on the ballerina.
Next Up: 7 Anti-Trend Outfits People in London, Paris and Stockholm Are Wearing Right Now