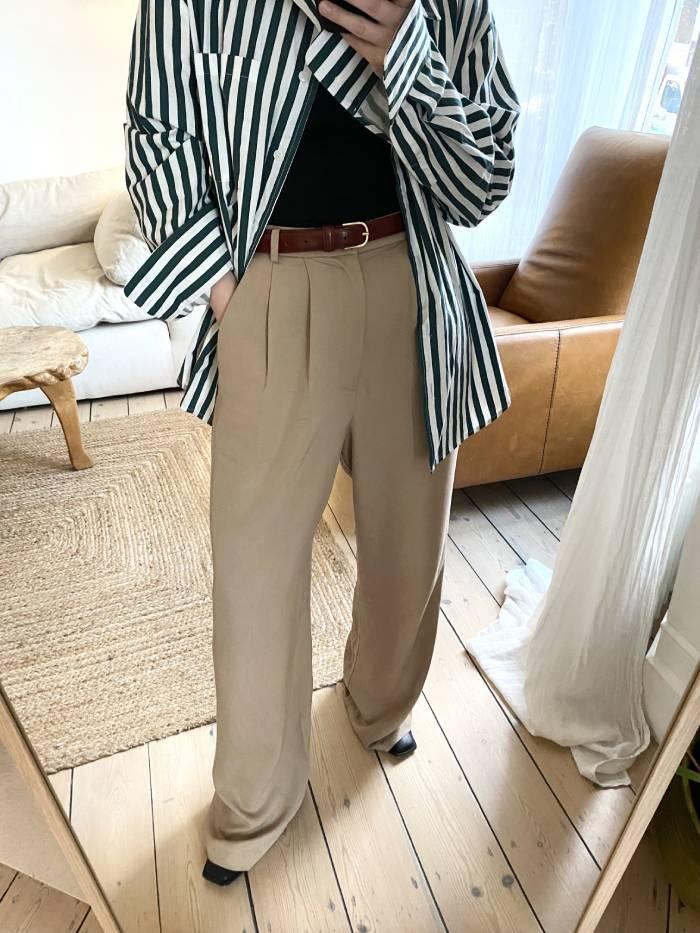 There are a few moments in the fashion calendar that get us really, really excited over here at Who What Wear HQ. One of those is a Reformation sale. That may sound like an exaggeration, but seriously, Ref's sales are known as some of the best in the business, and they're also very rare. In fact, the upcoming Black Friday sale is the only site-wide sale the brand has this year. Why do we love them so much? Mainly because we usually have a pretty long Reformation wish list on the go, and it's a great opportunity to treat ourselves to a few of these pieces for less—especially the more expensive items like cashmere, coats and boots. But also because the brand's designs are so anti-trend (and eco-conscious) it's rare that you ever regret a Reformation purchase—I certainly never have. 
Lucy wears the brand's insta-famous Fantino cardigan. 
Black Friday weekend may not have arrived yet, but discounts are launching earlier than ever this year (check out my round up of the best deals so far here). And while we've got a few more days to wait until Reformation's biggest sale of the year arrives, we've just had exclusive confirmation of the details so we can all get as prepared as possible. 
So, let's get into it. Reformation's sale will officially start on Wednesday 22nd November with 25% off sitewide… yep, everything! It usually lasts through to Cyber Monday, when even more deals have been added in previous years—although by then the stock levels can be quite low. 
Who What Wear US Editor In Chief, Kat Collings, wears a full Reformation outfit, including the chic Danni trench, Jadey sweater and Wilda mules. 
With this sneaky preview of the sale details, you should now have plenty of time to start thinking about the smartest buys you want to bag in the Reformation sale. Like I say, most of us Who What Wear editors usually have a few items in our baskets at all times (currently, it's the Val jeans, Remy boots, red Clara cardigan and the cosy Jadey sweater for me). But we'll definitely all be revisiting them this weekend so that we can be sure everything we love is in there ready and waiting for the morning of the 22nd when stock usually flies out. 
Don't have time to scroll through the whole site and would rather get some expert guidance as to which Ref pieces are truly worth it? I've spent the morning scouring the site and shared some of their bestsellers and celeb-loved items below for you. There are, of course, so many pretty dresses to consider, whether you've got a cold-weather wedding to buy for, some winter sun on the horizon (jealous) or just a killer party outfit on the brain. But my top unmissable pick, has to be the brand's Mason Pants. 
I'm 5'2", and the petite Mason Pants are the perfect length for me. 
If you're a regular WWW reader, you may have heard me rave about these perfect wide-leg trousers before. I own them in a couple of colours now and as my coworkers will attest, I'm rarely spotted not wearing them. One of the brand's bestsellers (with a host of celebrity fans too), they now come in 10 colours as well as petite and extended sizing options (thank you, Reformation!) And since they're made from a soft Tencel Lyocell, there are no bulky pockets or unflattering pleats in sight.
You really can't go wrong shopping in Reformation's Black Friday sale—whether you're looking for beautiful dresses to pull out year after year, luxurious knitwear or winter wardrobe staples. Keep scrolling to see my top picks from the brand to add to your basket in preparation for next week's sale! Happy shopping… 
Reformation dresses = a good time. Lucy wears black Maves dress and Monikh wears a linen two-piece from the brand. 
These work in all seasons. 
The piece in every editors basket right now. 
A trench is so classic. 
The extended size version goes up to a UK28. 
So. Chic (and a favourite of Taylor Swift). 
Party shoes!
Perfect for work. 
We recently wrote about how this is the knit to know. 
The boots I've got my eyes on—they come in so many chic colours and in suede too. 
The brand's bestselling jeans, and we can see why. 
Taylor Swift wore this recently. 
Both Gigi Hadid and Katie Holmes are big fans of these loafers. 
This comes with a removable scarf—chic. 
So versatile—I'd wear this to festive parties or winter weddings with some fancy accessories. 
Selena Gomez's favourite boots. 
The perfect black coat. 
A leather blazer is always a classy choice. 
A dress that will take you from summer to winter and back again. 
The perfect slouchy straight jeans. 
These hug in all the right places. 
A gorgeous LBD, loved by influencers. 
Nothing beats a suede boot for autumn/winter. 
Wear with the aforementioned knee-high boots. 
So many Who What Wear editors own this beautiful dress. 
Up next: I Spent Hours Scrolling Black Friday Sales—Here Are the Early Deals Worth Seeing