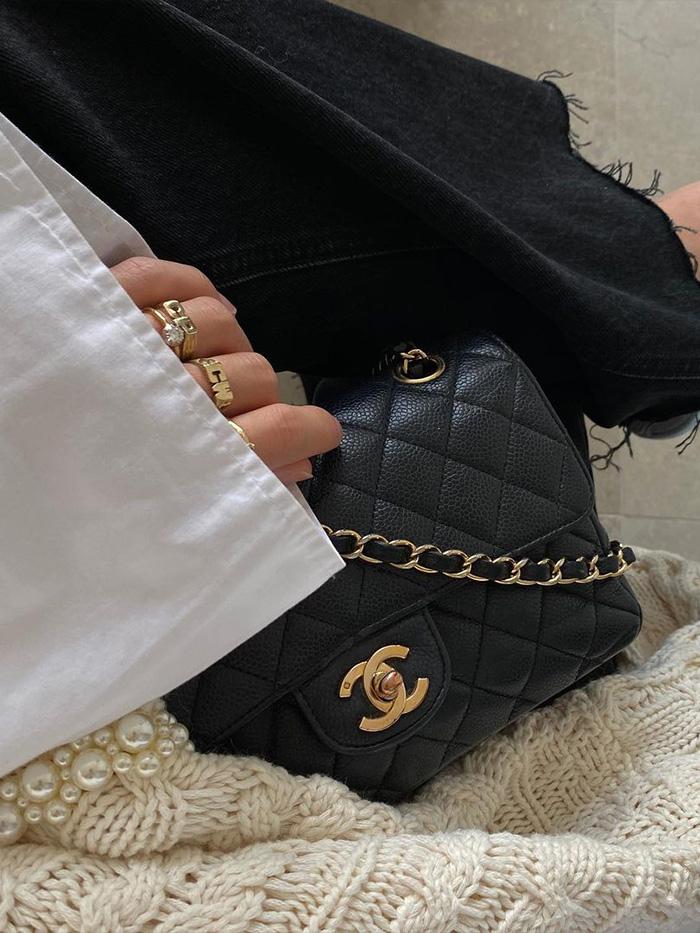 The term "investment buy" gets bandied around a lot in the fashion world. Sure, classic camel coats and well-made shoes will see you through many years, but they're only an investment in terms of how often you'll wear them. It's unlikely you'll make much when reselling a pair of worn-out loafers.
This is why you really can put "bag" and "investment" in the same sentence. Some designer bags will even increase in value (we're looking at you, Hermès) as they patiently sit in a dust bag at the back of your wardrobe because of the waiting lists for new styles, which we can attribute to the time and craft needed to bring a single, say, Birkin to life. Other styles, such as Chanel's 2.55, just never date.
According to resale site Open for Vintage, more and more high-end designers are looking to the archives to inspire new-season designs, sparking a wave of consumers to head online to find pre-loved styles. "Vintage versions of the season's It trends become the purse-friendly option with a much lesser environmental impact," the site reports.
So which brands have the biggest resale value and therefore are sound investments? We posed this question to Nicola Ghin, authentication manager and resident designer handbag expert at The Luxury Closet. "The best performing brands for resale value on the secondhand market right now are Hermès, Chanel, Dior and Louis Vuitton. Brands like Prada, Gucci and Fendi offer extremely trendy options, but some styles aren't as reliably rewarding when it comes to their resale value—you need to choose wisely," says Ghin. "Trends and icons are two different things. The Fendi Baguette and Gucci Bamboo bags might be some of the hottest pieces to buy right now, but in the long run, Birkins and Chanel's Classic Flaps will always lead in terms of most desirable and best to invest in on the secondhand market."
Of course, any designer handbag purchase is a big one, and maybe you like the idea of rationalising the price by thinking about its eventual resale yield. Still, perhaps this shouldn't be your priority, says Ceanne Fernandes-Wong, the CEO and co-founder of Cocoon, the UK's first membership subscription service for luxury bags. "Buy a bag you love. If you're lusting after a vintage Chanel Diana, don't buy a Caviar Flap bag just because you think it will have a better resale value. Chances are if you're truly lusting after a bag, you will want to keep it for years to come." Wise words. And she has some more inspired suggestions on how to go about finding the perfect investment bag for yourself.
"As purchasing a handbag is a significant investment, it's a smart idea to 'test-drive' bags via a service like Cocoon so that you can make a truly informed decision," says Fernandes-Wong. "You will get a real sense for whether a particular brand is worth the investment or if a style is right for your needs. Finding out a bag is too heavy, you don't like the quality or it doesn't fit is a costly realisation to make post-purchase. You can also get a sense of how a bag will wear over time, especially if it's vintage or an older style, and that may influence your decision, too, as new doesn't always equal best."
Taking good care of your bag is necessary—both when in use and not—to guarantee interest if you decide to sell it. So before you splash out on a new-season bit of arm candy, check out the scoop from our experts, including our sustainability-proficient contributor and fashion commentator Andrea Cheong. Below, see which bags make the best investments right now.
"Probably the most recognisable and iconic monogram of all time, Louis Vuitton is synonymous with the world of high-end handbags," says Ghin. "Not every design has the same appeal, and not all Louis Vuitton purchases will mean a healthy resale value—your best bets are the Métis, Pochette, and seasonal Speedys such as cérise, multicolour and denim. These are consistently in demand, and selling them means earning between 20% to 50% more than what you originally paid." Open for Vintage is in agreement with Ghin and has revealed that sales of Louis Vuitton handbags made up a whopping 35% of its total sales in 2020. "Louis Vuitton is arguably much cooler when it's vintage," continues Cheong. "As the Y2K trend continues to rise in popularity, it's a 'safe' way for all of us to partake without compromising our current aesthetic."
So roomy!
Cocoon lets you rent dream-worthy handbags. 
The monogram is iconic.
According to Open for Vintage, "As prices continue to increase significantly year on year at Chanel, vintage is fast becoming the chosen way to access the iconic fashion house's designs at more reasonable prices. Additionally, more and more people are becoming savvy to the smart financial investment that a Chanel bag can be, with the resale market being a great way to make a profit if you ever choose to sell on." "In line with Hermès, Chanel recently started reducing the availability of their iconic designs to create increased hype and demand," reveals Ghin. "While Classic Flaps and 2.55 Flaps were easily accessible a few months back, now, they're not only considerably more expensive, but they're harder to purchase from boutiques. Customers can now only buy just one Classic Black Flap per year, and this has hit like a tornado to the resell business. Your Chanel Flap is worth money now, darling!" Cheong, too, weighs in on the Chanel price-hike, saying, "Amidst the online furore against yet another Chanel price increase, there is a way to beat it: Buy secondhand. Everyone loves to talk about how the quality was better 'back then,' and I might have to agree. Aside from real gold hardware pre-2008, I've seen leather shoes and bags from the early 2000s that have retained their integrity so well you would've thought it was a new-season style."
There's so many unique vintage finds around. 
A purchase you'll cherish. 
Renting lets you try before you buy to ensure you love the your investment piece. 
"Dior's 1969 oblique design came back in a big way in the brand's 2020 collections, and in turn, we saw sales for our vintage oblique designs spike significantly," says Open for Vintage. "The oblique is undeniably cool," reaffirms Cheong. "Even if you're not so into obvious logos, the fact it has returned with full force and retains its covetability is a testament to the design. The colours are also neutrals that go with everything no matter the season. Think navy blue and burgundy as the most popular iterations. However, if it's your first bag purchase and this really isn't your style, I would suggest the Lady Dior instead. It's iconic." "Dior is living a new golden era, playing with the two key elements of the Maison: Cannage (the motif coming from Napoleon III–style cane chairs composed of wood and cane webbing) and the iconic Dior Oblique pattern," says Ghin. "Lady Dior and Saddle are the among the most coveted and demanded bags in the secondhand market, owning to their practicality and classy design."
Endlessly chic. 
A stylish hold-all bag is always a clever investment. 
The much-loved Saddle Bag. 
"Gucci's increased injection of its 'retro' Horsebit detail in its collections meant that we saw our vintage collection become more in demand again, with the Gucci Jackie comeback particularly fuelling this," notes Open for Vintage. Indeed, the revival of the Jackie seems to have caught Cheong's attention, too. "Gucci is one of those brands that have seen an incredible transformation over the last decade," she says. "Jackie is my favourite silhouette. Its allure as a day-to-night bag is as strong as ever. Plus, I've heard that the vintage styles come roomier, which is a convincing option compared to the newer version, which I love but really doesn't fit a lot."
This comes with a second strap that adds multiple ways to wear your piece. 
I estimate this will be a forever classic.
So chic.
"Prada's Nylon bags are another hot topic on the internet. Is it worth it to pay £1400 for this?" muses Cheong. "If you're enamoured by its early 2000s vibe but shudder at the price tag, luckily for you, there are plenty available secondhand. Win win." She's not wrong. According to Vestiaire Collective, the Prada Nylon bag has seen sales increased by 150% YoY, with the style being re-released by the brand in a variety of vibrant shades and finishes, many of which you can find on the resale site.
What's not to love?
The hobo bag is so slick. 
Pull this out for every party. 
"Quintessentially chic, iconic, and incredibly valuable, all Hermès handbags are made with the best craftsmanship and materials," attests Ghin. "Did you know that Birkins are better investments than stocks? While gold and stocks are volatile by definition and might give you a financial rollercoaster, Birkin bags have increased in value by a small and constant percentage over the past 35 years. Their demand is constantly growing, all the while their availability is becoming less and less. Birkin, Kelly and Constance are the magic trio from Hermès and are worth investing in if you can, as all three will allow you to earn a considerable profit if you ever decided to sell them." "I'm a Kelly girl, but I'd never say no to a Birkin," says Cheong. "These are the holy grail of the bag world, despite what Beyoncé says. (Sorry!) However, the Herculean tasks we're expected to perform before being offered one of these don't quite appeal to me. And with the Hermès quality held in such high esteem, there is no reason not to try finding the exact size, colour and leather you want through a resale site."
The contrast stitching is so beautiful. 
Such a unique colourway. 
Cream leather and gold hardware is such an elevated combination. 
The Puzzle bag has rightfully earned itself cult status over the last few years.
A.P.C.'s curved cross-bodies are iconic.
The epitome of quiet-luxury.
The Andiamo has become one of Bottega's most coveted styles.
As practical as it is chic.
A gorgeous forever style.
Perfect for a fashion-savvy bride to be.
Next Up: 14 Women Every Minimalist Should Look to for Outfit Inspiration
This post was originally published at an earlier time and has since been updated.
Promo image: @clairewakeman