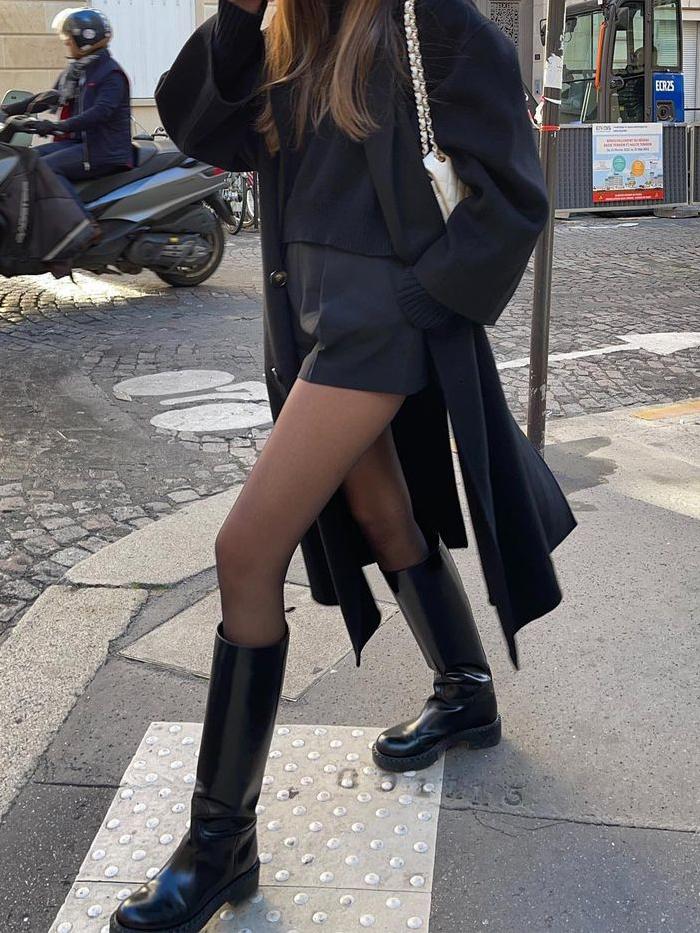 Whether you're a certified Francophile or not, you have to admit that there are a few things we can learn from French women when it comes to style. Let's leave the beret and Breton-stripe stereotypes behind us and instead discern that French women have an innate ability to whip up easy but effective outfits. Whatever their aesthetic, their looks never feel too thought-out or contrived. Instead of playing up to the trends, they dress habitually, and this is precisely why we love them. We've already taken an in-depth look into their winter wardrobes, but now it's time to focus our energy on something more specific: shoes. 
If you're anything like us, you'll be curious to know which winter shoes the French choose to wear with everything from midi dresses to jeans. Accordingly, we scrolled through hundreds of profiles belonging to fashionable Gallic types, and when we did, seven specific shoe styles kept cropping up. Yes, some we were expecting, but others were somewhat unexpected—further proof that French style can't (and shouldn't) be pigeonholed.
With everything from classic flats to their take on chunky boots, keep scrolling to see the French-girl winter shoes our favourite influencers love to wear. Should any take your fancy, you can shop them for yourself, too. 
Style Notes: We were surprised at just how many French women have been sporting combat boots this season. They were easily the most prevalent shoes on our list. While they might not sound chic on paper, when paired with knitted minidresses or wide-leg jeans, they certainly look the stylish part. 
Style Notes: Suede is a fabric French women love to wear, frequently in jacket form, but it heavily features in their shoe choices, too, specifically in knee boots, which Parisians often wear with printed midi dresses—much as Léna Farl is here. It's also worth noting that they tend to stick to a softer palette, which further enhances the tactile look of the suede. 
Style Notes: Although these shoes aren't solely adopted by the French, loafers serve as one of their go-to shoes (just as they do for us Brits). In winter, look for styles with thicker soles or even heels to put a little extra space between you and the ground, thus keeping your feet warmer. 
Style Notes: Riding boots have a tendency of looking twee, but not where French women are concerned. They actively seek out more minimalist pairs, which give any outfit instant polish instead of giving it pony-club vibes. Handily, there are plenty of styles out there to choose from right now.
Style Notes: Though this may be a big 2021 trend, French women have consistently worn cowboy boots, regardless of whether they've appeared on the runway or not. Whether you opt for an ankle or a knee-high length is entirely up to you.
Style Notes: Mary Janes often crop up when we talk about French style, but there's a reason for it. Perhaps even more integral to their looks than ballet flats, Mary Janes are a French go-to year-round, and we have a theory as to why. They generally come with a slight heel, which, like the aforementioned loafers, keeps them from landing directly on the ground, thus they're slightly warmer than completely flat shoes. Their general shape also looks chic with socks—something you can't necessarily say about all shoes. 
Style Notes: Though it might not directly correlate to winter, it's hard to ignore the French's affinity for snake prints. Often seen in boot form, this helps add a playful undertone to their winter outfits, a trick many of the French influencers we follow seem to love doing. 
Next Up: 48 of the Coolest French Fashion Brands Everyone Should Know