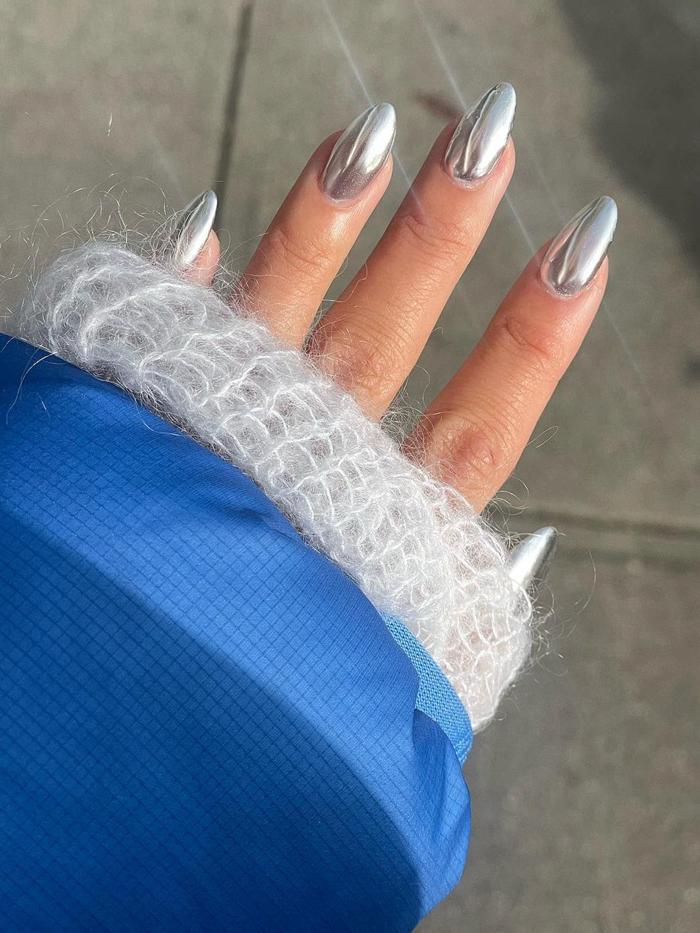 Last was a great year for nail art. Glazed chrome nails, neon French tips and ombré blends were amongst the top requests in nail salons across the country and the most-saved on Instagram—and according to nail experts, when it comes to colour trends, 2023 is proving to be just as cool. Textures and finishes will define nail art designs for the year, but when it comes to choosing colour there are options for both the minimalists and the maximalists. We spoke to nail artists and experts Yan Tee, Ashleigh Bamber, and Rose Tucker, and also tapped trend experts WGSN to find out exactly what the best nail colours for 2023 are.
Ahead, find eight of 2023's biggest nail colour trends, from silver chrome to candied orange. Consider this your go-to guide for manicure inspiration for the rest of the year.
Thanks to Hailey Bieber's "glazed donut" nails, a chrome finish became one of the most defining nail trends of 2022, and according to Bamber, the obsession is set to continue into 2023. "Silver and metallics in general are a huge trend right now, especially in clothing, and like all trends, it has finally made its way into nails," she says. "It gives off futuristic vibes and plays on the metaverse trend, which is so popular at the moment."
Price shown is member price. While nail artists tend to use chrome powders to create a true metallic finish, a silver shimmer polish is the next best thing.
When DIY'ing this trend, the key is to avoiding chunky glitter formulas and instead opting for subtler shimmery finishes. 
This mirrorball silver is just calling out for evenings out.
Brown may be most commonly associated with autumnal colour trends, but according to WGSN, it's set to trend throughout 2023. While golden butterscotch browns and soft desert-inspired tones will be big news later in the year, we're already seeing a lot of love for rich deep chocolaty shades.
Texture is key to elevating this shade, so consider experimenting with metallic and matte finishes as well as traditionally glosses. "I like either a full classic brown painted nail, or mixing it with other neutral shades in swirly designs," adds Bamber.
This neutral coffee brown will not only flatter all skin tones but also pairs well with other shades.
Peacci has an impressively wide range of brown shades, but we particularly love this cool-toned chocolate.
Nails Inc offer a range of brown tones to perfectly suit your skin tone.
The natural evolution from millennial pink? Digital lavender, a cool-toned lilac pastel, which WGSN has named as its colour of the year for 2023. It also happens to tie in well with the digitally inspired textures we're seeing in nail art: colour-shifting shimmers and light-reflecting iridescent finishes.
"Lavender has been popular with some of my clients because it's easy to create a modern contrast with a lot of other statement colours," says Tee. "The shade by itself is subtle, but paired with a stark green, it becomes super eye catching. I also love it with a contrasting but complementing deep plum and molten silver details."
This cool, grey-toned pastel is exactly what digital lavender should be. Add a chrome or shimmer topcoat to give it a fun twist. 
In a rush? Nails Inc.'s speedy gloss formula dries to a gel-like finish in less than a minute (no lamp required!). 
Is this the most perfect purple pastel? We think so.
Granted, sour green may not sound like an appealing name, but in a backlash to years of pretty pastels and punchy primary colours, WGSN predicts that sickly and traditionally repulsive shades will be huge in 2023.
"I'm getting a lot of requests for clashing colours and off-kilter shades," says Bamber. "They work well with the really 'otherworldly' tactile textures that people are beginning to experiment with."
Granted, we probably wouldn't wear this bright green-yellow as a block of colour, but incorporated into a nail art design with some black or white accents? Just the ticket.
This softer, more wearable green will look particularly good on short, rounded nails.
If neon isn't your thing, then a vivid apple green lets you dip a toe into the trend.
Traditionally, white nails can look harsh and unflattering, but off-white and cream shades that lean slightly yellow-toned are much more sophisticated and flatter a wide range of skin tones. "Off-white is a subtler version of a typical white manicure that can sometimes give off a Tipp-Ex look," says Bamber. "It's clean, fresh, and definitely fits with the 'clean girl' aesthetic everyone is raving about right now. It also looks great on any nail length, shape and skin tone."
This yellow-toned off-white will be a great addition to a minimalist's nail polish wardrobe. Keep nails short and match with your toes.
A warm and creamy off-white, this super-chic shade will work well all year round.
This pretty polish gives nails a milky wash of colour.
"This one really began last year, but it's definitely going to enter the mainstream in 2023," says Bamber. "I don't often get requests for a block colour of vibrant blue, but people love it as an accent on a nude background. A French tip, an ombré effect, or some delicate stars are popular requests." Styled as such, these subtle nail art designs offer a more sophisticated, grown-up way to wear such a bright, bold colour.
A touch lighter and brighter than a navy blue, this shade looks especially cool and modern when applied with a sponge to create an ombré finish.
If you've yet to master the art of an at-home gel mani, Barry M's Gelly Hi Shine polishes make cheating it effortlessly easy. This true bright blue will be perfect for party season.
This vivid blue is perfect pick for those who like statement-making nail art designs.
Neon orange accents trended throughout 2022, but in 2023, orange will be given a softer, warmer approach, drawn from nature-inspired hues like ginger and amber. According to WGSN, candied orange shades are both activating and therapeutic and can be used as a way to inject life into designs with dark topcoats. Orange is also surprisingly versatile when paired with other shades (especially pink and brown), so expect to see this shade used in ombré, tie-dye, and aura-inspired designs.
This limited edition orange polish is bang on trend—but won't be around for long. Get your hands on it (literally) while you can.
Not quite neon but still super bright, this orange will be perfect for spooky season.
Why not match your nails files to your mani while you're at it?
Pastels are traditionally (and unsurprisingly) a popular choice for spring, but Tucker predicts that more nature-inspired shades like jade will define her clients' 2023 requests. "I'm getting requests for calmer tones, as lots of people are heading towards more understated, minimalist designs and colours, and jade fits that bill perfectly without sacrificing colour," she says. "There was loads of jade on S/S 23 runways. Victoria Beckham paired it with a vibrant coral, and that looked incredible, so you know it's going to be everywhere."
This pale, milky green will look great on long nails, especially with a matte topcoat to finish.
Match this delicate green with silver chrome accents to nail two trends in one.
If you have an at-home gel kit, then this polish is perfect for achieving long-lasting jade nails at home.
This story was originally published at an earlier date and has since been updated.
Next Up: These Are the Only 2023 Nail Trends That You Need to Know