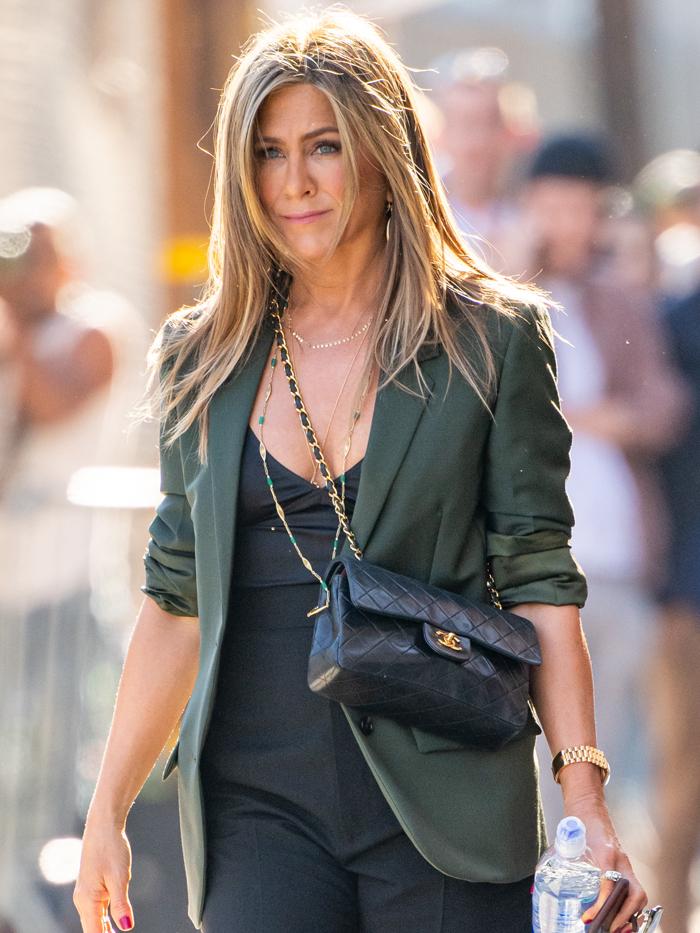 Personal style can be mastered at any age—there is no magic number or milestone birthday that can claim to be the pivotal point. Some lucky fashion lovers manage to find their signature look early on and hold onto it throughout their lives, adjusting and updating it ever so slightly to suit the changing times and trends. For others, understanding the outfits and clothes you feel most comfortable in can be a more arduous and experimental process.
Jennifer Aniston shows off her preference for tailoring in an evergreen blazer and black high-waist trousers. Oh, and we wouldn't mind borrowing her Chanel bag either. 
Whichever camp you reside in, there's no denying that as you get older, your tastes and wardrobe needs change. For example, aged 33, I now realise that all of the cheaper, trend-ticking items I bought on the high street in my 20s haven't stood up, so I'm endeavouring to buy less and buy better. My mum, who is in her 70s, is still supremely stylish, but she doesn't have the same need for smart dresses, skirts and suits on a regular basis due to the fact she's retired and her day-to-day activities are quite different now. That means she's still getting to grips with casual attire, and it's been a process for someone who loves getting dressed up.
Carla Bruni looking sharp in a black tuxedo and stilettos.
No matter what stage of life you're in, I'm a big believer that you can wear whatever you want, whenever you want. There shouldn't be "rules" or "dos" and "don'ts" just because you're older or younger. Societal norms are shedding left, right and centre, and never before has it been cooler to age while staying true to yourself. Many of the most admired and most iconic women in the fashion industry haven't done a 180 on their favourite looks just because they've hit 40, 50, 60 or more.
A real tastemaker will be guided by what feels right, but we all have wobbles and moments of uncertainty. So whether you're a 20-something trying to find that ultimate interview outfit or a 50-something rediscovering a love for colour and searching for quality inspiration, our gallery of over-50 celebrities, industry figures and influencers will help. Read on for 35 trailblazing women we love to take fashion tips from on the regular.
Style Notes: Fashion over 50 doesn't have to be boring. This glorious lilac look is the perfect accompaniment to Julianne Moore's instantly recognisable red hair. The revered actress often chooses simply cut clothes in striking hues, whether on the red carpet or the street, and the formula works to great effect.
This will keep you cosy every winter. 
Style Notes: Lucinda Chambers, former fashion director of British Vogue, has spent over three decades at the forefront of the fashion industry. It's no surprise, then, that she's managed to hone her look. From bold prints to chunky necklaces as well as chunky shoes, this is easy sophistication to wear at any age.
The chunky loafer is fast becoming a wardrobe staple.
Style Notes: From wearing the most spectacular pink Stella McCartney dress to the royal wedding through to her regular high-profile appearances where waist-nipping dresses or skirts with tops play the main role, Oprah Winfrey is always chic. 
Wear this classic shirt dress with knee-high boots, or elegant heels. 
Style Notes: If you're looking for polished style with a trend-led twist, Alyson Walsh is your woman. The fashion journalist turned influencer packs plenty of Scandi cool with clever minimalist pairings and the odd flash of print. 
The perfect pop of animal print. 
Style Notes: As one of the original supermodels from the 1970s, it's no surprise that Pat Cleveland still has a spectacular and ultra-glamorous wardrobe. The American fashion insider never shies away from decadent fabrics, OTT jewellery and true entrance-making party outfits.
A statement dress if ever I saw one!
Style Notes: Grece Ghanem is one of our favourite Instagram obsessions. The Montreal-based personal trainer has the best designer clothing collection and wears all of the latest pieces in the most unexpected ways without being wacky. For starters, take this Gucci tee with leopard trousers.
So easy to style. 
Style Notes:  As senior vice president of the fashion office and the director of women's fashion and store presentation of New York's iconic Bergdorf Goodman, Linda Fargo is often spotted wearing winning outfits. She also has a love of Dior's red lipstick, Holiday. Speaking to the Financial Times, she revealed that she's a fan of timeless classics "with a bit of bite."
A fresh white blazer will go with everything from tailored trousers to floaty dresses. 
Style Notes:   Actress Isabelle Huppert is the very definition of chic. Of course, it helps that she's French (you know how much we love their style), but she always looks effortless—whether that's wearing a couture gown at Cannes or a more androgynous suit at fashion week.
This vibrant red will inject colour into classic wardrobes. 
Style Notes: It's hard to believe Halle Berry is over 50. I'm sure she looks younger than me. The Hollywood star takes an all-sassy-or-nothing approach to dressing, often choosing see-through fabrics and risqué silhouettes. 
A real showstopper. 
Style Notes: Monica Bellucci is often considered to be one of the most beautiful women in the world. The actress started off modelling for the likes of Dolce & Gabbana and Dior but then made her mark in films such as The Matrix Reloaded. Her style is often very elegant with figure-flattering dresses.
This dress will hug you in all the right places. 
Style Notes: Many moons ago when we first spotted Renia Jaz's blog, Ven's Wife Style, we immediately had to know more. From donning an all-grey outfit made fun with a faux-fur bag to doing the Balenciaga look better than seasoned street stylers, her smart but sassy style has us hooked.
The vivid blue and silver embellishment makes a beautiful pairing.
Style Notes: You'll most commonly see Viola Davis in one of two combinations in public: a smart trouser suit or a pared-back sheath dress in a vibrant hue. Here, she is doing the latter and reclaiming Barbie pink for all generations of women. 
This oversized box is incredible. 
Style Notes: The mother of SpaceX and Tesla founder Elon Musk, Maye Musk has been a model for five decades. Her style is sleek and minimal, but when she heads out for an event, she goes all out with something like this. You need to know that she has great taste in earrings, lipstick, roll-necks and dogs.
For bright days not matter the weather. 
Style Notes: The Jennifer Aniston superfans out there will know that the Friends star has always stuck to the same idea: wear all black and you'll always look good. She's not wrong. Whether its a sparkly LBD or a more mix-and-match tailored look like this, this method works.
Another beautiful offering courtesy of Reformation.
Style Notes: Vogue's Anna Wintour has a few wardrobe pillars (in many iterations) that have been cemented over the years to create the hardest-working wardrobe in the biz. One of her classic looks is a fabulous coat, printed dress and knee boots.
You'll pull this out every year. 
Style Notes: For top Parisian wardrobe inspo, look to former Vogue Paris editor in chief and legendary stylist Carine Roitfeld. She knows great, versatile separates when she seems them.
A knee-length midi can be styled many ways, but we love Carine's tied shirt and bold shoe look. 
Style Notes: The legendary designer might be known for her wrap dresses, but her own closet extends far beyond that. Diane von Furstenberg is a master of print clashing—she makes modern pieces look elegant by placing them next to classics.
Leopard print is a classic that Diane approves of.
Style Notes: We miss the regularity with which we used to see Michelle Obama in so many different outfits. Since the former FLOTUS has not been in the White House, we still get the occasional glimpse of her fantastic midi-dress collection, but we're taking it back with this Preen look. It's still a fun but appropriate option years later.
Easy to style for dressy occasions. 
Style Notes: Demi Moore's personal style has changed a great deal over the years, but she's on a particularly great roll at the moment. This colourful ensemble really ticks so many boxes and will no doubt inspire you to be braver in combining different shades.
Pair with bold colours like Demi, or stick to muted tones for a minimalist look. 
Style Notes: The iconic TV presenter, author, activist and stylist (amongst many other things) is one of our all-time-favourite women over 50 for striking outfit combinations that really speak to her personal style ethos of buying better, buying less and generally being more conscious in your consumption—without losing your cool. You can see more of Caryn Franklin's style via our "Best Wardrobes in Britain" shoot.
You'll rewear this gorgeous green hue for years to come. 
Style Notes: As the founder of Net-a-Porter, former editor Natalie Massenet is a queen of fashion. The impeccably dressed entrepreneur artfully combines new-season prints with classic wardrobe staples for an ultra-elegant finish.
A chic finishing touch to any look. 
Style Notes: If outré is your fashion genre, then Grace Jones must be your leader. The always-outrageous performer has never dialled down her madcap outfit ideas, and for that, we will always be grateful.
Faux fur outerwear never dates.
Style Notes: Some outfit combinations die hard, and supermodel Cindy Crawford proves it with the enduring allure of this creation with a blazer, jeans, and heels. It works for everyone at every age and for multiple occasions.
This oversized version can be thrown over any look to add a tailored touch. 
Style Notes: As MATCHESFASHION.com's co-founder, Ruth Chapman is an industry-adored figurehead with access to the best designer garms going. Take away the fancy clothes, and you still have a woman who oozes serenity and elegance. Her style choices are often classic with a twist, like this demure blouse rendered in metallic fabric.
You next night out look. 
Style Notes: Actress Helen Mirren is a national treasure for many reasons, but aside from her theatrical skills and film repertoire, we are also huge fans of her event-dressing prowess. It's basically go big or go home, like this fabulous Oscars 2019 moment.
Pretty in pink. 
Style Notes: Forever chic, model Iman has always erred on the side of minimalism. She often adds a dash of interest via accessories, but you can always rely on her for an outfit that easily translates IRL.
Add intrigue with accessories. 
Style Notes: The interest in Brigitte Macron's wardrobe stretches far and wide, with many having a particular interest in the French first lady's denim choices. We, however, are very into her sharp trouser suits and how she styles them: Note the T-shirt instead of a blouse or button-down.
This bold blue suit is a real contender. 
Style Notes: Whether she realises it or not, Meghan Markle's mother, Doria Ragland, was jettisoned to mother-of-the-bride outfit icon back in 2018. We're looking forward to potentially seeing more of the super-chic lady in the future, but for now, just take note of her classic-but-still-interesting ensemble that she wore on the big day.
A timeless, elegant style. 
Style Notes: Singer extraordinaire Céline Dion is a prime example of finding your more adventurous fashion side later on in life. Over the past few years, she has become a bona fide fashion fanatic and a trailblazing trendsetter, wearing all of the latest collections and wildest pieces first. We bow down.
A standout piece. 
Style Notes: Sandra Bullock has been serving up incredible looks for years.This woman is a red carpet pro, and along with incredible gowns, she gives us loads of hair and makeup inspiration. 
If your wardrobe isn't calling for the addition of a gown, take inspiration from vibrate hues and design details. 
Style Notes: Is there anyone who seems to be having as much fun with fashion as Cate Blanchett right now? The star has recently been pictured out and about wearing some incredible blouses and high-waisted trousers, and we're here for it. 
How brilliant is this lemon hue?
Style Notes: Ladylike style is always what we associate with Nicole Kidman. From ankle-tied heels to lace dresses, she's our go-to for prettier styling. 
You'll find yourself making plans just to wear these.
Style Notes: No, Jennifer Lopez does not look like she's 52. She doesn't even look like she's 40—let's be honest. Her style has remained consistent throughout the years, but this recent all-leather look has to be one of our favourites.
The design and maroon hue looks very high-end.
Style Notes: Way before cottagecore was a thing, Paula Sutton was already doing this trend in her country pile. Her style remains consistently chic, made up of elegant cotton dresses, chunky teddy coats and sleek trousers paired with midi-heel courts. 
Rely on this every cold day. 
This piece was published at an earlier date and has since been updated. 
Next Up, The Autumn/Winter 2023 Fashion Trends That Really Matter