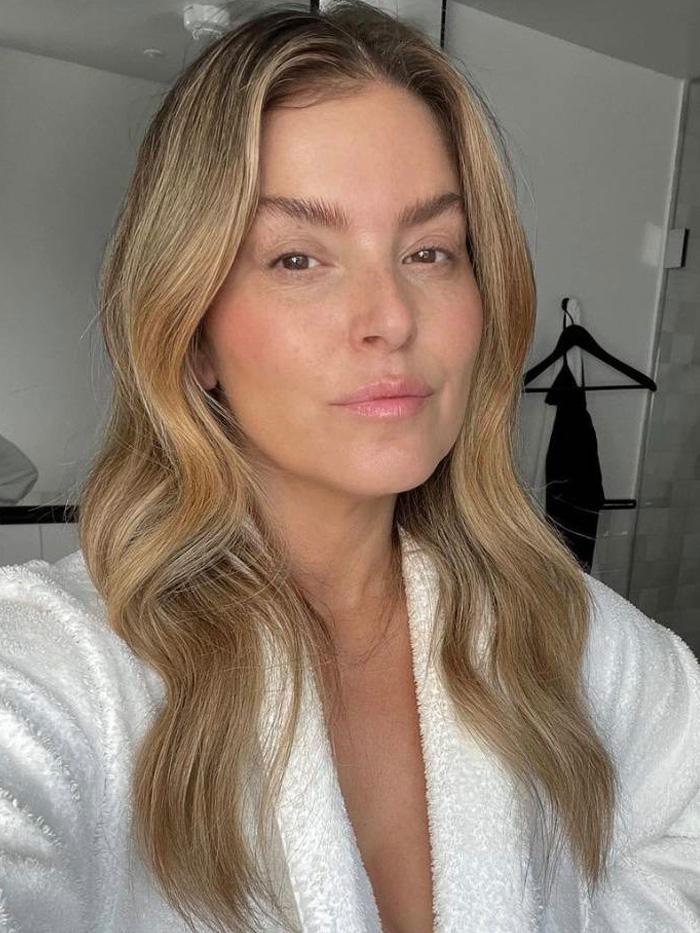 The idea that your beauty routine should change with your age is nothing new – the wording "formulated for mature skin" is often used alongside skincare and make-up products. But this somewhat vague designation begs the question: What exactly is "mature" skin, and at what age is your skin considered mature?
"Because it can refer to either a certain age or condition of the skin, it's a bit of an ambiguous term," explains Sarah Chapman, cosmetic scientist, skincare expert and founder of Skinesis. "If we're looking for classic signs of a 'mature' complexion, it would be skin that's showing visible signs of ageing – loss of volume and firmness, fine lines, wrinkles and signs of sun damage such as uneven pigmentation and collagen loss." It's also important to note that a variety of factors play a role in skin maturity, including genetics, ethnicity, overall health, and lifestyle choices like hydration, smoking, drinking, and sun exposure.
As we get older, our complexion decreases its production of sebum, oil and ceramides, which are essential to help strengthen the Lipid Barrier and retain moisture, keeping skin plump and firm. "Cell turnover also slows down – from about every 14 days as infants, to about 30 days in our 30s, to 60+ days as we reach our 60s," says Chapman.
"In fact, research suggests that by our early twenties, collagen production starts diminishing by 1% each year. Our collagen and elastin fibres become thicker and less taut, leading to slackening, a change in face shape, and a reduction in the youthful plumpness of the skin." However it isn't one size fits all, and someone in their 20's may show more signs of ageing than someone in their 40s, so it's all about being in tune with your skin.
According to Chapman, you should look for make-up with good skincare ingredients. "Our skin can become more dull and dehydrated as we age, so hydrators such as hyaluronic acid can help plump out fine lines and help keep your skin looking dewy and radiant throughout the day." Chapman says it's worth noting that although a foundation offering extra UV protection is always beneficial, never skip your dedicated SPF.
As for things to avoid? "I personally recommend avoiding retinol in a foundation and focus instead on delivering high-quality de-ageing actives through your skincare. Vitamin A can make your skin more sensitive to UV rays, so if you do go for a foundation containing retinol, it's even more important to wear a high-protection SPF underneath."
Working with the likes of Golda Rosheuvel, Sophie Okonedo and Priyanka Chopra, celebrity make-up artist Kenneth Soh has a few tricks up his sleeve when working with mature skin.
"See where you need foundation, be it to warm and even out skin tone or to provide a little coverage, then working with the principal that less is more, use only what you need, starting from centre of the face, working outwards," explains Soh. "Keep as little product as possible on areas where there are lines or creases. I often run a clean cotton bud over the areas with lines to help prevent any creasing or build up of foundation."
With all this in mind, it's time to sit back and enjoy the best foundations for mature skin, with every skin type and finish in mind.
First launched back in 2000, there's a reason why Armani's Luminous Silk Foundation has stood the test of time – and garnered a cult following along the way. In just a few pumps it makes light work of covering age spots, redness and blemishes without creasing in fine lines and wrinkles. See the Micro-Fil technology as the cherry-on-top, naturally brightening the complexion for a radiant and glowy finish. We have every expectation that it will still be sitting here triumphantly in another 20 years.
As we now know, hyaluronic acid is great to look for in a foundation for mature skin and with Charlotte's magic formula the much-loved ingredient takes centre stage. Expect skin to remain moisturised and hydrated throughout the day, with the added Rose Complex blend targeting dullness, dryness, pigmentation and dark circles. For a super natural finish, use a blending sponge and gradually build onto the areas that need a little extra coverage.
An oil-free gel foundation with an ultra lightweight texture and radiant finish. The buildable formula provides adjustable coverage and is enriched with soothing ingredients like aloe, chamomile and green tea to minimise redness and irritation. It's also one of Soh's go-to products when working with mature skin. "The gel texture is lovely and nourishing so it creates a beautifully hydrated base."
Not only is hyaluronic acid on hand for dehydrated skin in need of a little TLC, you'll also find a trio of natural oils including noni fruit extract – FYI Miranda Kerr drinks its juice every day for a youthful complexion. The medium-to-full coverage foundation blends into the skin like a dream and light-diffusing powders create the perfect radiant finish. So. Much. Yes.
Beauty doesn't need to break the bank, and here is a perfect example. It's a great one for everyday wear as, much like skincare, it can be applied quickly and easily onto the face with your fingers in the morning or on the go. If you like natural-looking coverage with a slightly dewy finish, look no further.
World class makeup artist and founder Gucci Westman was inspired by what she was looking for and couldn't find in a foundation when developing this product. As a rosacea sufferer, it was important for clean skin soothing ingredients, such as coconut oil and camellia seed oil, to feature in an easy-to-use creamy stick formula. In a recent interview with Goop, Westman said: "Real skin is never just one colour, so to get that effect, I use two shades of my foundation stick. I use number 3 as concealer to even out my skin where it's red around my nose from my rosacea, or sometimes between my brows and along my chin. I use number 4 as foundation over larger areas when I have an important meeting."
Salicylic acid, hyaluronic acid and three types of vitamin C work to reduce dark spots, discolouration, age spots, and blemish marks every time you wear Clinique's clever concoction. For those with oily skin on the lookout for a full coverage foundation that will not budge, you've just met your match.
Skin loving ingredients like soy peptide, white willow extracts, chlorella and cherry blossom are at the helm of Sisley's light-coverage foundation. The super moisturising blend softens lines and wrinkles while boosting skin's natural radiance and firmness –prepare for the onslaught of compliments.
This foundation is loved by all ages and skin types for good reason. Infused with biomimetic oat, milk thistle and cacao peptides to defend against pollution and blue light, the buildable formula seeks to improve the general appearance of skin, even after it's removed. The light-reflecting technology is just the ticket for giving the skin a healthy and natural allover radiance.
Anything world renowned make-up artist Bobbi Brown touches turns to gold, and the foundation from her newest venture Jones Road is no different. Ingredients like Jojoba Oil and Sodium Hyaluronate play there part in plumping and hydrating the complexion while the buildable light-medium coverage gives a your-skin-but-better finish.
Featuring a blend of mandarin-peel extract, light-adjusting technology, luminous pearls, and microcrystals, this foundation refines skin texture, reduces the look of hyperpigmentation, and smooths fine lines. It's also water-, transfer-, and crease-resistant making it the perfect pick for party season.
Hyaluronic acid and herbal Squalane create a natural barrier that locks moisture into the skin while Niacinamide brightens dark spots and smoothes fine lines. It feels exceptionally weightless on the skin – so much so, you won't even realise you're wearing base make-up at all. For any areas that need a little extra coverage, go in with a slightly heavier duty concealer like the Ilia Beauty True Skin Serum Concealer.
Matte foundations are harder to come by these days—current makeup trends are all about glow and radiance. However, if you have oily skin and are prone to shine, then a matte foundation is your best bet for keeping skin looking fresh and even all day long. This lightweight formula prevents shine without looking dry or cakey.
This story was originally published at an earlier date and has since been updated.
Next Up: The 13 Best Tinted Moisturisers for Mature Skin, Ranked by a Beauty Editor