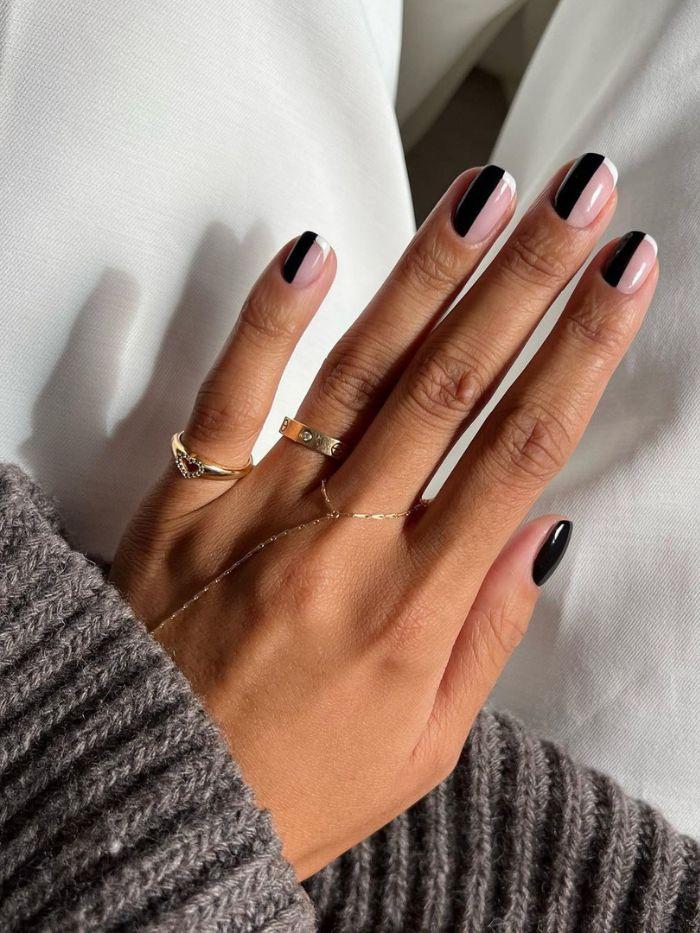 Is there anything more exciting than the lead up to Christmas? If I'm being honest, it's probably my favourite time of the year (sorry summer). There's nothing I love more than choosing gifts for loved ones, heading to M&S for festive treats and trying on all of the sequin skirts and dresses for party season. However, one thing I look forward to in particular is my winter nail appointment. Let's face it, this time of year is busier than ever, so taking a little bit of time out to do something that makes you feel good is so important, and personally, getting my nails done always puts me in a great mood. All year round I tend to stick to classic block colours such as burgundy and brown, but when December arrives, I like to have a little bit of fun and choose a pretty nail design instead.
I know I can always rely on sparkly French tips or a glittery polish to bring some festive cheer, but this year I decided to hunt down all of the best winter nail designs to get you in the mood for the upcoming months, no matter what kind of nail art or nail polish you like. So, without further ado, keep on scrolling for all of my top picks, and don't forget to book an appointment at your favourite salon before the Christmas rush!
First up, this beautiful take on a classic brown nail. The chrome finish makes this perfect for party season, yet it still looks chic enough for everyday.
Price shown is member's price. Beauty Pie have got you covered this winter with this shimmery bronze shade.
For something a little bit different, why not try this fun tuxedo design? I love the fact that this trendy nail art will still match any outfit thanks to the monochrome shades.
To achieve the half-and-half design at home, you will definitely need a nail brush like this one from Manucurist.
It doesn't get much better than green and glitter. I mean, how festive is this mani? 
I think this might be my Christmas nail polish of choice.
If you like something a little bit more minimal, try adding a single silver or gold stud to the base of the nail. It's so simple yet so stunning.
This set from Mylee has all the nail decorations you could ever dream of.
I love a classic French tip mani, but this sparkly silver design is now my ultimate favourite.
This is the sparkliest nail polish I've ever seen, and I'm obsessed.
If you like a bit of silver and gold, don't be afraid to mix and match your metals. The pop of red makes this manicure even more winter-appropriate.
Chanel have created the most beautiful gold nail polish. This is going straight on my Christmas list.
This snowy white shade is ideal for those of you who like something really simple and chic. 
Yes that's right, this nail polish is actually called Alpine Snow. How perfect?
Silver is definitely the colour of the season, so why not incorporate the trend into your manicure?
Not only is this nail polish stunning to look at, but it's super affordable too.
Another winter variation on the classic French tip design is glitter French tips. Don't be afraid to mix and match your metals when it comes to this mani either.
This could be quite a tricky design to do yourself, so why not opt for some easy press-on nails instead?
I am seeing animal print nails everywhere at the moment, and I will definitely be taking this inspo pic to the salon.
There are so many fun, printed press-on nails to get the look at home, and this tortoiseshell design is perfect for any neutral lovers.
This is for the minimalists. Add a touch of sparkle to your mani with pretty gold foil.
Mylee have got so many different nail foils to choose from, no matter what design you fancy.
I love mixing glossy and matte finishes, and this French tip design looks so elevated.
To get that matte finish, opt for a top coat like this one from Manucurist.
Burgundy is such a good colour for the winter months, but to make your mani a bit more interesting, opt for a shimmery, deep purple shade.
This OPI one is just what I had in mind.
Next Up: 11 Winter Nail Colours That Always Look So Elevated