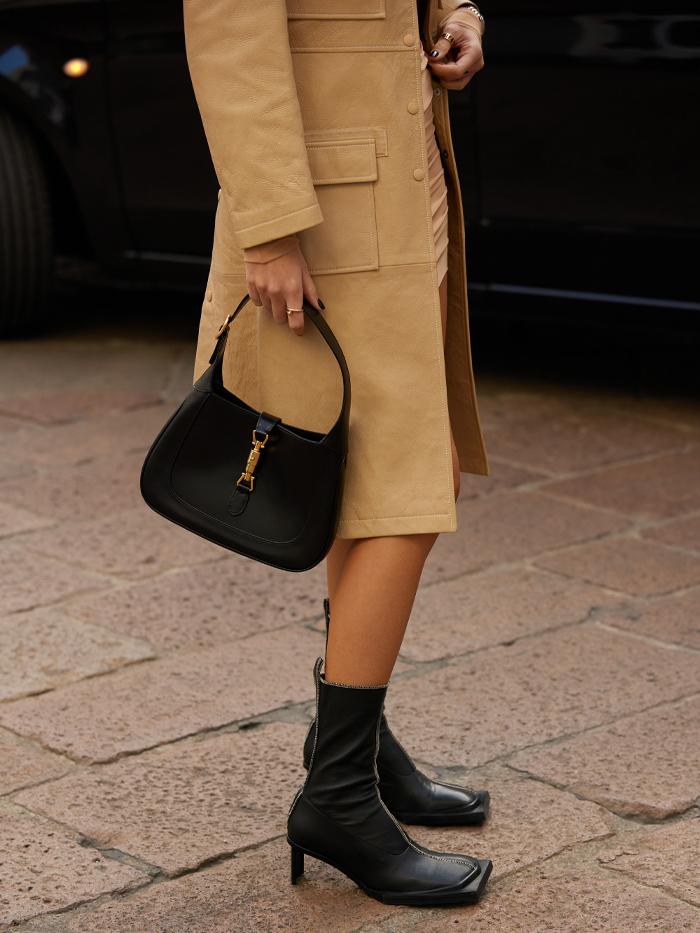 Every season, new handbag trends make their way into the street style world, and each season, we eagerly scout said accessories. With fashion weeks back in full swing after a short hiatus, the fashion crowd has shown that as far as handbags go, there are a few that never go out of style. We're seeing this right now with reissued brand icons, from Gucci's Jackie bag to Chanel's classic flap. New interpretations come in updated colourways from pastels to metallic options. Sometimes, though, it's the classic designer handbags you simply can't say no to, because they are just that: classic. 
If you're unsure about which luxury piece to splurge on, consider turning to the most popular designer bags ever. It's no easy feat to earn such a title, and though many come attached with a pretty big price tag, they're worth the splurge and deserve a spot in your collection. They've been the most sought-after year after year (just take a look at the fashion people below as proof), and they'll continue to be a great pick for seasons to come. The big question is which bags make an edit of such ilk? I sought the expert insight of Rachel Ingram (@rachelingramrabin), CEO at Folk Social and previously editor-in-chief at personalised luxury shopping service Threads Styling (@threadsstyling), to find out which styles should be on the list—no questions asked. 
So are you ready to see our roundup of the 12 most popular designer bags those in the know are convinced are the most classic? Read on to see and shop them below.
Named after Jane Birkin, this bag has been coveted since its inception in 1984. The BBC revealed how it came to be: "Its existence was a happy accident, borne out of an exchange between Birkin and former Hermès chief executive Jean-Louis Dumas on an Air France flight from Paris to London in the early '80s," the BBC wrote. 
As for Ingram's take? "The Birkin is the ultimate It bag that has stood the test of time and is impossible to get your hands on! (Hasn't everyone seen that Sex and the City episode where Samantha tries to get one? It really is like that!) Threads have sourced some of the hardest-to-find Birkins for clients, the rarest being a diamond-encrusted Himalayan Birkin. But it is a sound investment, as on average, the value of Birkins has risen by 16% year on year since 2016, with special colours rising by an average of 20%." 
It doesn't get more classic than a tan Birkin. 
Red is perhaps the chicest handbag you can own in a bright colour. 
Nothing says luxury like a Chanel bag. The quilted flap designs have been an integral part of the brand's history since Coco Chanel herself designed this bag in 1955.
"Chanel's classic flap bags are a true collector's piece, as they come in such a beautiful array of fabrics, sizes and colours," says Ingram. "With green being the colour of the season, we have seen requests for green flap bags go through the roof. The flap bags never lose their value." 
This has gone straight to the top of my dream wish list. 
If you're into neutrals, this camel iteration is sure to please. 
Having launched at the very start of the 2010s, Mulberry's Alexa bag—which was, of course, named after Alexa Chung—became an instant It bag. If you didn't have one, you wanted one. 
Now, 12 years on, and with the British brand having hit its milestone 50th birthday, Mulberry has released the iconic bag in an updated silhouette as well as a new, more streamlined iteration of it. We'd be lying if we said we didn't want them both. 
This shade coupled with the satchel shape makes this bag incredibly versatile. 
This smaller iteration is ideal for formal or evening events.
A handbag roundup is not complete without mentioning Gucci, and the brand's Jackie bag has become a classic. If you recognise the name, then it's probably because, technically, this bag isn't new. 
The handbag was initially named after Jackie Kennedy and has been a hero Gucci item for years, but for Gucci's A/W 20 runway show, the brand relaunched with a bit of a makeover. Now, it's seldom far from the arms of those in the know. 
This hue feels so true to the original Jackie. 
This off-white shade will prove just as versatile as your black handbags. 
Dior's first Saddle Bag debuted in 1999 when John Galliano was still at the helm of the house, and its high resale value is proof that it's still coveted today. Rosie Huntington-Whiteley and Rihanna are among the celebrities who own this chic style. 
The surprisingly roomy interior makes it an excellent elevated day bag option, but its sleek shoulder strap and interesting shape ensure it works just as well after dark and for formal ensembles, too. 
Logo prints are a huge trend for spring/summer. 
This all-black iteration of the Saddle bag feels so modern. 
While Chanel and Louis Vuitton bags are recognisable to the masses, Loewe bags are a bit more niche for fashion people in the know—making them all the more desirable for discerning customers. 
A bag you'll wear for the rest of your life. 
Beautiful. 
The first bag Louis Vuitton ever created, the Speedy was a surefire hit straight from its conception in the 1930s and has since been carried by some of the most glamorous women of our time. (How's Audrey Hepburn for you?)
The original design measurements came in at 30 cm, but at Hepburn's request, Louis Vuitton introduced a smaller version of the Louis Vuitton Speedy: 25 cm wide, which is still a very popular size today. In 2011, the Speedy Bandouliere was introduced. Bandouliere means "with a strap" in French, so no prizes for guessing what the update included. While they're becoming harder to come by, you can still snap up a Speedy of your own on luxury resale sites. 
These bags are so roomy. 
The ideal weekender bag. 
Don't forget about Chloé! The iconic French house has produced its fair share of It bags over the years, but one of its newest additions is already one of its most immortally appealing. 
With its clean lines, simple silhouette, expensive-looking gold metal hardware, wide leather strap and delicate C logo on the clasp, it's easy to see why this bag continues to be so in-demand, a few years on from its initial launch. 
This colour is so hard to come by elsewhere. 
This colour just screams autumn, we are obsessed. 
The Prada Nylon is definitely a newer classic bag, but with this style constantly selling out, we couldn't not include it in this list.
"What I love most about this bag is its great entry price point for a designer arm candy, and that the nylon fabric is incredibly durable," says Ingram. 
This will lift any darker ensemble. 
Though my preference remains the OG black. 
"Quickly becoming a cult brand, Bottega Veneta has produced some real standout styles over the last couple of years," says Ingram. "From the Gyoza pouch (a clutch shaped like, you guessed it) to the Cassette bag, the high level of craftsmanship makes these bags forever investments. 
"However, it's the mini Jodie we have seen sell out time and time again. The perfect bag for both the day and as an alternative to an evening bag." 
Elevate your daily wares with this shoulder bag. 
The smallest bag in the Jodie family. 
Of all the '90s trends to make a comeback, we're so glad the Fendi baguette decided to do so. Carrie Bradshaw's handbag of choice (is it just us or is there a bit of a SATC theme going on here?), this bag might be small, but it packs serious fashion clout. 
"The bag that never gets old and never fails to be in-demand," confirms Ingram. "Similar to the Chanel flap, it comes in many sizes, colours and fabrics—from sequin for the evening to monogram for day. However, my ultimate is the DIY embroider-your-own version!" 
This will forever be an icon. 
A classic variation. 
When Hedi Slimane joined the Celine House he did an overhaul of the iconography of the brand. Part of this was the rediscovery of the Triomphe motif that incorporates a double C in the intricate closure. 
A classic crossbody is always a win with the fashion set. Practical and sleek, the Celine Triomphe offers up the classic silhouette that can be used for everyday. Hedi Slimane brought back the Triomphe motif, which is a more inconspicuous logo for the brand, meaning only true fashion followers will recognise it. 
A forever style. 
Don't forget that brown is as classic as black. 
Next Up: Experts Agree—These Autumn/Winter 2023 Fashion Trends Are the Ones That Matter
This story was originally published at an earlier date and has since been updated.