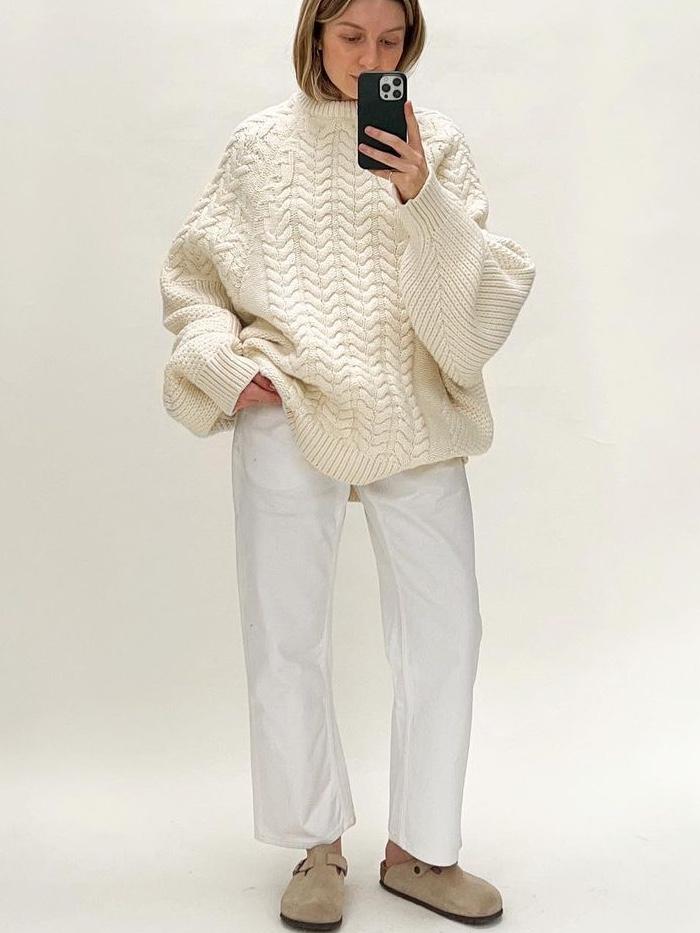 Sylvie wears a grey cashmere jumper from Ven Store. 
When the low temperatures start to come by, cashmere season is well and truly upon us and I, for one, am always here for it. Traditionally, when shopping for the best cashmere jumpers, you would have to head to some pretty expensive designer brands but, thankfully, today the choice is endless. From high street to high end, there's a cashmere jumper to suit every style and budget this season. Think bright colours, go-with-everything neutrals, boxy silhouettes, puff sleeve details and, of course, stripes. Whatever cashmere you're in search of, I can almost promise you that it features in my edit below.
But why is it that everyone, from editors to celebrities, stylists to influencers, and grandmas to 20-somethings, love cashmere? For me, a cashmere jumper is up there as one of my most-worn pieces in my wardrobe. Versatile and classic, I find the best cashmere jumpers can elevate even the most basic of outfits. I favour an oversized look, always with a crew-neck and usually in black or navy. Use a de-bobbler and even decades-old cashmere will look as good as new.
Whether it's styled for an evening out paired with my leather trousers and favourite heels or it's the foundation of an easy weekend outfit when I'm hibernating at home, cosy cashmere jumpers are pretty much all I'll want to wear as we drift towards Autumn. Considering we have chiller weather on the horizon, nows the perfect time to invest in a new style that you'll love and wear for years to come. Scroll below to discover my edit of the best cashmere jumpers for every price point. Happy layering! 
Style Notes: The high street has plenty of affordable yet good-quality cashmere pieces to offer. Look to classics like H&M, Mango, Arket and of course, M&S, for timeless staples you can dress up or down.
SO chic.
A sleek cream hue will go with everything in your wardrobe. 
This comes in 12 standout shades. 
An easy layering piece. 
Just dreamy.
Add a playful pop of colour to your wardrobe rotations. 
Classic at every turn. 
You can't beat M&S cashmere; this style has a lovely relaxed fit. 
A sumptuous 100% cashmere. 
Style Notes: Opt for a size up in your cashmere of choice to get that cool, relaxed fit that influencers such as Who What Wear contributor Monikh.
This chunky style is sure to be a wardrobe hero.
100% Cashmere and made to last.
Made from 75% recycled cashmere. 
A neckline you don't see every day. 
The asymmetrical lines created a effortlessly chic look, will pair well with some straight leg trousers.
Blended with cotton and so luxe. 
An investment worth making.
A relaxed slouchy fit.
Style Notes: Cashmere sweaters often come in a thinner form, but search and you'll find some great chunkier, cable knit styles like Brittany's, too.
A classic cashmere jumper that will go with everything in your wardrobe. 
The shape of this is exquisite. 
The proportions of this slightly cropped style would work perfectly with a midi skirt.
Raey does some of the best knitwear out there. Fact.
If you're on the hunt for a supersized turtleneck, this should be on your radar.
The slight drop shoulders always do it for me. 
Add a Scandi twist with a forever fair isle. 
A chunky cable is eternally chic. 
A luxe investment piece that would pair well with denim and some leather boots. 
Up Next: I've Done the Research—4 Major Dress Trends That Will Be Everywhere This Winter
This post was originally published at an earlier time and has since been updated.