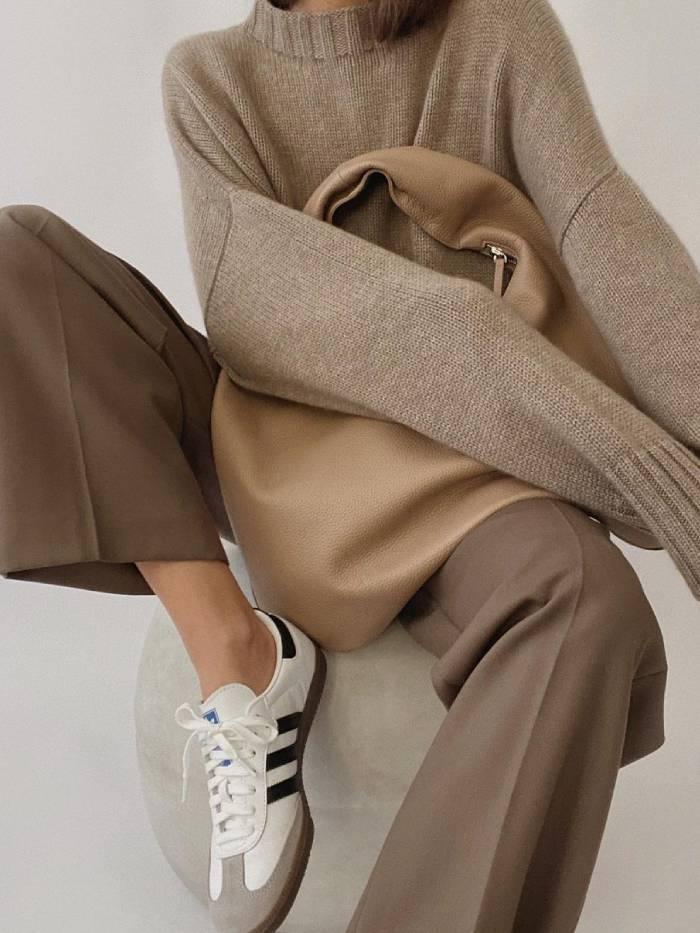 Dressing for winter can be hard. There are so many factors to consider—not least the weather and how to navigate all those layers. If you're a dress person, there's an easy throw-on formula of a knitted midi dress and knee-high boots to turn to. But if you're like me and feel much more comfortable and confident in a pair of trousers, there are many more variables,  and it can sometimes be hard not to just turn to your trusty jeans and knits on busy mornings. 
That's why I'm here today. I've recently been scrolling through the feeds of the best dressed people I know, searching for some trouser-shaped inspiration for the season ahead. There were nine looks I added to my saved folder that particularly stood out to me, and I feel they cover basically every occasion you might come up against in winter, from office days and pub drinks to cosy weekend walks and even a party or two. 
The best part is that they're all so simple and therefore easy to copy. In fact, you probably have most of the components in your wardrobe already. If you keep scrolling below, you'll see all nine winter trouser outfits that, in my expert opinion, feel fresh and incredibly chic for the season ahead. In case you are missing any pieces, I've shopped the looks out as well. Happy scrolling!
There's something so expensive looking about a tonal outfit. Whether it's beige, black, grey or even a bold bright, match your trousers to your knit for an easy but impressive look. Go slightly oversized for a modern take. 
This colour goes with everything.
Wear these all year round.
It's still the trainer of the moment.
Cosy shearling coats are everywhere right now, and they pair perfectly with leather trousers. Jess has added a hoodie and chunky ankle boots here for a comfy everyday trouser look that's guaranteed to keep you warm. 
One year on and we're still obsessed.
Straight leg leather trousers look so chic.
This season, M&S' boots are so elevated.
Two major trends ticked off in one outfit. Just be sure to add dainty pointed-toe shoes or a polished bag to balance out the oversized proportions and keep the outfit feeling pulled-together. 
Cropped down jackets always looks fashion-forward.
There's something sleek about these chinos.
These slingbacks will go with all outfits.
I don't know about you, but wide-leg trousers always make me feel a bit glamorous. Why not go one step further and add a faux-fur coat? Adding a textured layer will instantly elevate your look for the evening, but a simple roll-neck, a tonal palette and minimalist accessories keep it from feeling too OTT.  
A faux-fur jacket will never go out of style.
A warm layering piece.
This chocolate hue looks so luxe.
Wearing cream on cream is a time-honoured trick in the industry for making your outfit look a lot more expensive than it might actually be. All this one needs is a cream coat to finish it off and you'll be flying first class in no time. 
This jumper comprises 100% wool.
Cream monochrome outfits look so chic.
Incredibly chic.
Playing with different lengths and layers makes this easy outfit feel so sophisticated, but it can so easily be copied with basics you already own.  
& Other Stories coats are always great quality.
The Gelso range is exquisite. 
A jumper you'll have for life.
Simply pairing a leather shirt with your favourite leather trousers can make them look even more elevated. This is an outfit you can wear to the office, the pub, and even date nights. Just switch out the boots for heels when you're dressing up. 
You can also style this leather shirt with denim.
Leather joggers are so much more comfortable than skinny fit.
The squared toe makes this style feel more directional.
Mark my words: Sequin trousers are going to be the party piece for the upcoming festive season. I'm anti-dresses, so I can't wait to try this look. Here, Lauren shows us all exactly how to pull them off—with an understated classic blazer, heels and a side of serious sass. 
Perfectly slouchy.
One for the magpies.
If you've still not been converted to wide-leg trousers, don't fret. Skinnies and leggings are making a comeback, and this is exactly how to wear them. Tuck them into boots, and layer up on top. Instead of a scarf, tie your favourite knit around your shoulders for an editor-approved styling trick. 
This grey shade always looks expensive.
I always recommend these leggings.
Just chunky enough!
This bag will never date.
Up Next: I've Done the Research – 4 Major Dress Trends That Will Be Everywhere This Winter 
This post was previously published and has since been updated.