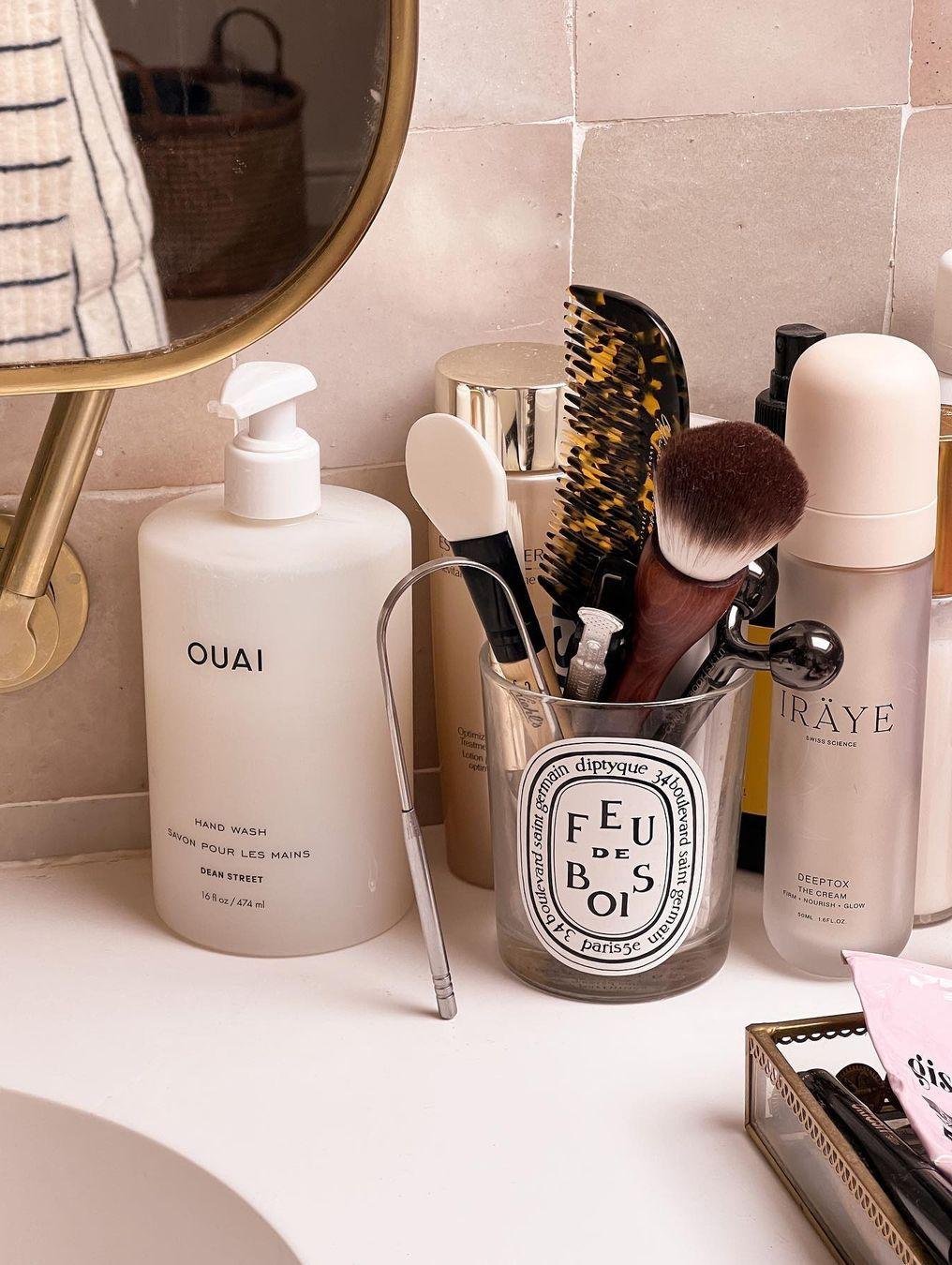 Working as a beauty journalist means I get to meet amazing experts and brand founders and attend insightful events. Whenever they're centred around beauty supplements I am mostly impressed by the science-backed results that I come away adding another to my ever growing collection. I've really upped my supplement game over the last year as I'm approaching 30 and they act as a welcomed helping hand. Around 70% of our skin's protein is collagen, but from our twenties onwards, our body makes less of it. 
The first supplement I whole heartedly committed to was from Vida Glow––an ingestible beauty brand for hair, skin and nails. A few years ago I hosted an event with founder Anna Lahey and I was blown away with her knowledge, the science behind the line up and her skin––oh my goodness her skin was incredible. I knew she was the first person I had to reach out to.
If supplements can get us any closer to Kim's glow, we're in.
"The surface layer of skin, where traditional topical skincare operates, makes up for only 3% of the complete skin organ," explains Lahey. "Ingestible beauty products start in the body, at a cellular level. So with ingestible beauty, you are able to address more of the skin, than just the superficial outer layers. Skin concerns might appear on the surface, but they begin much deeper. This is the advantage of using ingestible beauty, we can target skin concerns like pigmentation, acne and even wrinkles at the root cause and create tangible and long-lasting change."
However with so many supplements out there, it's hard to know where to start. "Everyone is different, depending on their own genetic makeup and lifestyle, so it's important to look at that first." Notes global skin and wellness expert Marie Reynolds. "Obviously, antioxidants like Vitamins A,C, D (lack of vitamin D also shows in dull lacklustre skin) and E are key for all bodies to fight free radical attacks. The other key ingredients would be Omegas 3 & 6, Hydrolyzed Collagen, Astazanthen, Silica. You should also look out for adaptogens, especially Ashwagandha or Reishi – these fuel the adrenals which, when fatigued, show up in the body as brittle nails, weak and shedding hair."
Her top tip when it comes to taking beauty supplements? "Don't just take them willy nilly. Look at a good 12-week programme and commit to it. It's a waste of time and money just taking the odd supplement and expecting results. Also look at how you can eliminate stressors in your life, not just emotional stressors but also dietary toxins like processed foods, alcohol etc."
Keep scrolling for the 11 beauty supplements I really rate.
This glorious powder is scientifically proven to smooth fine lines, increase skin firmness and enhance skin elasticity––I've been hooked ever seeing Lahey's skin IRL. I think it's easy to get put off the sound of marine collagen and I've often heard of people having bad experiences with the way it tastes. The Original goes completely undetected in my morning coffee, and I'm equally a fan of the flavoured versions which you just mix with warm water. In my opinion, Vida Glow is in a league of its own.
A brand I have become completely obsessed with. Not only do they support your immune system and help promote healthy-looking skin, hair and nails but each tablet contains as much vitamin C as six oranges, as much zinc as three helpings of raw peas. Impressive, right? I have got into the habit of taking one every day and much like a Berocca, you just drop it into a glass of water and allow to dissolve. Bottoms up!
The hero AnaGain ingredient (made from pea shoots) stimulates the molecules within your hair follicles to kick-start growth. The capsules also contain other hair loving ingredients like biotin, zinc and vitamin C. They were a godsend when I was desperately growing mine for my wedding.
There's something for every concern in the JS Health range, so whether you're looking to detox and debloat, to boost your libido or to calm and destress––they've got you covered. I ensure I have a constant supply of Hair + Energy, which which supports healthy thyroid function and helps to maintain healthy hair, skin and nails.
In need of a quick head-to-toe detox? This kit is designed to support the detoxification of the whole body in just 10 days. It comes with a booklet that tells you exactly when to take each supplement along with recipes covering breakfast, lunch, dinner and snacks for the entire period. It's tough, but at the end I can promise you you'll feel on top of the world.
For my fellow blemish-prone skin crew, I see you! The complexion-clearing capsules nurture your gut and skin to encourage a clear, even complexion, support healthy digestion and promote the growth of beneficial bacteria. 
Formulated by a micro-nutritionist to help regulate stomachs––if they're out-of-sync it can often cause skin problems. If you have combination to oily skin, prone to recurring or occasional blemishes and find you tend to bloat or suffer from constipation, give these a try.
Did you know that blue light we are exposed to comes mostly from the sun and not from electronic devices or LED light bulbs? Over exposure causes an increase pigmentation and a decrease in collagen and elastin production. These clever tablets contain a mix of vitamin E, olive fruit extract, lutein and zeaxanthin (nutrients from marigold flowers) to protect skin from the effects of blue light––the results from the study are amazing. Think of it as an internal SPF.
Recently there's been a real buzz around mushrooms in skincare, but they've been respected and used for their amazing health benefits for centuries. The Fungi Fusion immunity blend takes all the goodness from different types of organic mushrooms to give you one convenient capsule full of important nutrients and active ingredients.
This is more of an overall body health blend but I really love it. It's a blend of turmeric, superfoods and spices that supports energy and immunity whilst also helping to fight damaging free radicals. I mix it in with my daily smoothie and it tastes delicious. 
This 30 day programme from Gold Collagen focuses on the brand's best selling liquid collagen drink. With 11 active ingredients to improve skin, hair, nails and energy, you really can't go wrong. Plus, for every bottle of GOLD COLLAGEN® product subscribers drinks, the brand will provide a school meal to a child in need in Malawi, Zambia or Kenya in partnership with Mary's Meals.
This story was published at an earlier time and has since been updated.

Next Up: 20 Budget Beauty Products That Outperform Their Luxury Counterparts