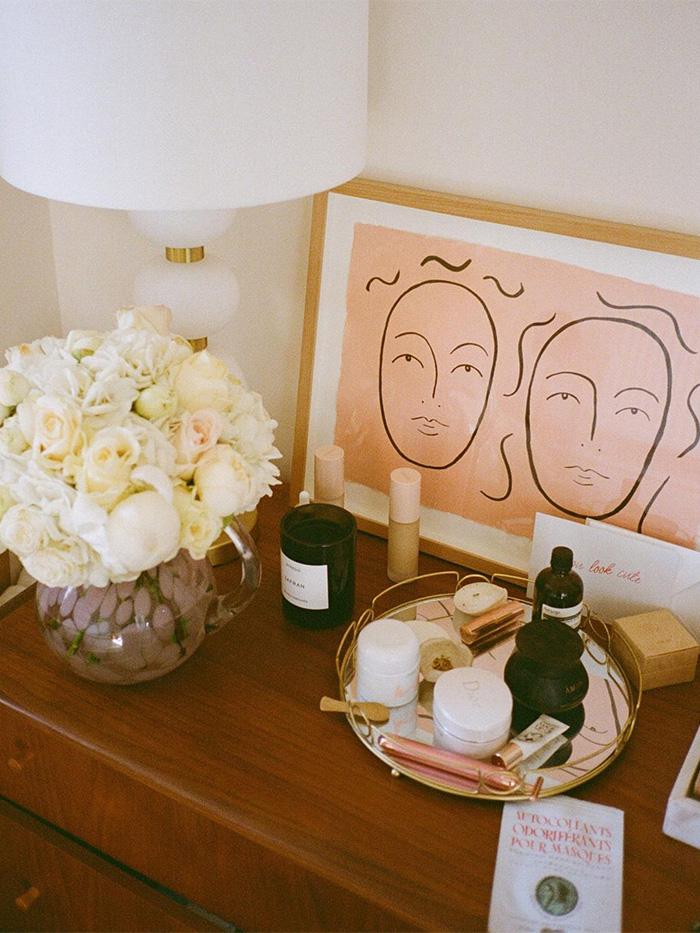 No one asked, but here's a fun fact about me: I'm low-key fragrance-obsessed. Spritzing scents has been a steadfast component of my beauty routine since then-iconic body sprays from Victoria's Secret (two words: Love Spell) entered my world in the early 2000s. My goal back then? To smell as cool as Britney, Christina, and the members of Destiny's Child. My taste has changed a lot over the last couple of decades, but to this day, I'm still dedicated to cloaking myself in any of the dozens of perfumes in my collection. My fragrance end game now? To smell expensive and sophisticated at all times. Let me explain.
As a deeply imaginative person who regularly visualises future versions of myself, I often use moments of stillness to let my mind conjure images of every aspect of me down the line. What will I be wearing? Where will I be holidaying? What will my body language be like? (A rotation of Balmain blazers in the Greek Islands and relaxed, confident shoulders, in case you were wondering.) In summary, future me is rich as hell. Someone who suns herself on lido decks and spends her Saturday mornings toiling about in her expansive orchard. (Now do you understand the Oprah reference?) The fragrance that teleports me to that rich, unbothered version of myself in mere seconds? Frédéric Malle's Portrait of a Lady (£188).
To be clear, Oprah has said that she doesn't even wear perfume, so those rumours about her smelling like a bed of roses on a warm spring day must be in response to her natural pheromones. A goddess! But for us mere mortals who don't naturally smell like a bouquet and still want to capture that enviable vibe, this is a fragrance you need to know about.
Oprah is my idol in every sense. The first time I smelled the spicy yet floral Turkish rose–based fluid, I sat on a velvet couch across from the legend Frédéric Malle himself, and we mused about all things fragrance and luxury inside his new eponymous flagship boutique on Melrose Place in Los Angeles. As I sat there, I couldn't help but think to myself, This is the chicest man I've ever encountered. And the exchange? Giggling and going back and forth with an impeccably dressed French gentleman about the art of crafting the perfect perfume. Well, that was simply one of the most cultured, bougiest experiences I'd had. Aside from the fond memory, it's the fragrance itself that really hooked me. I was a staunch devotee of Le Labo's Santal 33 (£220) at the time and preferred woody, unisex fragrances, but this decidedly feminine aroma was good enough to make me reconsider. The second it hit my skin, I just knew I'd never tire of the way the delicate rose mingled with the hints of cinnamon, patchouli, and my beloved sandalwood. Something about this concoction just smells sophisticated and expensive, and I knew anyone who caught my scent would want to know what it was. It's impactful but not overpowering, just strong enough to make a statement without being too cloying. In fact, fellow Portrait of a Lady fan and Who What Wear contributor Shannon Lawlor recounts here how she once smelled it on a woman in a train station and proceeded to chase said woman down to inquire about her perfume. Yeah, it's that good! All this to say, Portrait of a Lady is a treat. For me, it's personal, but I'm confident that the complex notes and pure sophistication will make anyone feel just as fancy. If you're in the mood to embody your best, richest self, a spritz of this will get you there. And if you're shopping for other scents that exude similarly opulent energy, keep scrolling for more rich-smelling perfumes to try.
Key fragrance notes: bergamot, lemon, pepper, juniper berries, incense, pine needles, amber, vanilla. Change the name; keep everything else. This one's crisp, slightly peppery, and smells so expensive.
Key fragrance notes: fig leaves, fig tree sap, fig tree wood. This is a woody fragrance masquerading as a fruity one. It's simple and elegant but so fresh and pleasant.
Key fragrance notes: jasmine, saffron, cedarwood, ambergris. This TikTok-famous fragrance is one of the most popular perfumes out there right now, and for good reason. Fans continually call out how expensive it smells—at £215 a bottle, it'd better!
Key fragrance notes: sandalwood, cedarwood, violet accord, cardamom, leather. You can't throw a rock in London without hitting someone who counts this iconic scent as their signature. All the cool kids are on to something here.
Key fragrance notes: green aquatic, ylang-ylang, jasmine absolute, orange blossom absolute, tuberose absolute, coconut, white musks cocktail. Here's another expertly crafted fragrance from the Editions de Parfums portfolio you'll want to sniff. It's a pretty, sophisticated blend of fragrant white flowers, coconut, and musks. Just heavenly.
Key fragrance notes: Sandalwood, white musks, Egyptian jasmine, abstract white floral accord, aldehydes, Italian bergamot. Another of Maison Francis Kurkdjian's most expensive-smelling scents is 724. "If clean scents are your thing, this is the most luxurious iteration on laundry detergent," says Who What Wear UK beauty editor,  Eleanor Vousden. "It's bright, crystalline and soapy. It's very subtle but will get compliments from anyone near you."
Key fragrance notes: neroli, orange blossom, rose, marshmallow. This is Rihanna's signature scent. If you ask me, that's all you need to know, but if you're inquisitive, check out my in-depth thoughts here.
Key fragrance notes: May rose, jasmine, citrus, aldehydes, bourbon vanilla. This one's largely considered the most popular fragrance of all time, and that's thanks to its mix of sweet and floral notes. It's a little powdery and certainly not for everyone but still an undeniably rich-smelling scent many will recognise.
Key fragrance notes: jasmine, orange blossom, Grasse tuberose, ylang-ylang. Here's a more contemporary Chanel option with a similarly sweet and floral composition. It smells a little less grandma and a little more new-school.
Key fragrance notes: clove oil, chestnut accord, vanilla accord. This one is warm, spicy, and sweet all at once with a complexity that cloaks you in the scent of crisp bank notes. (Figuratively, of course. Actual money doesn't smell so great.) The best part? It's totally unisex so you can share it with anyone who'd also like to smell rich.
Key fragrance notes: Roman chamomile, coral jasmine, vanilla. Here's another sweet and earthy elixir that's flattering across genders and smells expensive on everyone.
Key fragrance notes: pink pepper, iris, ambrette seeds, ambrox. This sparkling, spicy, amber-laced fragrance is so pretty and smells slightly different on everyone. If there's one thing that reads rich, it's adding a customised element to your personal scent.
Key fragrance notes: bluebell, persimmon, white musk. It doesn't get more opulent than royalty, and Meghan Markle, former Duchess of Sussex, once said this was her signature daytime scent.
Key fragrance notes: black truffle, black orchid, plum. This classic scent smells like it'd be a favourite among the Chateau Marmont crowd. It's deep, sweet, and a little mysterious.
Key fragrance notes: wood, copper, cedar, sandalwood, radiant iris, boronia, balsam fir absolute, coconut musk, ambergris. Here's another one for the cool kids. It's woody, sweet, and slightly metallic. So good.
Key fragrance notes: wood, floral water, rose, frankincense. This fragrance is impactful—no two ways about it. It takes a confident person to wear such a powerful scent and not let it wear them.
Key fragrance notes: citrus, woods, cypress, lemon, oakwood. If the smell of a lavish vacation on the Italian Riviera could be bottled, this would be the end result.
Key fragrance notes: Cognac, cinnamon, tonka bean, oak, praline, vanilla, sandalwood. This is one of Beyonce's rumoured favourite perfumes? Need we say more? This smells deliciously expensive with notes of warm cognac, tonka and praline. 
Key fragrance notes: tobacco, spices, vanilla, cocoa, dry fruit accord, wood sap. And if a rainy day in London spent devouring fiction by the fire with a brandy in hand could be bottled, this would be it.
Key fragrance notes: rose, ylang-ylang, peony, sandalwood, amber, vanilla, musk. Hailey Bieber said here that this tangy, floral option is one of her tried-and-true favourites. 
Key fragrance notes: grapefruit, bergamot, lavender, cardamom, leather, vanilla, musk. The first review I read about this fragrance? "It's raunchy, it's sexy, it's classy—it smells like money!" Need I say more…
Key fragrance notes: jasmine, Tunisian orange blossom, peach, tuberose, sandalwood, iris, musk, orange blossom and creamy praline. A timeless and confidence-boosting scent. If you love floral fragrances add this to your collection, stat.
Key fragrance notes: natural oud wood, agar wood oil, lavender, saffron, patchouli, musk. I remember going to the launch of this fragrance and being completely taken with the uniqueness of its smell. It's bold, it's sexy and it'll have people stopping you in the street asking what perfume you're wearing. 
Key notes: Pink saffron, passionfruit, coffee beans, frankincense, centifolia rose, pink peony, agarwood, amber, vanilla beans. Saffron is one of the most expensive spices around, making this dreamy, heady rose all the more expensive-smelling.
Key fragrance notes: sandalwood, vetiver, amber wood. Despite its similar woody smell, I won't call this a Santal 33 dupe. Yes, it's got that sandalwood flair that's ever so popular, but it's an oil blend that wears a little closer to the body. If you want to save a few bucks and have a slightly different experience, though, this is a great alternative.
Up Next: A French Perfumer Just Told Me How to Smell Luxurious—And 9 Mistakes to Avoid
This story was originally published at an earlier date and has since been updated.
Opening image: @emmahoareau