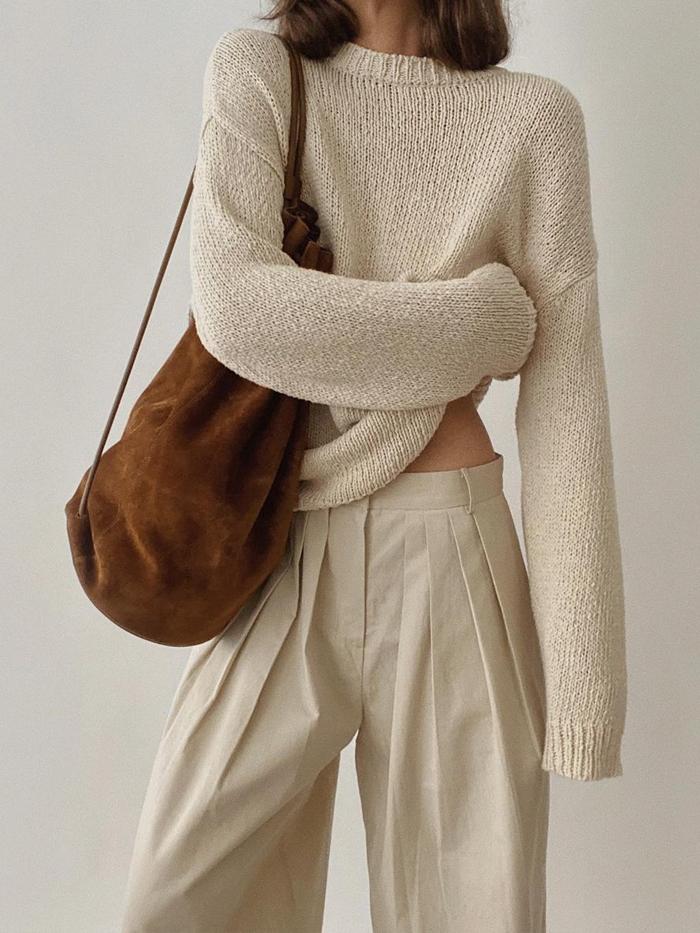 Trousers have always been a key component in our wardrobes, but the sheer volume of trends that have centred around them of late is hard to ignore. For years, dresses sat atop of the fashion hierarchy, with many iterations—Tove's Ceres, Norma Kamali's Diana, and basically anything from Cecilie Bahnsen—becoming cult items in their own right, either selling out or becoming such a rarity on the market they were akin to long-lost treasure. But trousers? Seldom did they ever kick up as much of a fuss. That is, prior to last year, which will forever been known in fashion circles as the year of the trouser. And 2023 has proved to be similarly obsessed with strides. 
Between wide-leg and puddle to a newfound appreciation for leggings, trousers have continued to rise in popularity. You need only scroll through Instagram to see the impact trousers are having on our outfits. My own shopping habits have changed, too. I'd ordinarily never seek out the trouser category, be it on Mango or Net-a-Porter, but now, it's my first port of call. I've spent hours thinking about The Frankie Shop's Maesa cargoes and travelled 60 miles to try on COS's selection of tailoring, such is my obsession. So on the cusp of a new season, I thought it would be handy to decode the trouser trends for 2023, of which there are eight of serious note. Scroll on to see them.
Style Notes: While the fashion industry has spent time reminiscing the trends of the '70s and '90s over the past few seasons, there's a distinct '80s mood for 2023. And with that comes looser, taper-leg trouser styles that, yes, nod to hareems, but still distinctly more polished. 
We always come back to COS for expensive-looking tailoring. 
This pair comes in an array of great colours. 
The perfect silhouette. 
Style Notes: Puddle pants—trousers that fall and rest on the floor—have been a major trend this year, with everyone from Kate Middleton to Sienna Miller giving them a go. Now, they keep cropping up in jean form and proving themselves a tonic from straight and skinny denim. 
The seams details feel so fresh. 
These look so high end. 
A chic, knocked-back grey. 
Style Notes: Staying in your joggers all day has gone from being something of a sartorial taboo to a legitimate fashion choice, with many of us favouring comfort above all else. For the distinguished jogger wearer, there's now a crop of tailored styles to consider, which Monikh is spearheading with her Lacoste pair. 
Dress up or down. 
Cream always looks so premium. 
Sporty chic. 
Style Notes: Wide-leg trousers were one of the biggest trouser trends of the last year; if you invested in them, then you'll be pleased to hear they're going nowhere for 2023. In fact, the silhouette is set to become even more extreme. 
The silhouette is so good. 
Another stand out style by COS. 
Such a great hue. 
Style Notes: Pinstripes once held costumey connotations, having become the uniform of choice for bad gangster movies. Thankfully, fashion has reclaimed this classic motif and is backing it in a big way for 2023. Suitable for both serious workwear and for more relaxed everyday 'fits, the pinstripe is a print that can adapt well to any occasion.
The cut on these is sublime. 
The full suit is so good. 
We've heard great things about Reformation's trousers.
Style Notes: Y2K is still a major influence on the 2023 collections, but with it, designers have begun exploring more elevated interpretations of the aesthetic. Take cargoes, for example, which now come with refined pockets, tailored trousers, and in an array of expensive-looking fabrics. 
Take style tips from Abi and go for a full tonal look. 
Pinstripes and cargos? This pair is the best of both worlds. 
Frankie Shop is a favourite amongst fashion people. 
Style Notes: Printed trousers haven't been as prevalent as they once were but that's all about to change, as bold trousers were key in countless 2023 designer collections. From florals to snake, no print is off-limits. 
These are a lot of fun. 
Style with reliable staples. 
These will look great with suede boots or loafers. 
Style Notes: A close cousin of cargo trousers, I've noticed a slew of trousers with drawstring hems start to creep into new-in sections. This trouser looks its sleekest paired with heeled sandals, but I can see it working with trainers too for a more athleisure take. 
Pair with a tank and blazer for an easy look.
Y2K just called, they love these trousers. 
Toughen up with black ankle boots. 
This story was published at an earlier time and has since been updated.
Next Up, 6 Simple Winter Outfits That Are the Epitome of Timeless