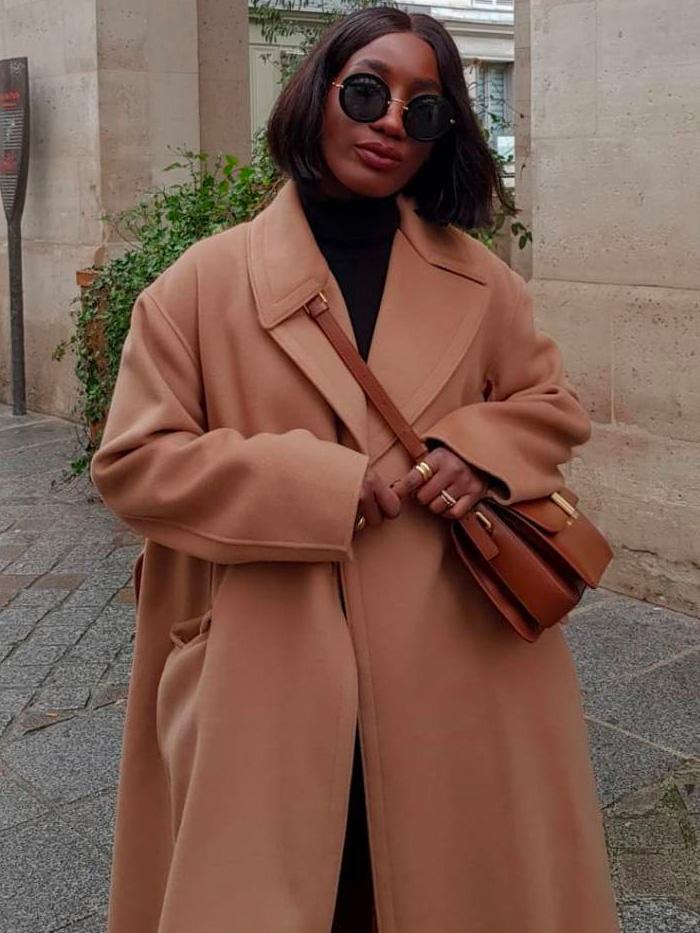 Lorna opts for a matching bag, a classic white tee and jeans. 
The humble camel coat has long been considered something of a hero when it comes to outerwear—and for good reason. Chic, flattering, timeless and versatile, it has serious wardrobe staying power. That's the reason so many fashionable people rely on theirs and why it's so important to pinpoint the best camel coats that will really work hard for you. This is where our guidance steps in.
Camel coats always look so polished, especially when paired knee-high boots. 
We're not alone in championing the iconic coat. Year in and year out, the savviest editors, influencers and celebs continue to choose the classic coat in lieu of other standout options, confirming that this universally adored item remains the ultimate investment piece.
Lisa Aiken wears a camel coat over white jeans and adds print and colour with accessories. Simple yet so easy to re-create.
There are many brands that specialise in this particular breed of expensive-looking outerwear. Max Mara, for example, is known for its camel coats and has been producing the most iconic versions for many years, including its Manuela version. On the high street, though, we've noticed some labels are especially good at creating them on a smaller budget: H&M and Mango are always our first stops when we're looking to replenish our outerwear selection, as is Massimo Dutti. 
Aïda gives her Frankie Shop camel coat a downtime spin with fitted trousers and white trainers. 
Lately, single-breasted camel coats in oversized silhouettes have caught our eye. But there are so many other options around. Although a classic robe style will always tick the boxes, sometimes, it's good to experiment with different silhouettes to suit your personal style tastes and to make your camel coat feel more current, should that be your desired aesthetic. Either way, though, this is a coat that's hard to get wrong. 
Isabelle Cohen matches her camel coat to her beige jumper, and it's basically the go-to combo for winter.  This, however, presents a slight problem—with so many options out there to choose from, it's hard to know if you're looking at the best ones. As such, we decided to make finding your perfect one easier by rounding up the most impressive styles for your consideration. Go on. Keep scrolling to shop our edit of the best camel coats to invest in. 
I have a feeling this high-street beauty will be snapped up, so don't spend too long thinking about it.
The epitome of elegance.
Iconic.
This trench coat style is as classic as it gets.
This won't stick around for long. 
I love Sézane's fresh styling here.
A longline coat is the ultimate cosy layer.
Want!
This soft camel shade will work with all your autumn neutrals.
Simple enough to wear everyday.
Come winter, you'll be grateful for this super snug coat.
Size up to leave room for chunky knitwear underneath.
An easy throw-on coverup.
Wear over everything from dresses to jeans.
I'm into the military-esque details.
So chic.
Made from pure wool, this will no doubt keep you warm.
This versatile design also comes in navy and dusty pink.
The nipped-in waist creates a very flattering silhouette.
Chuck on over every outfit to give it an instant boost.
True luxury in coat form.
Part blazer, part coat.
I adore this rich hue—it looks so expensive.
Style with tan and chocolate brown accessories.
The thick cuffs and wide lapels make this coat feel so premium.
The ideal throw-on-and-go layer.
I'm always drawn to a textured coat.
There's something so smart about a double-breasted style.
Next Up: London Fashion People All Agree: This Winter Wardrobe Staple Is a Non-Negotiable
This story was originally published at an earlier date and has since been updated.