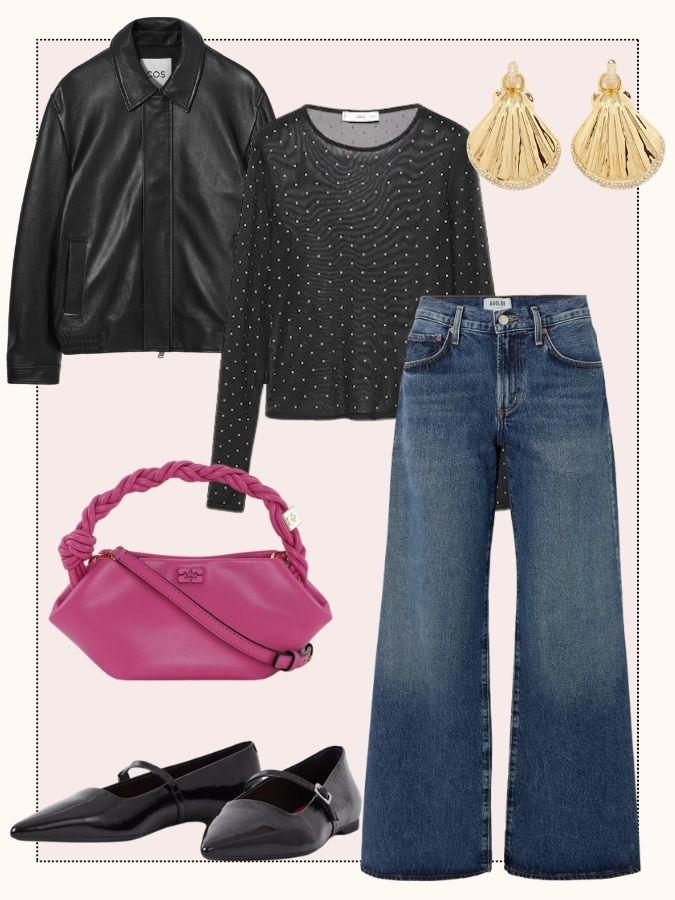 If, like me, you've flicked through your calendar only to discover that the month of December is already inundated with events, celebrations and get-togethers, you might have experienced a moment of panic as you try to calculate exactly how your wardrobe will stretch so far.
With different invitations coming in from every angle, honing your wardrobe to be prepared for all is no mean feat. To give you a boost of inspiration, I've charted four fool-proof going-out outfits to fit the bill for a variety of occasions. For a 2023 twist I've integrated a number of growing trends, but the foundations of these outfits remain timeless, meaning that you can fall back on them for years to come. Whilst these edits tap in to seasonal trends, you'll likely find that you already own a number of these party staples. From a faithful LBD to your favourite pair of jeans, anything can fit the party bill when styled in the right way.
Read on to see and shop my edits of the fool-proof going out outfits I'll be relying on all season long.
Style Notes: Swap your Little Black Dress for the seasonal espresso brown shade that's been spotted on all of our favourite celebrities as of late. Brown clothing makes gold shine so layer on the jewels and pair with knee high boots and a vinyl coat for an easy outfit you'll feel amazing in.
A mini dress you truly adore will take you far this party season. Style with knee high boots, pointed ballet flats, or dress it up with a chunky heel.
A vinyl wrap coat delivers warmth, style and protection from the inevitable rain.
Buy them for party season, wear them every day afterwards. Knee high-boots are the ultimate winter purchase, if you ask me.
No outfit is complete without the perfect gold necklace.
These elegant gold earrings add the perfect finishing touch.
Stow away your must-haves in style.
Style Notes: Integrate the season's favourite trouser into you party wardrobe and light up in the dance floor in gleaming silver. Naturally, you should stack on the silver jewels, and throw in a splash of red to tap into another growing winter trend. 
Hourglass blazers are the growing outwear trend that's perfect for party season.
A simple black sleeveless top is a party wear capsule wardrobe must have.
The trousers of the season. Style with your favourite white tee or throw over a navy knit to dress this trouser down.
This season, all of the best outfits feature a splash of red.
The party shoes of my dreams.
Heart shaped jewellery is having a moment, and these playful studs are an easy way to incorporate the style.
Style Notes: With festive celebrations cropping up all around us, dip your toe into the glamorous side and style Mango's sweeping asymmetric dress with rich red shades and a metallic bag.
The rich ruby hue and decadent velvet finish make for the perfect evening jacket.
Light up the room in Mango's metallic pleated dress.
Jewels were made for party season, so get stacking.
Every wardrobe needs a reliable black clutch. Purchase for party season, and you'll find yourself reaching for this all year round.
The finishing touch.
Rich red shades never go out of style.
Style Notes: As '00s fashion continues to trend, style up your old faithful jeans and a nice top in a very 2023 way by throwing on a sheer mesh tee and wearing with wide-leg jeans and pointed ballet flats.
Every wardrobe needs a classic leather jacket.
A sheer sparkly top is all you really need this season. Style with baggy jeans, leather trousers or your favourite mini skirt.
Low-rise wide-leg jeans are the only trouser trend you need to know about this season.
In my opinion, these are the perfect party shoes.
A small pop of colour can completely lift an outfit.
Decadent and playful, I'll be wearing these all season long.
Up Next: Suddenly, All the Coolest People Are Wearing This "Dated" Heels Trend Again