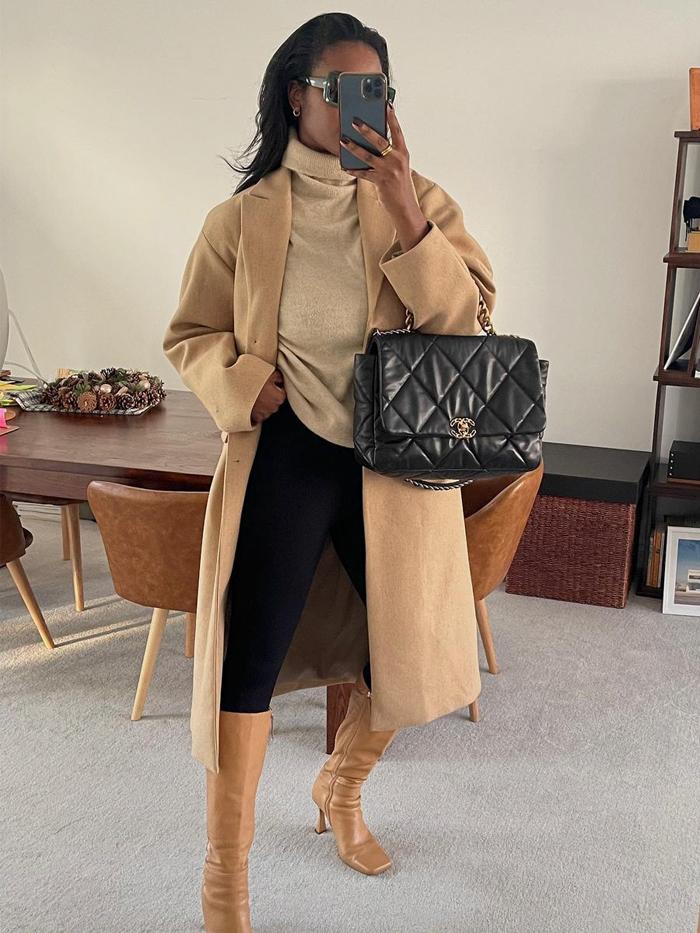 Sometimes it's the simplest outfit pairings that end up being the most impactful. Take the humble jeans-and-a-nice top combination, which we turn to for almost every night out. Then there's black trousers and a Breton stripe—on paper, it mightn't sound all that exciting, but in reality, it works and doesn't look in the slightest bit try-hard. And isn't that what we all want? To look stylish but with minimal effort? I know I do. So with the idea of stripping back my outfits to basics, I thought to myself, What is the simplest outfit pairing I can wear this season? The answer: some leggings, a jumper and boots. 
More comfortable than jeans and with the ability to look incredibly sleek, leggings shouldn't be overlooked when assembling your trans-seasonal outfits; they form a solid base to set interesting separates against and are pretty low-maintenance in terms of upkeep and cleaning. Then there are jumpers; find the right one, and you'll be cosy and chic-looking in equal measure. And finally, there are boots. From knee-high pointed-toe styles to chunky, track-sole ankle grazers, there's a boot trend for every aesthetic and outfit mood. 
Put these formidable staples together and what do you get? An impressively stylish and genuinely easy outfit suggestion. I can do one better—I've created four shoppable graphics that showcase just how effective legging-jumper-and-boot outfits can be. Scroll on to see them. 
Style Notes: Cable knitwear might be classic, but the interesting weave calls for a more basic legging style. Ribbing, for example, runs the risk of pulling focus. You could, however, add more fanciful boots; personally, I always think mock-croc looks the premium part. When temperatures dip, add a blazer into the equation. 
This blazer has been on my wish list for so long. 
The cable-knit jumper is always a best seller. I have a feeling this Arket iteration will follow suit. 
Ideal for day or night. 
A chic way to finish any outfit. 
These look so premium. 
Style Notes: Striped knitwear is having a major moment, but that doesn't mean it's tethered to this season—this is a jumper style you'll wear forever, so a designer option wouldn't be a bad investment. I think H&M's panelled leggings help to elevate the entire ensemble—even when casual items like a beanie and tall Chelsea boots come into play. 
This also comes in a cream-and-black colour way. 
For especially chilly mornings. 
A great everyday shape. 
These come in an array of sizes. 
These wide boots are ideal for pulling over leggings. 
Style Notes: Red knitwear is just as long-lasting than cream or black styles, but it feels particular current now, as fashion people keep adding pops of it in their outfit. Sure, this jumper is sans sleeves but it still checks the knitwear box, and will layer under all of your coats seamlessly. 
Is there anything more elegant than a cream coat?
This will also breathe new life into your jeans. 
Ball necklaces are back, and I keep seeing silver ones such as this on IG. 
Flared leggings are all over TikTok. 
As are Western-inspired boots. 
Style Notes: You cannot go wrong with a grey jumper. The classic colour and shape needed a modern twist and I had a hunch that adding some split-hem leggings would work. I love it when I'm right. Add a pair of pointed-toe boots, and you'll look like you have legs for days. 
This went straight into my basket. 
These earrings have the power to make every outfit you wear look more elevated. 
Positioned to the front, these split-hem leggings were made to be worn with pointed-toe shoes. 
Try wrapping this around your neck for rich-and-unbothered vibes. 
These look so much more expensive than they are. 
Next Up, The Autumn/Winter 2023 Fashion Trends That Really Matter

This story was originally published at an earlier time and has since been updated.