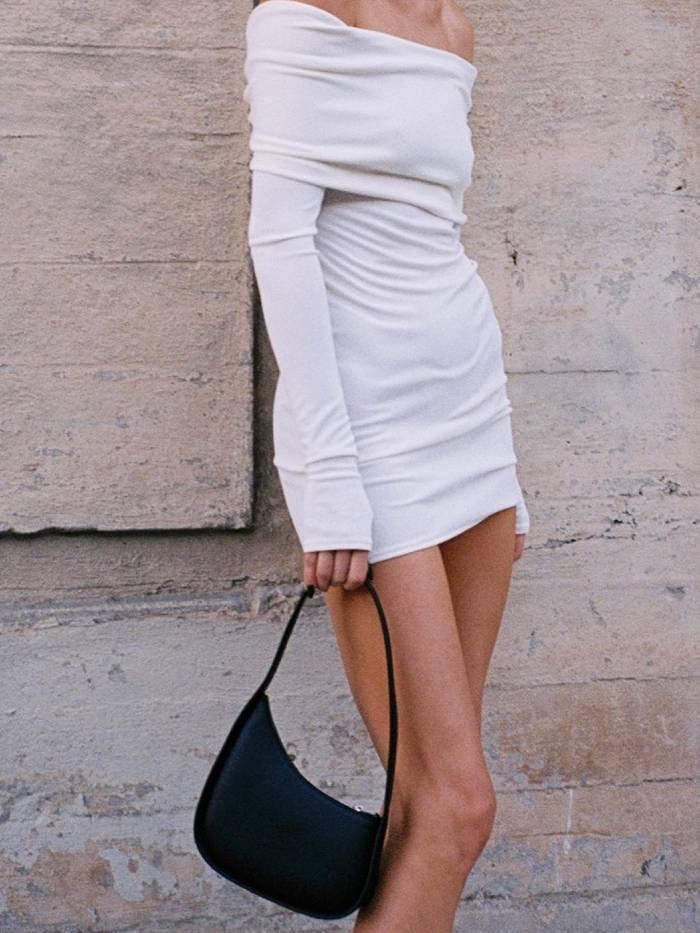 The idea of an It bag feels a little outdated these days. Luckily (for the planet, and our wallets), gone is the era in which a different designer bag was "in" each week, and brands battled it out to create the quirkiest style that would be desirable only until the next one came along. Now, the most-wanted luxury bags have one thing in common—they're all incredibly timeless; and there's much less expectation to tote the latest style. Think about the Hermès Birkin (first designed in 1984), a quilted Chanel (from 1955), or Fendi Baguette (1997). Even more modern designs considered to be "cult" like Loewe's Puzzle (2014) or Bottega's latest Andiamo are designed with longevity in mind, rather than burning fast and bright. In fact, the less logos and recognisable detailing the better for bags in 2023 (thank you, quiet luxury), and The Row's Half Moon bag is the perfect case in point. 
Simple and understated, and all the more luxurious for it, The Row's bags have become some of the most sought after by those in the fashion industry (and amongst celebrities too) in recent years. From the banana crossbody that launched a thousand high-street dupes, to the Margaux—the travel and work tote bag of choice for those in the know. The Half Moon is no different—a smooth leather, logo-less (bar a blink-and-you'll-miss-it brand inscription), small shoulder bag, reminiscent of the styles popular in the '90s. And while it seems to have particularly captured the hearts of fashion people everywhere this autumn, the Half Moon has been carried by some of the most stylish minimalists (think Kendall Jenner, EmRata and Elsa Hosk) for a good few seasons now, and will continue to be for many years to come. 
This is what makes The Row's Half Moon such a wise and safe investment, in case you were considering taking the plunge. Its beauty lies in its timeless versatility and impeccable quality, not in its popularity right now. And while it's not a practical roomy tote (although it does fit a surprising amount in) there's no arguing it makes for the ultimate 'throw over your shoulder' bag that works effortlessly for all dressier events (hello, party season), but also just for popping out of the house unencumbered.
The only problem? In recent months, the bag has been like gold dust to get hold of. It's even sold out in every colour on The Row's own site. I have, however, noticed a few restocks of late, and so I did some digging to find you some stock in the original black and ivory colours, as well as the new season tan colour (a great colour to wear through all seasons). I've added links below, since I'm sure they won't hang around for long—and I've also linked out to a few more of the new colourways (including the Bourbon, my current favourite which is a deep brown-burgundy), which have the option to sign up for handy back-in-stock notifications. Keep scrolling to shop The Row's Half Moon bag, and see how fashion people and celebs have been styling theirs recently… 
The original classic black version is stocked in a few places but MyTheresa has it for the most affordable price here (and with healthy stock levels and free shipping). 
They also have the ivory version for the same lower price. In case this one sells out, it's also on NET-A-PORTER but with low stock levels. 
Selfridges currently have two left in the brand-new Twany brown version. Go, go, go! 
This new season 'Bourbon' colour has *just* sold out across the board, but you can sign up for stock notifications by adding it to your wish list at NET-A-PORTER here. 
MATCHES say the Cherry Wood colour (a similar rich brown but with contrast stitching) is 'coming soon' to their site so, again, be sure to sign up for stock notifications if this is your dream bag. 
The perfect hands-free everyday bag 
Another elegant evening bag. 
If you're after something more roomy, the Margaux is the ultimate in quiet luxury these days. 
The Park is a classic, and this super-soft suede has won me over. 
For a polished finish to every outfit, opt for the Sofia satchel-style bag. 
Like most The Row bags, it comes in multiple sizes and fabrications to suit your lifestyle. 
The large Park tote is practical, and completely timeless. 
Rosie Huntington-Whiteley and Kendall Jenner are both fans of the large Margaux bag. 
Up Next: The Row's Bags Are Absolute Luxury—11 Styles I'd Gladly Carry Forever