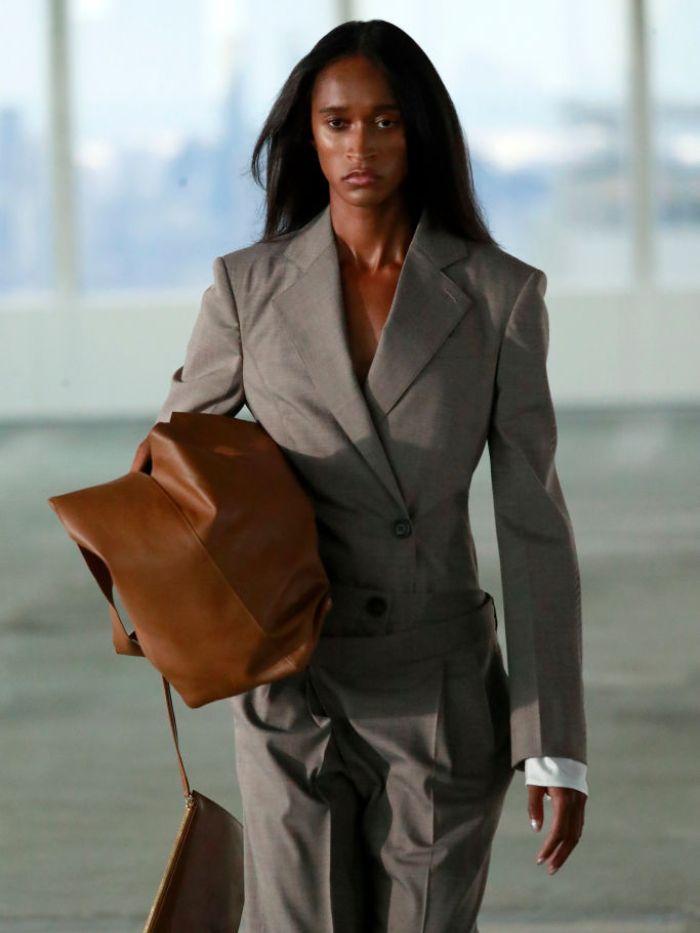 Whether I'm dressing up for an event or pulling on a lazy weekend outfit, one thing I never compromise on is accessories, and in particular–bags. After all, a good bag can make even the most basic outfit feel a little more special (and it's the one thing we're guaranteed to use every day). But, when it comes to spotting the new bag trends to invest in, it can take a little bit of research. 
Unlike ready-to-wear, bag trends can come and go quickly, remember Jacquemus's teeny, tiny Le Chiquito? Of course you do, but there chances are, there isn't one hiding in the bag of your wardrobe. Or, perhaps the first pictures of Carrie Bradshaw's JW Anderson Pigeon clutch? Maybe not a trend, but undoubtedly an important moment of discussion as to what even constitutes a "good bag". On the other hand there are the classic bags that have stood the test of time like Dior's Lady Dior, the ever-popular Birkin and of course the Chanel flap bag, and so it seems that the biggest and best performing trends tend to be the ones that bridge the gap between of-the-moment appeal and timelessly archival pieces. Not too much to ask. 
In the name of good research and, in part, to cater to my lifelong handbag obsession, I searched through the latest collections and have uncovered which pieces you're bound to start seeing everywhere this season, and trust me when I say, there are some big things coming.
So, what are the very best handbag trends to know about in 2023? From the practical totes that are set to be everyday staples, to the embellished evening styles that will no doubt appear on the street style circuit come fashion week, keep scrolling for the five of the biggest styles you need to see now, straight from the runway to your screen.
Style Notes: They're big, they're back, and they're stronger than ever–the oversized tote lives to see yet another season, and positions itself as the antidote to last year's ultra-small, ultra-slim 90s baguettes. After big bags dominated the runways at Alaïa, Bottega and Hermés (and not forgetting the unfeasibly large clutch "sacks" at Balenciaga and Sportmax), it's clear the tone has shifted and when it comes to bags next year, the bigger really is the better. And honestly, we just love a trend that allows us the excuse to carry everything including the kitchen sink.
Simple black totes look so premium. 
My dream bag.
What a silhouette. 
Style Notes: It just wouldn't be a new season without a fresh, new colour trend, and this year it comes courtesy of a zingy, citrus palette cleanser to brighten things up after a very dull winter. Dive into juicy bursts of orange, yellow and lime greens a la Altuzarra, Valentino, Bottega and Stella McCartney, and wear now with understated neutrals, and colour clash with bold brights. Either works all year round.
Timelessness meets joyfulness in this tangerine shoulder bag. 
This bag has timeless appeal. 
This bag keeps selling out—you might want to consider investing in this zesty shade while you have the option. 
Style Notes: There might be a lot of millennial trends we wish we'd left in the Noughties, but it's bag game isn't one of them. Take the 90s silhouette, add sci-flourish, stamp a logo on it and hey presto, you've got yourself the unforgettable accessory that is currently enjoying a renaissance thanks to Tiktok and Gen-Z. If you've still got a denim shoulder bag, any original Juicy Couture or a bedazzled anything, I suggest you wear it now. I give it 6 months till we see an inflatable backpack…
This continues to dominate on TikTok.
The ultimate Y2K arm candy. 
The addition of the gradient print sets this bag apart. 
Style Notes: If you can gild it, glitter it, stone it, bead it, you're onto a winner. All that glitters might not be gold, but it is a sparkly bag trend that deserves its moment in the spotlight (quite literally). But before we relegate the embellished bag to the "evening wear" category, I'd like to put forward Simone Rocha's pearl bags (shown with a black bomber jacket), Batsheva's sequin bags paired with babydoll dresses, and Acne's studded bags with oversized tailoring that all make a compelling case for wearing your most decorative bag with even your most casual outfit. 
No one will suspect this comes from the high street. 
The bag brand fashion people are obsessed with right now. 
The Juicy Couture renaissance is upon us. 
Style Notes: This season's newest bag shape is the box–a geometric take on a ladylike classic, and reminiscent of the vintage vanity case. Whether a mini top-handle bag or a clutch, the box bag is a conversation-starting, entirely unique design particularly favoured by the French fashion houses (you won't be surprised to hear that Chanel and Louis Vuitton both showed boxy silhouettes).They might not be the most practical bag on this list, but the structured shape and luxe finish give it a polished look that looks undeniably expensive. 
Elegant and so versatile. 
Anything with a YSL logo is it right now. 
In a word: Cool. 
Up Next, Experts Agree: These Autumn/Winter 2023 Fashion Trends Really Count