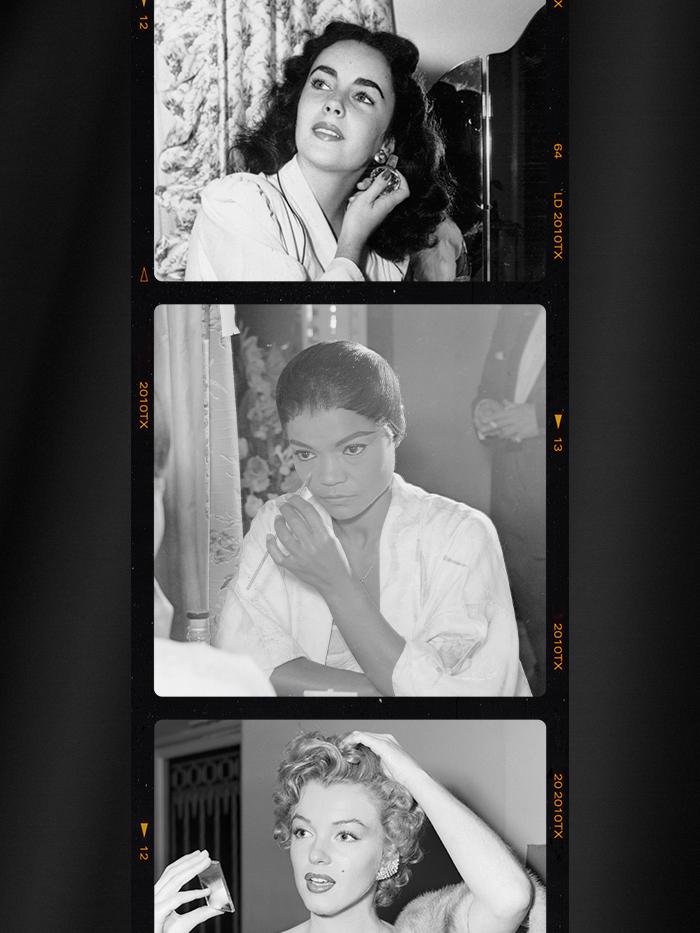 Because my parents were born in the '40s, I've always had some *unique* personality quirks. For instance, I tend to feel more comfortable around older people than younger people. All of my childhood crushes were long deceased by the time I fell for them. (James Dean, Fess Parker, Marlon Brando… I could go on.) Corny jargon like "nifty" and "neat" were—and still are—a part of my regular vocabulary. I can name the artist of any oldies tune in under three seconds. Perhaps most importantly, as it pertains to this article, I've always been completely fascinated by Old Hollywood starlets and their beauty rituals. 
Due to the fact that I've probably spent half of my life thus far watching movies and TV shows from the '30s, '40s, '50s, and '60s, I've become acutely familiar with certain staple beauty products and trends associated with vintage glamour. A jar of pillowy cold cream is one such example. 
According to the Unilever website, Pond's first debuted its iconic cold cream (beloved by the likes of Marilyn Monroe, Jackie Onassis, and now Kylie Jenner) in 1905, and Nivea's signature tin housing its own cold-cream formula also became popular in the early 1900s. (Ahem, it's still available today!) However, after digging around the internet, I discovered that original iterations of "cold cream"—an emulsion featuring trademark ingredients like water, beeswax, and olive oil—may have existed as early as 150 C.E. Eventually, it became the go-to cleansing and makeup-removal method for theatre actors, who typically wore extremely sticky and heavy makeup, before becoming more mainstream in the 1920s and beyond. 
While updated versions of many of the OG cold creams still exist today, there's been a lot of innovation, and similar products, like cleansing balms, are becoming more and more popular. So what are cold creams, and why have they always been such an entrenched component of the human beauty ritual? Keep scrolling for everything you've ever wanted to know. 
"Cold cream is the OG of cleansers and makeup removers," shares Joshua Zeichner, MD, FAAD. In fact, they're his go-to recommendation for clients with aging or extra dry skin and anyone dealing with glow-crushing winter temperatures and dryness.
"Cold creams are a mixture of certain fats—usually oils—and water. They gently remove dirt and grease as well as makeup without drying out the skin, and since they are so hydrating, they're also great for helping to protect the skin barrier," he adds.
According to Shari Marchbein, MD, FAAD, the benefits of cold cream vary, but most people use it as a gentle makeup remover that won't strip the skin thanks to its potent hydration properties. "Moisturising your skin is essential to help keep it hydrated and to help counteract the appearance of fine lines and/or the signs of skin discolouration," she tells us. "A suitable moisturiser like a cold cream can help prevent dryness, improve tone and texture, and protect the outer layer of the skin. Replenishing skin's natural moisture balance by moisturising daily is important, as environmental factors such as severe weather and sun can dry your skin and make it look dull."
Another benefit of cold cream? Its versatility! Marchbein explains that pretty much anyone can use cold cream, and it's especially dreamy for people with sensitive, dry, or normal skin. "Cold cream can also be used on acne-prone skin as long as the oils in the formula are noncomedogenic," she adds. Luckily, many of the top formulas on the market fit the bill and won't block or clog pores after cleansing. If you want to check a product's ingredients to see if it is, indeed, noncomedogenic, I love this tool that allows you to copy and paste an ingredient label to see if it passes the test. 
Marchbein recommends starting out with clean, dry hands. With two fingers, scoop out a bit from the jar, and apply a light layer over your entire face. Gently massage it into your skin and then wipe it off with a cotton pad or warm washcloth for a glowing, ultra-moisturised complexion. (She's a fan of Pond's iconic Cold Cream Cleanser, which comes in at a breezy £7.)
"Cold cream is best used as the first step in a double-cleanse routine," Marchbein confirms. "For those who wear heavier makeup or feel a gentle cleanser alone is not enough to remove makeup and properly cleanse, a two-step process works really well. Double-cleansing is a technique of doing exactly what it sounds like—cleansing your face twice to help remove dirt and makeup completely. You can use an oil cleanser (my favorite is the Pond's Cold Cream since it has been tested to be noncomedogenic), cleansing wipes, or micellar water, followed by a gentle, creamy or foaming cleanser." Oil-based cleansers reign supreme as the first step in a double-cleanse routine since they actually help attract dirt, oil, and buildup—almost like a magnet—and effortlessly dissolve anything stubborn that's sitting on your face (e.g., sunscreen or heavy makeup).
"I love how this formula dissolves all traces of makeup and moisturises for velvety, radiant skin without breaking the bank!" exclaims Marchbein. "This cold cream is a classic that's been loved for generations and infuses skin with vital moisture to leave skin instantly softer and smoother without clogging pores. The brand's technology includes a blend of mineral oils—the key dirt-, oil-, and makeup-attracting ingredient—and cleansing essence. Mineral oil has excellent skin conditioning and protecting properties, rarely causes allergies, and is suitable for sensitive skin."
Temple Spa's cocooning cleansing crème is a dream for sensitive skin types in particular. The soothing and cooling texture is packed with prebiotics, which helps to boost the skin's microbiome to calm redness and reduce irritation. It's ultra gentle, effortlessly lifting away makeup, leaving skin hydrated and comfortable.
"This is a go-to face wash that offers a deep clean without overdrying," Marchbein says. "Unlike other cold creams, this cleanser works as an effective makeup remover to remove dirt and oil while leaving skin feeling soft, smooth, and clean. Plus, the eucalyptus oil leaves your skin with a refreshing tingle!"
As I mentioned earlier, Nivea's tin of cold cream has been around for over 100 years, and this precise packaging has remained the same since 1959. It's an old-school mix of mineral oil and water with a few updated additions like provitamin B5.
Enter the arguably "chicest" cold cream on our list. Born in the UK, this award-winning three-in-one formula can be used as a cleanser, a mask, or even an overnight treatment for the seriously dehydrated. It uses luxe (vegan) alternatives to more traditional cold cream staple ingredients like cold-pressed organic borage seed, argan kernel, and rosehip. Plus, it has a dreamy scent of organic rose otto, bergamot, and patchouli leaf.
The brainchild of Charlotte Cho, the founder of Soko Glam, this cleansing balm is a more natural and modern take on traditional cold creams. It's won countless awards and is chock-full of skin-nourishing ingredients like sea buckthorn, persimmon extract, olive oil, and vitamin E.
Anyone who knows me will tell you I practically hoard Weleda products. They're made in Switzerland, über-natural, and super smoothing. In lieu of anything synthetic or remotely toxic, this cold cream holds key players like flower, fruit, and root extracts; minerals; and essential oils, which, the brand says, are all "carefully selected and orchestrated" to play in harmony with your body's own systems.
For the super-sensitive folks out there, look no further than this French cold cream from Bioderma, which is formulated with apricot-kernel oil and beeswax. Technically, it's formulated for babies, but babies have the softest skin on the planet, so…
Eve Lom's balmy cleanser has been an industry cult favourite for years. It's a five-in-one MVP product that thoroughly cleanses and melts away even the most stubborn bits of makeup via lush botanical additions such as eucalyptus, clove, Egyptian chamomile, and hops. Skin is left bouncy, hydrated, and not the least bit dry or stripped. 
Modelled like the classics, you can slather on this cucumber-infused cream and wipe it off with a tissue to reveal plump, bouncy, makeup-free skin. 
Cold cream's moisturising and skin-protecting magic doesn't have to stop at your complexion! I'm a big fan of this cold cream–inspired hand cream from French brand Avène. (Psst, you'll want this on hand—quite literally—at all times once temperatures plummet.)
If you're someone who doesn't break out easily and can use products with heavier oils like coconut, you'll love this cold cream. It contains key actives like marshmallow (long hailed for its soothing and natural redness-busting properties), micro-algae, and sacha inchi. Divine. 
Up Next: 25 Products Celebs and Editors Swear By for Youthful Skin. 
This story originally appeared on Who What Wear U.S and has since been updated.