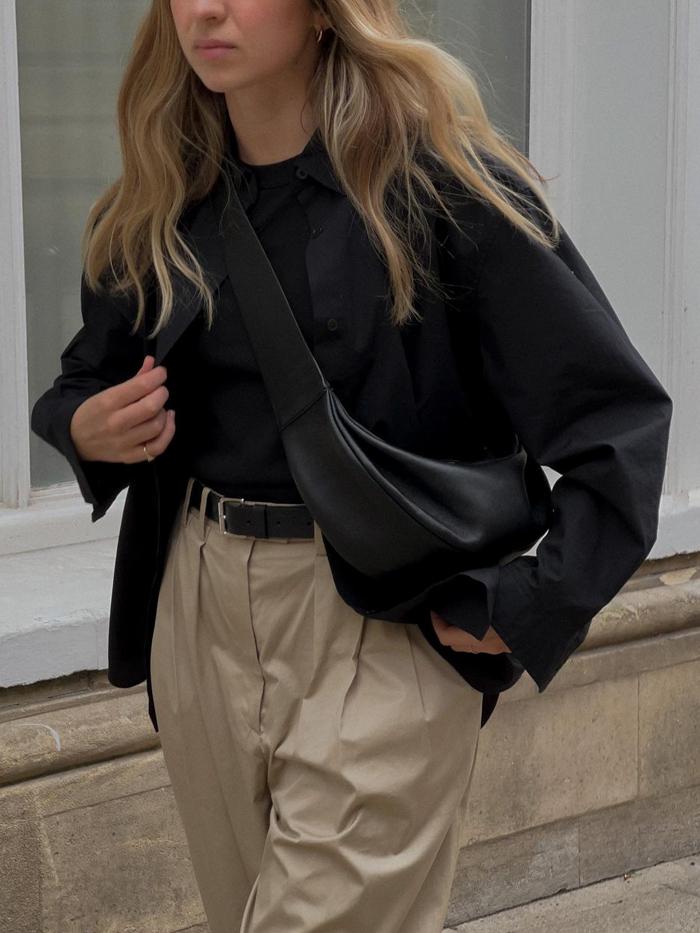 Listen up, everyone. I've found the perfect bag. Not only is it ideal for daily life⁠—it fits so much in it—but it's also great for evenings out. Don't believe me? Well, the good news is I've collected the evidence to prove how versatile and chic this bag actually is. But first, let me give you the details. It's a real leather crescent-shaped handbag with a thick strap. It's smooth and pretty featureless, other than a couple of silver belt studs and a well-hidden zip. There's no denying that it bears more than a resemblance to The Row's Banana Bag, but it actually comes from COS at a much more affordable price point. 
It's unsurprising, then, that I've spotted so many minimalist queens, such as Marisa Martins, Brittany Bathgate and Alexis Foreman wearing this bag. Foreman opted for a tee-and-skirt look with hers, while Martins went for a tailoring look, and Brittany wears hers with pretty much everything, proving that this bag can be worn with plenty of outfits. I would also like to point out that I bought this bag for myself, which means that I really love it, and so did a number of the other Who What Wear UK editors. Today, I'm wearing it with wide-leg trousers and a blazer, but I've also been wearing it over relaxed knitwear and shirts, and it elevates the whole look. The best part, though, is that it's the perfect bag to take with you through all seasons, as it slips just as easily over coats and shearling jackets as it does summer dresses. 
Naturally with a bag this good, when it first dropped the style sold out in record speed and has gone even quicker upon every restock since. There have even been new colours, from beige to bright red, which literally flew out. Luckily, though, most colours seem to have just had healthy restocks ahead of winter 2023. And I'm also happy to announce that after a good few seasons of the original reigning supreme, COS have just dropped an updated version as part of its new season collection. This new design (which comes in black and a taupe beige) has the same streamlined crossbody strap and buttery smooth leather finish, but with added pocket detailing on the sides. It looks equally as expensive and designer-like, so I'm sure this one will be just as much of a sellout success. If you still haven't managed to get your hands on one of COS's famous crossbodies, now's your chance to finally get hold of this fashion gold-dust handbag, or shop the new version before everyone else. 
Keep scrolling to see the new and original bag in action, and shop them for yourself. Plus, check out the other COS bags I'm loving below. 
This beige colour looks so chic. 
I love the new pocket detailing. 
The OG. 
Ok, the entire WWW team are obsessed with the newest silver iteration. 
Gorgeous over chocolate brown blazers or cream knitwear.
This chocolate brown is a great alternative to black that will work with your favourite wardrobe staples, all year round.
The bold green iteration will add a fun pop of colour to your winter looks. 
But the paler version is also high on our wish list.
Style Notes: It's the perfect accompaniment to relaxed tailoring. 
Style Notes: How expensive does it make this whole outfit look?
Style Notes: I've styled this bag with a classic mac, ankle boots and a knit dress. 
Style Notes: For a more casual look, try Foreman's tee-and-skirt approach. You could also wear it with a pair of jeans.
The cutest mini bag I've ever seen. 
Is this the perfect black tote bag? I think so….
This shoulder bag has such a Parisian feel about it.
I love the pleating on this oversized shopper.
The perfect clutch bag.
Quilted bags are set to be big news for A/W 23.
You'd be forgiven for thinking this bag is designer.
Next up, The 9 Most Expensive-Looking Pieces on the High Street This Week
This post was originally published at an earlier time and has since been updated.