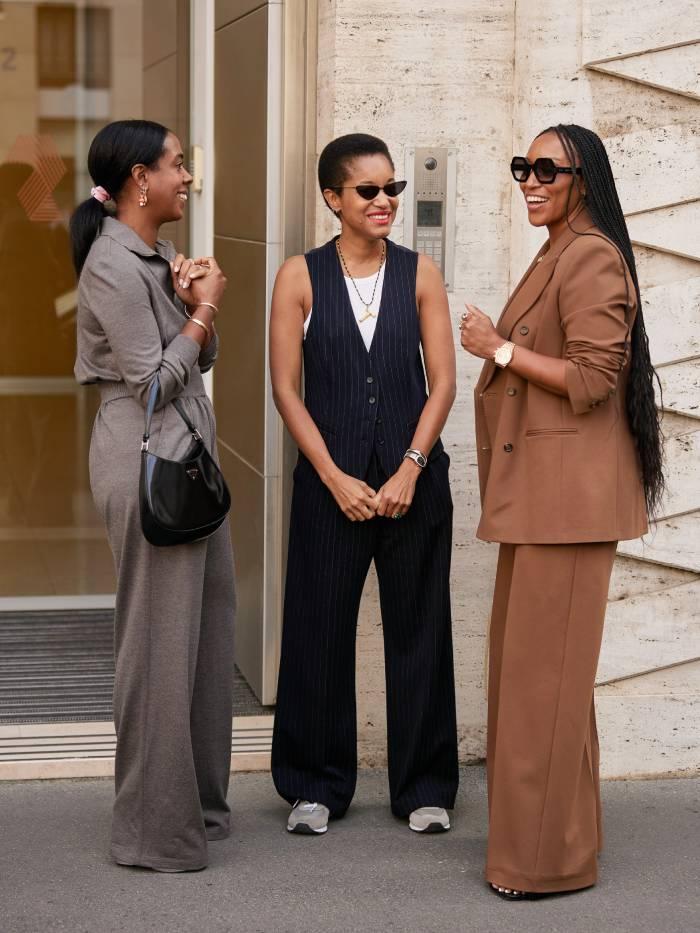 Black Friday weekend can be an assault on your email inbox, with every brand you've ever showed interest in sending alert after alert about offers and promotions. It's enough to make you want a full-blown digital detox. So, we're arming you with essential tips to help you find the best Cyber Week fashion and beauty deals for 2023 and avoid falling into any tempting sale traps. 
When it comes to shopping for clothes, shoes and accessories during Cyber Week, you want to find classic pieces that have been slightly out of reach previously, or hard-working basics that are missing from your wardrobe (such as a new winter coat or ankle boots). I'd advise you only buy something that was already on your shopping list before it was on sale, check sizes carefully and don't be tempted to buy something just because it's in the sale. It's all about considered, thought-through purchases that won't give you a pang of guilt when you see your bank statement in December.
Black Friday might not have officially kicked off yet, but retailers are introducing offers earlier than ever this year. Below I've rounded up all the best deals that happened in 2022 that were really worth knowing about, so that we can head into 2023's shopping event at the end of this month feeling prepared. If you're specifically after high street steals, bookmark this article which we'll be updating as soon as the deals drop. If it's impressive beauty bargains you're after, don't miss our guru/beauty editor's top picks here. And if you're using the sales as an opportunity to do a spot of Christmas shopping (a wise move), we'll have some incredible savings on gorgeous gifts too. 
Scroll on to see the very best deals that happened last Black Friday and what you might be able to expect for 2023. As well as links to the pieces we'd recommend investing in, sale or no sale. 
We trust Liberty's buy so much that we'd go so far as to say you really can't go wrong in their sale. Whether it's a gift for yourself, or a loved one, they were offering up to 30% off some beautiful classics items, with 25% off some of the very best beauty brands too. 
If a Toteme knit goes on sale, it's time to pay attention! This is timeless. 
A Rixo dress is never a bad investment—they're just so versatile. 
A truly classic buy. 
Matches had a 'family & friends' sale on, with 30% off a sleek edit with the code 30MF at checkout. Of course, there was beautiful investments and cult buys abound. 
Shop the MATCHESFASHION.com sale here.
This would be beautiful for a winter wedding or festive party look. 
I own this in green and I wear it all the time. 
John Lewis had a range of Black Friday deals already, including discounts off cult brands like Ugg and GHD. 
Shop the John Lewis sale here.
Uggs are officially back, and really hard to find in stock (let alone in the sale). These have 20% off right now. 
It's always worth looking out for wardrobe icons in Black Friday. These best-selling Levi's currently have 30% off. 
Known for creating season-less capsule wardrobe staples, Theory is one of the smartest places you can shop during sale time. They had 30% off (basically) everything, plus an extra 20% off(!!) for Cyber Monday with the code EXTRA20 at checkout. 
The ultimate black trousers. 
Just beautiful. 
Net-A-Porter's Black Friday sale had up to 30% off this epic edit, which was automatically applied at the checkout. 
Shop the Net-A-Porter sale here.
Fashion editors can't get enough of Savette's timeless bags right now.
This is a true classic you'll pull out every year. 
This is show-stopping for any events or weddings in the diary. 
We all love COS for quality staples. For Cyber Monday they offered 20% off over 400 styles from their latest collection. 
A great discount off a really clever purchase. 
All the WWWUK editors agree that COS trousers are the best around. 
H&M is, of course, one of our favourite high street brands for on-trend buys. We'd also advise looking out for the expensive-looking classics, especially from the premium selection in the sale to get more bang for your buck. You could sign up to be a member and get up to 70% off an impressive edit for Cyber Monday. 
I'm always so impressed with H&M's denim. 
This coat is unbelievably chic (and affordable)
Pair this with wide leg trousers and you've got an instantly polished outfit. 
Whistles had 20% off full price items, all the way through to cyber Monday. Including some pretty spectacular partywear for the season ahead. 
The most perfect blazer I've ever seen. 
I tried these recently and they're the perfect relaxed but impressive party piece, especially with the matching blazer. 
A pair of boots you'll get years of wear out of. 
If you're after easy, pretty dresses or chic wardrobe basics, look no further than Nobody's Child. They had 20% off everything (including sale), with the code BF20. 
Shop the Nobody's Child sale here. 
Nobody's Child does the best throw-on dresses for all occasions. 
Practical but still cute. 
Warehouse had up to 75% off everything in their Cyber Monday sale!
Black leather knee high boots are always chic. Remember to add the extra 10% off at checkout! 
This looks so expensive, and the extra discount will make it even more affordable. 
Reformation's incredible 25% off sale happened over Black Friday. These best-selling trousers had to be the highlight.
Shop the Reformation sale here.
I have these in beige and black. 
Italist is a lesser-known source for some of the best designer pieces, used by the industry's most stylish insiders. They had up to 65% off some amazing investment pieces from the new-in collections, and free express shipping worldwide.
It's not often you see a classic black Bottega bag in the sale. 
I've had my eyes on these loafers for a very long time. 
For the first time ever, Missoma offered 30% off everything on its site. Including their bestsellers, which make perfect gifts. 
Shop the first Missoma sitewide sale here. 
I've worn this everyday for two years and it still looks good as new. 
These perfect hoops are usually sold out. 
Joseph always has an incredible sale—it's how fashion editors find beautiful quality staples for much more affordable prices. in 2022 they had 50% off, with new items added for Cyber Monday. And let me tell you, it was really difficult to cut my wish list down for this edit. 
Have you ever seen a more perfect jumper?
This is such a great discount on a timeless jacket. I tried this on last year and I haven't stopped thinking about it since. 
This is a coat for the ages. 
The Outnet, which already serves incredible deals, had an extra 25% off this weekend with the code: BLACKFRIDAY. 
You'll be grateful for this incredible bargain come summer. 
Thomas Sabo offered up to 50% off everything, including their classic hoop earrings, chain necklaces and tennis bracelets. 
Shop the Thoas Sabo sale here. 
These would make the perfect gift. 
Everyone's favourite department store, Harvey Nichols, had 25% off selected fashion and 15% off beauty. 
Shop the Harvey Nichols sale here. 
The ultimate party shoes. 
Ralph Lauren had 30% off selected styles, including these dream boots.
There was up to 40% off in MyTheresa's flash sale. 
You'll never tire of wearing this. 
lululemon had some seriously good deals on, including their famous leggings and sports bras. 
If you found some of your wish list items at Flannels, you'd receive a £100 voucher for every £500 spent.
Shop Flannels to Access the gift voucher here.
This is an all-time classic you'll never regret. 
This will instantly elevate any outfit. 
Up next: I'm a Stylist—Here's Everything I Would Actually Buy In the High Street Sales
Opening image: Style Stalker